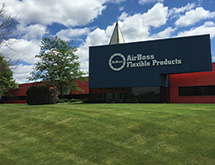 Airboss Flexible Products
When Airboss bought mold-bonded rubber parts maker Flexible Products in October 2013, it signaled the next phase for the formerly family -owned company. But although President Douglas Reid has gone from reporting to his dad to reporting to a board, the culture that has been a part of Flexible Products' success for nearly 40 years remains intact. "I'm running it like I've always run it," Reid says. "We're not changing the course at all."
Flexible Products was founded in 1976 but did not become part of the Reid family until Glenn Reid, an employee of the company, purchased it from his bosses in 1980. In 1987, Flexible Products moved from Southfield, Mich., to Auburn Hills, Mich., both suburbs of Detroit, and has since expanded its facility twice.
The company further grew when it purchased two manufacturing buildings located just down the street from its main location, the first in 2007 and the second three years later. One of those facilities currently serves as a warehouse but is in the process of being converted to production and could be ready to start making parts by August.
In all, Airboss Flexible Products, as it is now known, has 310,000 square feet between its three facilities, all located on the same street in Auburn Hills. The aggressive expansion and sale to Airboss have allowed the company to grow from $54 million in revenue in 2010 to approximately $130 million this year, Douglas Reid says. Those expansion efforts are now leveling off and Reid expects the company to grow by a more manageable 10 percent in the next year.
Airboss Flexible Products specializes in providing rubber parts for the automotive industry. The company got its start making exhaust isolators but over the years has added dampers for power train and drive assemblies, steering gear isolators, custom-designed suspension components and chassis components.
By expanding its product offerings, Flexible Products has kept up with a changing market. The company took further measures a decade ago after noticing the manufacturing of lower cost components shifting toward Asia. To adapt to the global manufacturing environment, Flexible Products formed a joint venture with Hibon Corporation, based in Malaysia, which allows Flexible Products to import Hibon components at the low cost its customers want. As a result, Flexible Products now focuses more on the manufacture of highly engineered parts. "We've evolved," Reid says.
The Need for Speed
Flexible Products parts are used by a variety of Tier I, II and III manufacturers, but most products are sent to the cream of the automotive industry. The company supplies the crucial rubber components used in Honda, Ford, General Motors and Chrysler vehicles. Being located near Detroit is an important advantage for the business, as car manufacturers require a reliable and fast supply of parts. "We're basically 30 miles from all of the design centers of the big three [GM, Ford, Chrysler] and Ohio is not too far for Honda," Reid says.
But speed is about more than proximity, and Flexible Products has invested in its operations and equipment to create a smooth production line. The company has a StrataSys 3-D printing rapid prototyping machine and two Dieffenbacher presses that allow Flexible Products to offer in-house prototyping and produce full-size models of parts overnight.
In fact, Flexible Products has put an emphasis on in-house processes to speed up the production process. In addition to prototyping, the company has its own mold makers, expert tooling, comprehensive testing and product performance validation, and in-house assembly of components. In addition to equipment investments, Flexible Products has hired more engineers and salesmen to keep the people side of the business operating efficiently for customers.
The three facilities have 70 injection presses with uniform processing measures to ensure speedy production and order delivery. And Flexible Product employees work hard to see the products through, as the company utilizes a three-shift manufacturing model and staffs its plants 24 hours a day. The end-result is a product delivered to the customer when the customer needs it. "It's all speed, time," Reid says. "We have done it in 24 hours if we have to."
But what good is speed if the product malfunctions or is not up to specifications? Flexible Products takes pride in the quality of its parts, and has received numerous quality honors from its customers, including two Gold Pentastars from Chrysler, the Q1 award for preferred suppliers from Ford, and has received the Preferred Targets for Excellence for General Motors for three consecutive years. Additionally, Flexible Products has TS 16949 and ISO 14001 certification. Reid says adhering to strict operating systems and standard procedures means that every product comes off Flexible Product's manufacturing line the same as the one before it.
Flexible Products cannot ensure speed and quality on its own; the company must rely on its suppliers to hold the same values and commitments to delivering good products, such as stampings and cut off tubes. Reid explains the company looks for suppliers who offer quick service. Most of Flexible Products' approximately 50 vendors are located in the Midwest because of shorter freight times. Improving those relationships often leads to better reliability. "You got to treat them like you want to be treated," Reid says of suppliers. A key part of that relationship is making sure Flexible Products pays its vendors on time. "If your suppliers know they're going to get paid they'll jump through hoops for you," Reid adds.
Flexible Products has had success with its approach and many supplier relationships span several decades. Airboss itself was one of Flexible Product's suppliers for about 10 years before deciding to purchase the rubber components maker. Reid says the comfort level between the two companies was a major factor in why Airboss bought Flexible Products and has helped make the transition smooth.
The purchase has been advantageous to Flexible Product's operation, as well. Airboss is one of the leading custom rubber mixers in North America and is able to produce more than 250 million pounds of rubber annually. Being a part of the larger company allows Flexible Products more consistency and security in obtaining necessary supplies, Reid says, and Flexible Products now receives all of its formulated compounds from its parent company. Airboss's technological advances also trickle down to Flexible Products, such as materials that cure as faster rates under higher temperatures, allowing Flexible Products to more quickly mold parts at less cost. Further, customers now have direct access to Airboss' technical expertise and extensive library of rubber compounds. "It's been a really seamless transition," Reid adds.
Gazing Global
Beyond the cozy relationship, Airboss is playing a key role in Flexible Products' blueprint for expansion. Although the four major automakers have proved stable customers throughout Flexible Product's nearly 35 years, Reid says the company is ready to expand beyond Honda, Ford, GM and Chrysler and offer mold-bonded rubber parts to other automakers. That was a difficult proposition when it was a family owned company, but the purchase by Airboss has given Flexible Products the support structure and opened it to the capital funding needed to facilitate that expansion.
Reid says it was that need to grow that helped his family decide it was time to sell their long-held company. "Our plan is to expand our global footprint," he says.