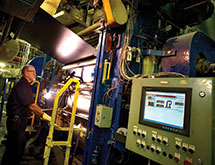 If there is anything that gives businesses strength, it is the ability to serve multiple markets. AirBoss of America Corp. enjoys such diversity with its rubber compound products, President Timothy Toppen says. "We mix those rubber compounds for various end-users," he explains. "They could be for conveyor belts, off-the-road tires, mining [or] a whole host of applications."
Newmarket, Ontario-based AirBoss develops, manufactures and sells the compounds, as well as other rubber-based products for the transportation, defense and industrial markets. Chairman and CEO Gren Schoch and Director Robert Hagerman founded the company.
Today, AirBoss can supply more than 250 million pounds of rubber annually and employs a staff of 800 in its facilities across North America. Along with its headquarters in Newmarket, "We have our large mixing facility in Kitchener, Ontario," Toppen says.
In Acton-Vale, Quebec, a smaller mixer creates calendar rubber fabric and manufactures military boots. "We also have in an R&D center in Beaumont, Quebec, for defense [products]," he says. "That's our footprint in Canada."
Below the border, AirBoss has a manufacturing facility in Auburn Hills, Mich., and a mixing facility in Scotland Neck, N.C., which is ideally located, Toppen says. "There's a whole lot of investment going on in the entire Southeast by Michelin and [other tire firms]," he says.
Driving Efficiency
Toppen joined AirBoss this January. Previously, he worked 29 years with The Goodyear Tire & Rubber Co., which included work in its Engineered Products business, where he supervised the manufacture of conveyor belts, air springs and military products. "We used rubber technology for different applications and grew the business to $1.5 billion," he recalls.
Toppen came to AirBoss with the intention of driving efficiency. "Things that were common to my experience weren't readily applied," he recalls. "When I joined the company, I asked, 'How much do we buy or spend?' I couldn't get an answer."
He then appointed Vice President of Corporate Purchasing Kim Gallagher to better manage the department. "She is the one that is centralizing the group and driving the value proposition in terms of saving and strategic buying," he says. "I think we're putting the right people in place to support our future growth."
Toppen also focused on its manufacturing operations. "I said, 'Guys, what can we do to drive efficiencies and change our margins?'" he recalls, noting that he and AirBoss' manufacturing team identified ways to improve efficiencies in the facilities.
This included centralizing the first stage of the batching process in Kitchener. "By doing that and having the other facilities do the final stage, they could adjust their workforce and they could streamline [their operations]," he explains.
With this change, AirBoss took inventory out of a warehouse in Scotland Neck and closed its doors. Now, "[We] save $300,000 a year in warehouse costs and drive those efficiencies and cost savings to our bottom line," Toppen says. "We're having a pretty good year."
Getting Flexible
AirBoss recently acquired Flexible Products Co., a supplier of anti-vibration products to the North American automotive market, led by President Doug Reid. Both Schoch and Hagerman had a long relationship with the company, which was once AirBoss' sixth-largest customer.
Over the years, Toppen says, Flexible has benefited from its location in Auburn Hills. "It's very close to where the R&D centers are for the Big Three," he says. The company is also quite skilled at prototyping.
"Their secret sauce has to do with their ability to solve problems quickly," Toppen says. "When [their clients] get to the final launch and they have a suspension problem, they'll contact Doug and say, 'Can you fix this?'"
According to Toppen, Reid and Flexible have the ability to turn around parts in mere days. "He's very good and has a lot of ability for solving the problems," Toppen raves.
By combining with Flexible, AirBoss can take Reid's expertise in injection molding and mold finished products for industrial applications. "It can be seals, railroad components or a whole host of things," Toppen says. "It is [a matter] of understanding your strengths and leveraging those strengths to the betterment of your customers."
In the Business
Rubber compounds continuously evolve in the tire sector, Toppen says. This is due to the "tradeoff between traction and rolling resistance," he explains. "You can always develop tires that can get 100 miles per gallon, but they'll be as hard as a rock. Or, you can have tires that stick like glue, like Goodyear makes for NASCAR."
For the average driver, AirBoss has developed a reinforcing agent using silica that can optimize the traction and the resistance. But the process of mixing a trade compound with it can be very taxing, he admits.
"It's very aggressive in wearing out your mixers," Toppen says. "Not only is the silica abrasive, but the chemical compound is very coarse."
But the company has approached tire manufacturers with the idea that AirBoss will take the task on itself. "We're having strategic conversations with them and saying, 'Let us do some of these for you,'" Toppen says. "'Not only are we upgrading our mixers, you don't have to spend all the money to do it.'
"We can take a six-pass mix that a tire company would do and we can do it in less stages because we know how to put this together," he says. "Not only can we have a value proposition that allows them to free up some capital, we can do it more efficiently and pass on that efficiency to them."
Toppen predicts that AirBoss' clients will focus their growth on high-performance tires, and demand will increase for ones made with silica. This will make its facility in Scotland Lake "more important going forward," he states.
Platform for Growth
Toppen developed a plan for growth with company analysts. "I put together what we called 'a platform for growth' that was comprised of [several] elements," he recalls. "We're working on all of them."
These include making sure that AirBoss has a strong leadership team, which includes Gallagher and Executive Vice President of Corporate Affairs Lisa Swartzman. "She has experience and background [in acquisitions]," Toppen says.
Other elements include AirBoss' efficiency initiatives and its products. "[We're looking at] where we can leverage our strength to bring the products to market in high-volume areas," he says, noting that the company has developed oil and gas compounds it is bringing to market.
AirBoss wants global growth. "The vehicle that is going to pull us there is the Flexible acquisition," Toppen says. "Reid's customers are coming to him and saying, 'Doug, we want to give you more business,' so we are looking at various opportunities to add to our automotive business."