Airedale International Air Conditioning Ltd
A breath of fresh air
Airedale has overcome numerous challenges to get to where it is today, but occupying its current market leading position has been maintained by a consistent approach to innovation, quality product and strong customer service
Airedale International Air Conditioning was founded in 1974 by two Leeds based entrepreneurs, Alan Duttine and Peter Midgley, who recognised an opportunity to develop specialised air conditioning solutions for computer and healthcare environments at the dawn of a new technological era. Today, the firm is a leading British manufacturer exporting to 60 countries around
the world with manufacturing facilities in the UK, South Africa and the USA, and operation hubs in Russia and the Middle East. Having been bought by US firm Modine in 2005, Airedale is able to grow and develop with the support of a group that employs 6400 people at 30 facilities in 16 countries.
Deriving much of its business from the data centre market, as well as the process cooling, commercial and laboratory sectors, Airedale has a number of products over six air conditioning product ranges. These comprise precision air conditioning, IT cooling, chillers, comfort cooling, condensers and condensing units, and air handling units. "We also provide building management systems (BMS) and controls design, as well as integration, service, maintenance, spare parts and offer training courses through our on-site school," explains Tony Cole, Operations Director. "A special projects team also manages large-scale, complex upgrade programmes for key customers including the country's leading telecoms providers."
Indeed, it is not just major telecoms companies that Airedale can count amongst its many clients. In fact, leading data centre design and build specialists, M&E contractors around the world, plus leading names like Iceland, Vodafone, Virgin Media and IBM, all benefit from the firm's quality products and unrivalled customer service. As Tony explains, quality and customer service have undoubtedly been core pillars in the company's historical strength and on-going success.
"We design and manufacture all of our units in the UK, keen to minimise outsourcing in order to maintain high quality standards," he says. "We have a high level new product design team who are always looking to create new products that meet the changing needs of our customers – something that is heavily supported by feedback from our sales team. Critically, we make sure never to stand still and as such are always innovating to take advantage of new technologies and new market opportunities. This we back up by offering the full package, from BMS to installation."
Perfectly illustrating this approach to product development, Airedale has recently launched its brand new TurboChill™ chiller range with centrifugal Turbocor compressor technology. Developed to meet the demand for higher efficiency, yet compact, water cooled chiller units, the system brings a number of sector-leading benefits to its end users. "The unit is only 1000mm wide, which represents a 67 per cent reduction in footprint compared to a standard evaporator system," Tony details. "It also provides cost reductions and environmental benefits to the tune of a 56 per cent reduction in refrigerant weight compared to a standard system. The result is the provision of up to 11 per cent more cooling per square metre than our nearest competitors'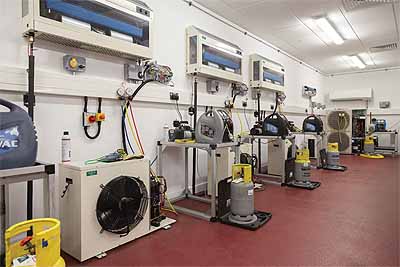 and the offer of market leading energy efficiency – notably Class A EER up to 5.4, which is a seven per cent increase compared to other leading units."
Demonstrating the full range of services and savings delivered to its customers is a recently completed project for BAE Systems at one of its major Military Air and Information sites in North West England. Thanks to Airedale's solution of retrofitting EC fans, EEVs and other energy efficiency components, upgrading refrigerant in line with current legislation, upgrading control systems, implementing control strategies and integration with BMS, and re-commissioning units, the client has been able to achieve annual savings up to 70-80 per cent on its computer room air conditioning energy costs – equivalent to £350,000. Payback was achieved in 15 months and Airedale was praised for its ability to deliver the programme over a 12-month period without disrupting critical testing and production of combat and training aircraft.
Based in Rawdon, Leeds, 2016 saw the opening of a brand new state-of-the-art manufacturing facility for Airedale following a fire that devastated its previous premises in 2013. Now covering around 23,000 square metres, the factory is designed around the needs of a 21st century manufacturing business offering greater efficiencies in operation. The site also includes a cutting edge R&D department, which has the capacity to test systems up to two megawatts and is one of the largest of its kind in Northern Europe.
"The new factory has been designed for energy efficiency and future capability," Tony explains. "With regards to production capability, all assembly operations are now undertaken on one level, as opposed to the previous three,
new cranes have been installed to assist with handling, as has an automated and manual powder paint line. This new paint line allows 100 per cent of waste paint to be recycled and colour changes to be undertaken in 20 minutes. In the machine shop we have invested over £1 million in a Trumpf combination punch/laser and material storage/part stacking system – this is one of only a few machines in the world capable of offloading four-metre long parts. We have also invested in a brand new round tube, plate fin coil assembly plant, which allows us to manufacture the vast majority of our in-house requirements, giving us even greater control over stock levels and quality."
With its new operations successfully under way and a continued focus on innovation gaining momentum, the future for Airedale looks positive. Of course, Tony notes a number of challenges, not least in relation to EU referendum uncertainties, low oil prices and more general global economic pressures, yet he remains confident that the business is strong enough to overcome these hurdles to retain its reputation within the industry. "We operate in a highly competitive industry where technological advancements shape and shift the market at an accelerated rate," he highlights. "These present a range of enjoyable challenges, which we as a manufacturer and systems provider have to embrace with our customers, so we can continue presenting a range of products that meet the exacting requirements of the applications they serve.
"As such, our focus over the next 12 months will be to expand and strengthen our range of high performance cooling solutions, including extended ranges of inverter compressor technology. We will also look to move into new vertical markets and continue to develop even more efficient, compact, cost effective and environmentally compliant products. We will continue offering the highest levels of customer service and a market-leading product and service – designed, built and maintained by a highly skilled workforce. Longer-term, the strategic vision firmly targets aggressive export growth throughout new and existing ranges."
Airedale International Air Conditioning Ltd
Products: Design and manufacture innovative, high efficiency cooling solutions