A spring in Airedale's step
Since its inception in 1945, Airedale Springs Ltd has always lived up to its philosophy – small enough to care, big enough to mean business.
With that attitude, this small family-run business has gained a worldwide reputation for uncompromising quality, reliability and up-to-theminute expertise, utilising the latest technology in the production of quality springs. When Tim Parkinson's grandfather dreamt up the idea of a company in Haworth in West Yorkshire to manufacture springs, pressings and wireforms over 60 years ago, little did he know that it would be the first spring maker in the UK to obtain BS5750 in 1985, now covered by BS EN ISO 9001:2000, and also the first to be recognised as an Investor in People in 1993.
As the chairman of the company today, Tim has the same aspirations and ambitions as his grandfather: "Our main strengths have always been our size and flexibility – employing 50 people, we are able to ensure the same levels of quality service and expertise regardless of the quantity required. Modern techniques enable us to provide a flexible service for small batch and oneoff orders as well as for larger quantities. This flexible attitude to business forms the basis of our continued success for over 60 years, offering a friendly, helpful service on an individual basis, backed up by the best design assistance. I am such a strong believer of giving our most valued customers the best and most personal service that the use of voicemails is strictly forbidden. When a client needs some help, they ring; and when they ring, they deserve to speak to a person and not a machine."
Working closely with clients in meeting their needs and requirements, Airedale Springs provides a highly focused personal service that places the greatest emphasis on building long-term relationships. Airedale's springs are found in hundreds of applications, ranging from small, delicate components to nuclear reactors. However small or demanding a project, the Airedale team has the skills to produce innovative, cost-effective solutions. Whether developing prototypes, advising on design issues or supervising production, Airedale adheres to the highest of standards, ensuring a seamless service from initial discussion to final delivery.
Highlighting some of the industries that Airedale works in, Tim states: "We deal very little with the automotive market because there are other spring manufacturers that cover that sector. We specialise in small to medium projects, with great emphasis on design solutions, sampling and personal contact. In terms of which industries do we work with, I think the question should really be which do we not. From manufacturers of valves, white goods and garden furniture to specialist engineers, universities, marine biologists and the nuclear industry, and all points in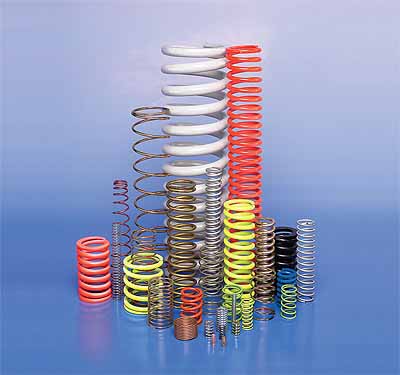 between. We even supply prisons with springs known better as Airedale Springs that are used to fasten the netting that goes across the balconies.
"Our springs are used in the most unlikely places and in the most unusual applications. One such interesting job I can think of is when we had a request a while back from some marine biologists who wanted to track the migration of sharks. We manufactured a spring that was to be attached to the dorsal fin of a shark, which was then attached to a radio transmitter, helping them monitor where these sharks went and what they did. It was a very interesting order and we thought it to be a one-off, but recently we received an enquiry to manufacture another small batch."
Continuing, Tim highlights some of the major challenges faced by the company and the industry: "Despite the increasing prices of commodities, the availability of commodities like special steel is a bigger concern. We are now facing situations where these materials are very difficult to obtain and could take anything between 12 to 21 weeks to arrive.
"Environmental matters are another concern, which have seen manufacturers slowly moving their operations from the Far East and sourcing materials much closer to home. The logistics involved is one of the main issues, though there are also problems when manufacturers have no idea about how the products are being made, in what conditions and what the carbon footprint of the products; they now want more control over this. Taking into consideration the increasing costs in every aspect of manufacturing, the cost benefit ratio of manufacturing out in the Far East or Eastern Europe, is not as significant as it was five years ago."
Despite the ongoing challenges, Tim is optimistic: "We have achieved approximately 15 per cent growth over the last three years and the target is to hit the 20 per cent mark in sales this year. Our profitability has improved over the last few years on the back of high levels of investment in new CNC and wire-forming machineries. The vision for Airedale is to keep abreast of new technologies and to continue what we're doing because it has got us this far – we're clearly doing something right."
Airedale Springs Ltd
Products: Springs, pressing and wireforms
Sites: West Yorkshire, UK
Employees: 50
www.airedalesprings.co.uk