Causing a stir and reducing heating and cooling costs
Having proven itself with major clients around the world, Airius' innovative energy saving products are just beginning to become accepted by the market and the future looks set to take off.
Airius was established in 2004 and set out to develop a destratification product that would complement and enhance conventional HVAC systems. Unlike its competitors Airius' unique nozzle design and patented stator vein technology creates a tight column of air from floor to ceiling in order to equalise the temperature.
Stephen Bridges, Managing Director of Airius Europe explains: "The unique way in which air is moved using the patented stator vein technology, encourages up to 15 times more air to be circulated through entrainment. This huge volume of slow air circulation achieves the most efficient and effective method of destratification available."
A combination of innovative and continual R&D along with the use of the highest quality materials and motors enables Airius fans to achieve great results whilst requiring very minimal power usage making them very energy efficient.
Despite massive cost savings on energy claimed and an average return on investment for six to 24 months, Stephen admits it has been a challenge to get the message across and convince people of the technology's effectiveness. "It took us five years to overcome the British conservatism and it is only when major companies like Marks & Spencer, Morrison's and Boots conduct long-term trials and then buy, that anybody pays attention," he says.
Today, however, Airius' client list includes British Airways, Mercedes Benz, Siemens and Jaguar Land Rover amongst a huge array of other high profile, international companies. Combine this with the fact that globally, the company has sold over 100,000 units, which have saved over a billion tonnes of carbon so far, and it is no surprise that the market is beginning to catch on and sales for Airius are increasing at a rate of 50 to 60 per cent every year.
"We supply the only destratification fan available that is suitable for 'noise sensitive' environments," explains Stephen. "By that I mean they could be used in an office, a church, a retail outlet and so on, because they are quiet enough to avoid being disruptive. We have a standard range, which accounts for about 95 per cent of our sales, but also a designer range for architecturally sensitive applications and we have various bespoke items,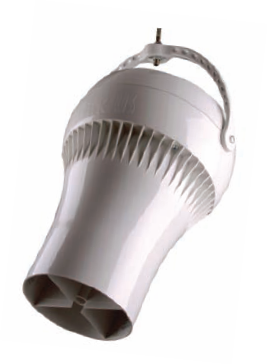 which are specially designed to fit a particular purpose."
One application where the company's destratification fan solves a major problem is in the supermarket segment. "One of the age old problems has been the temperature variations in supermarkets caused by the 'spillage' of cold air from freezer and chiller cabinets which can result in extreme variations in temperature," notes Stephen. "Conventionally this would be addressed by ducting to recirculate the air, but this isn't hugely effective. We approached Morrison's and suggested that we could solve this issue and they agreed to run a two-year trial, the results of which they didn't believe until they commissioned independent experts to evaluate the trial. They even invited their freezer/chiller cabinet manufacturers to come in and evaluate their chiller units due to fears that the technology would adversely affect the equipment. However, they now claim that it actually increases their efficiency by 15 per cent, as well as significantly reducing heating/cooling costs. As a result we have supplied well over a million pounds worth of equipment to over 400 stores in the last three years."
Airius is also in a trial phase with Marks & Spencer to supply the new bespoke Narrow Aisle Series, which has been specifically designed to suit the narrow aisle configurations found in retail outlets. "This series has taken over two and half years to develop and we have invested about a quarter of a million into it so far," outlines Stephen. "There are not many companies of our sort that can and will react like that to demand. On average, we launch two to three new products every year to address specific problems. I really want to get the message out there that if you have an air circulation problem, we will solve it for you, even if we have to develop a new product to do the job." To date, the company has spent $11 million on product development.
Trailblazing projects are rife in Airius' ever-increasing project portfolio. By working with Boots it has demonstrated the products' effectiveness at cooling solutions – it has reduced cooling costs by 40 per cent and overall running costs by 35 per cent. Internationally, Airius has recently moved onto the second stage of trials at the Petronas Towers in Malaysia, which Stephen is confident will lead to significant sales.
"We sell more destratification fans than other company in the world primarily due to our focus on what our customers want but we are still a very tiny player in the HVAC market," concludes Stephen. "Our ambition is to become recognised by this industry as the first-stop solution to resolving a client's building comfort issues and reducing HVAC costs and carbon emissions. We have begun to win people around and hope that over the coming years the reputation we have gained with our customers spreads out into being completely accepted by the HVAC industry."
Airius Europe Ltd
Products: Manufactures specialist thermal destratification fans
Sites: one (UK), one (US)