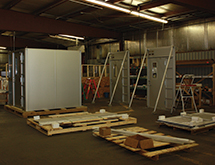 A.J. Manufacturing's window and door products are not what most people think they are.
"It's not uncommon for me to be at a social function and someone asks me what we do," President Todd Carlson says. "When they hear windows and doors they think of traditional, residential windows and doors. That's not the reality of it. The doors and windows we produce have performance attributes and special end-uses such as for a recreational dome at a university, entire air handling unit systems for the World Trade Center or a roof-top air handling unit at the Georgia Aquarium."
The company's products are specialized to operate at certain pressure levels in specific environments. "You may see them at an airport, in big-box stores on the roof or in post frame structures and agricultural settings," Carlson explains.
Unlike most windows and doors, the company's products typically are highly customized. Polyurethane foam enhances them for better durability and increased insulation. The foam forms an energy core with seven times the insulating value of a one-inch wood core, the company says.
A.J. Manufacturing is best known for offering high-performance insulated post frame entry doors, aluminum and vinyl post frame windows, HVAC access doors and insulated steel storm doors. A main strength of its products is resistance to leaking air and water.
"We always say anybody can build the doors but building the right door with the right attributes on time – that's the magic," Carlson says.
Company culture helps A.J. Manufacturing achieve this with its "one-piece flow" model. A.J. Manufacturing has little or no stocked inventory. Its line is built to meet orders, so it uses a combination of proprietary systems, order entry systems tied into production and a cross-trained workforce to meet quality expectations for its mass customized variable products.
The products are delivered throughout Canada, the United States and Mexico. It is not uncommon for it to deliver 40,000 doors to a customer in an industry that are comprised of more than 1,750 sizes with more than 80,000 different combinations of attributes such as view ports or hardware options, all with a 10-day lead-time.
Diversified for Success
The recent economic downturn impacted A.J. Manufacturing's revenues the past few years, as reduced ability to borrow and build drove down product demand.
Luckily, the company is well diversified, with less than 10 percent residential product. Its agriculture-related products held up well during the recession, Carlson says. It has also expanded production of doors for air-supported structures and has several contract manufacturing clients where A.J. builds the entire finished product for the customer and ships without the end-user knowing.
"Our diversification softens the impacts of downturns, and broadens our base of skills and abilities," Carlson explains.
Cross-Training and Skill Building
Recruitment can sometimes be difficult, Carlson says. The company employs 200 workers in four facilities in northwest Wisconsin. It operates from four locations totaling 150,000 square feet for production.
Fortunately, this work is not as seasonal as it has been in the past, Carlson explains. A.J. Manufacturing attracts workers by cross-training them to perform multiple tasks. This allows employees to build skills and enjoy diversity in their day. A.J. Manufacturing also practices job rotating on the line so workers can solve differing challenges throughout the day; this keeps work fresh and challenging. There is also a formal operator training program that focuses on process, quality and actual assembly, Carlson says. "It's the culture, environment, communication and safety that helps employees feel satisfied in their jobs," he says.
Employee satisfaction is especially important for A.J. Manufacturing, because it operates in a competitive landscape. For its HVAC-related products and access doors and panels, its primary competition is the OEM. With A.J. Manufacturing's primary competency in sheet metal work and fabrication, it often finds itself in an outsourcing situation with OEMs. The company has been successful dozens of times in such scenarios because equipment manufacturers often look to it to collaborate on the designs of doors and wall panels. This delivers cost savings and enhancements in performance and reliability, Carlson explains.
As its products include high-performance storm doors and pressure-relief doors, reducing costs is always a priority. It does this by addressing the entire process including shipping and installation and eliminating any unnecessary aspects.
What sets the company apart is its innovation and collaboration, Carlson says. It has the spirit to engage customers and win business. While some focus solely on lower price and lower cost, A.J. Manufacturing also delivers value to remain competitive.
In February, Wisconsin Gov. Scott Walker visited one of the A.J. Manufacturing facilities.
"Governor Walker is a champion of business and industry and takes the time to show it," Carlson says. "The governor used his visit to A.J. to announce his agenda on property tax relief, income tax withholding reductions and the state's financial strength."