This year, the 200 employees who work for Akron Foundry Co. have more to celebrate than just its 60th anniversary. Founded in 1950 by George Ostich, the Akron, Ohio-based company has evolved from a small, family run foundry into a comprehensive manufacturer of sand cast­ing, permanent mold casting and low-pressure permanent mold casting, with the capability to produce 2,000-pound sand castings and 300-pound low-pressure permanent molds.
Its sister company, Akron Electric Inc. grew from a couple of people in 1981 to nearly 50 employees today.
Akron Foundry runs an 80,000-square-foot manufacturing facility in Akron and a separate machining facility a mile away. Although the company is a custom manufacturer, one thing that distinguishes it from other foun­dries, according to Vice President Bob Sik, is that it also markets its own pro­duct line, which constitutes about 60 percent of its business.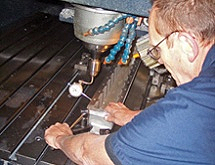 Akron Foundry produces transformer bases for the highway lighting industry, subcomponent parts for CAT scan and PET scan machines, castings for the fire fighting and trucking industry and custom requirements, as well.
It is the main supplier of aluminum castings for Akron Electric, which uses the material to make explosion-proof enclosures, junction boxes, control panels, and meter and instrument housing for a global client base, according to Akron Electric Vice President of Sales Michael Pancoe Sr., Ostich's son-in-law. "I think 2009 was a good year for the electric division," he says. "We designed, developed and manufactured a complete line of explosion-proof pilot devices, a flat cover series for junction boxes and control stations, and were able to produce a new catalog revision and revise our Web site."
Akron's Commitments
Akron Foundry sets itself apart from the competition through its commitment to quality, according to Sik, who has been in the foundry industry for more than 50 years and specializes in permanent molds. "Quality is our No. 1 feature," he asserts. "We sell our­selves on quality both in sand cast­ing and permanent molds. Every­one knows that we make quality pro­ducts."
Pancoe agrees. "The foundry has a core quality program, and attention to detail is very important," he notes. "Just by having supervisors and personnel pay close attention to the flow of the procedures on a daily basis helps to ensure quality. Akron Electric also has a quality program and is ISO 9001:2008 approved with de­sign, which means we not only manufacture the product, but we are certified to design to these quality standards, as well."
Customer satisfaction is another top priority for Akron Foundry and Akron Electric. "We value our customers very much and stay in touch with them as much as possible," Pancoe says. "Many times, the customers can call in and speak to the owner and see where their part is on the floor, and this is something that our customers tell us none of our competitors can offer."
< P> Akron Foundry's customers want to keep their inventory levels low, likely because of the recession, he notes. As a result, the manufacturer has to provide just-in-time service. "As a foundry, we have to react to the demands of our customers, who oftentimes request a short length of time," he explains. "So, we are always on our toes and processing items at a good pace. On the electric side, we promote our accelerated ship program to the in­dustry and tell customers we have a number of common sizes ready and available on the shelf that can ship within one to two days."
Optimistic Outlook
Akron Foundry and Akron Electric fared well in 2009, despite the recession. "Because of the diversity of the industries we service, we've been able to stay in business," Pancoe says. "We wanted to remain aggressive in the marketplace, so we updated our Web site, came out with a new catalog, brought in three manufacturer representatives in the field, came up with the accelerated shipping program, laun­ched a new product line and re­lied on a lot of international business – we have been growing in the Mexico and South American markets this year."
It was important to the company to keep its work force employed through­out the difficult times. "We noticed some companies in our industry were putting their employees on furlough, requiring them to work three weeks out of a month and take a week off," Pancoe says. "Because our policy is to keep our people employed, we had them in customer ser­vice mode and received orders that may have otherwise gone to our competitors because no one was at their facilities to take their orders in an expedient manner."
Akron Foundry and Akron Electric have bright futures ahead of them because of the talent exhibited by its employees, many of whom have been with the company for more than 20 years. "We are still a family owned organization, and we are into our third generation now," Pancoe notes. "The work force from Bob's generation was very technical, and we're actively attempting to pass those skills onto the next generation so we can continue to grow in an economy that is really unpredictable. We continue to keep up with changing technologies, methodologies and new opportunities, so the outlook is good."