Painting a picture of the future
AkzoNobel has been setting the standard in paint and coatings since 1792, and the state-of-the-art Ashington Manufacturing Unit is a facility that is continuing to change the landscape of this lucrative industry
For AkzoNobel, the last year has been an exciting and memorable one for the Netherlands-headquartered maker of paints and coatings, which was recently capped with the announcement of its Q1 2019 results. These showed that underlying business performance of the manufacturer of world class brands such as Dulux, International, Sikkens and Interpon was encouragingly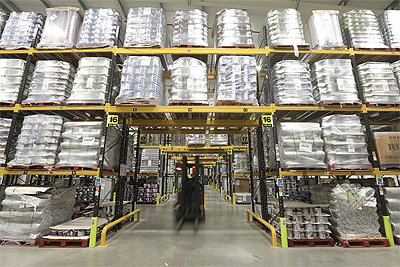 strong, recording a nine per cent increase in profits and return on sales up at 9.1 per cent.
Active today in over 150 countries, AkzoNobel's approximately 35,000 talented people are not only passionate about delivering high-performance products and services, but have also contributed to a number of significant, diverse highlights from the last 12 months. Examples include, transforming a town on Turkey's Aegean coast through its 'Let's Colour' initiative – where 50,000 litres of Marshall paint were used to revitalise over 400 homes – using its latest colour technology to spark new life into the McLaren Formula 1 team cars, opening a new fully interactive Dulux concept store in Shanghai, China, and launching the 'Paint the Future' start-up challenge to find the newest, most revolutionary developments in the world of paint and coatings.
This year has also seen the opening of a trailblazing R&D innovation campus. Located in Felling, Tyne and Wear, the €12.6 million lab complex will allow for the testing of new products in conditions that mimic the world's most extreme environments, fusing the site's 115-year history of product development with state-of-the-art facilities designed to keep the company at the forefront of the coatings industry.
"It has been an exciting time for AkzoNobel Ashington as well," says Head of Manufacturing, Jeff Hope, bringing up the continued evolution of the world's most advanced and sustainable paint plant. "Here, we have spent the last year incorporating many different pioneering technologies into our unique manufacturing systems, and as a result our engineers, technicians and operators have faced a number of complex problems to solve. The technology is mostly brand new, therefore AkzoNobelthe team have had to write the manuals themselves and some of the systems had to be modified quite extensively. Thankfully, through the hard work and dedication of our people, these initial challenges were overcome, and the result has been an exponential increase in volume."
At over €100 million, the Ashington site represents the biggest single investment AkzoNobel has ever made. Its launch helped to secure over 150 skilled jobs in high-tech manufacturing and support more than 100 additional roles in the local supply chain, and in the time since construction began in 2013, there have been over 40,000 individual training elements completed by its personnel to ensure a safe and competent workforce.
"At Ashington, we have been increasing production levels continuously since we first started production in March 2017," Jeff continues. "Last time we spoke I mentioned that increased product demand meant the site needed to increase its production volumes and we were planning to create a third production shift. This shift is now in place, adding 22 new skilled jobs for local people and has delivered the boost in productivity we needed. Meanwhile, recent increases on overall equipment effectiveness (OEE) have led to further volume increases and more of our products being distributed to the market. In 2018 alone, we increased OEE by 30 per cent, and for our business to remain competitive this will need to continue to increase in line with production demand, which is the main objective of the site over the next three years."
In numerous other AkzoNobel manufacturing facilities across the world, there are next generation paint-making technologies being piloted to revolutionise the way that paint is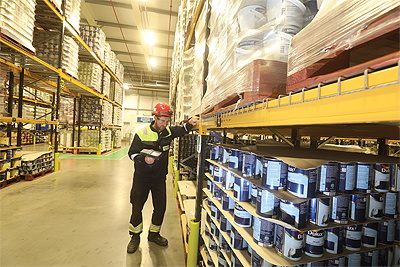 manufactured. The Ashington site brings all of these innovations together under one roof to create a world-first facility. "In a world consumed with the effects of big data, the baseline aspirations of manufacturing facilities have gone up a level," Jeff explains. "We have automated the vast majority of our processes here, which are all managed by one central control system. This means that we have a massive amount of readily available information about our manufacturing processes, which we can analyse to continuously improve our processes and ultimately further improve production volumes."
The levels of automation also allow further benefits for the site. The Ashington Manufacturing Unit operates a fully-integrated IT stack, which means that everything on site is initiated automatically without operator intervention, from the ordering of raw materials to the shipping of finished products, connecting our customers in central planning directly to the site's processes. The layers of the IT Stack also connect the factory floor with quality control, and the support teams in the offices, making the site a full network that links up vertically, horizontally and allowing the entire site to communicate.
"The high levels of automation on site reduces the need for frequent operator intervention, thus creating a safer working environment," Jeff adds. "It also reduces the 'thinking and reacting' time of manual interventions as algorithms are built and taught automatically, therefore reducing sources of human error. The systems allow high-precision dosing accuracy to 0.7ml within a 2000l batch, which provides a different level of agility to make sure that AkzoNobel is always able to manufacture products of such quality and consistency that meet or exceed the demands of our customers. The site's automatic systems have also enabled us to successfully reduce the time it takes to produce many of our market-leading products, shortening order lead times and reducing the production wheel from three months to two weeks!"
Moving forward through the second half of 2019, AkzoNobel Ashington will continue to demonstrate the value of an interdependent culture and engaged workforce to achieve success for the business, its employees and the local community, as well as sustainable growth. This will be done by further integrating the company with local people, and building on existing relationships with schools, colleges and universities to inspire the next generation of workers.
In the meantime, it is the company's vision to establish the Ashington Manufacturing Unit as a reliable, high performing facility that delivers consistent, quality service through the execution of best practice processes. "We will work hard to capitalise upon opportunities to increase the unit's productivity to ensure that it achieves the maximum return on investment for the business," Jeff states. "This includes solidifying it as AkzoNobel's most agile site, capable of handling product complexity with minimal impact on baseline cost. By utilising the data we obtain from our manufacturing processes from the high levels of automation, we will be able to guarantee consistent quality, while eliminating defects from the machines and increasing OEE further still."
AkzoNobel
Products: Paints and coating products