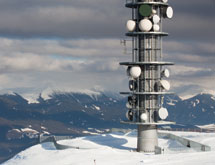 Most smartphone users focus on the device they hold in their hand, not giving a second thought to the network that makes the services and applications they rely on for communications and entertainment possible.
Enabling the network infrastructure behind smartphones requires technical expertise on a global scale, which is exactly what Alcatel-Lucent prides itself in providing to customers. The company, which formed in 2006 after the merger of Alcatel and Lucent Technologies, is a worldwide leader in communications and networking technology. Alcatel-Lucent's worldwide headquarters is in Paris, with U.S. operations based out of Murray Hill, N.J. The company operates in more than 130 countries.
"We are committed to making communications more sustainable, more affordable and more accessible, and pursuing our vision to realize the potential of a connected world – delivering the innovation our customers need to stay ahead, evolve, become radically more efficient and move at the speed of ideas," Vice President of Supply Chain and Logistics Nick DeTura says.
Alcatel-Lucent's customers include many of the world's leading wireless and wireline service providers, including AT&T, China Mobile, NTT, Verizon, BT and Telefonica.
Products include routing and switching equipment for carrier networks as well as wireless base stations, optical network terminals, radio access equipment, network controllers and backhaul equipment. "Clearly, quality and reliability are huge issues for us because our customers' business depends on their networks, and for so many of our customers' customers, a reliable communications system is critical to their business, as well," Corporate Media Relations Director Mary Ward notes. "Networks are complex and requirements change as demand for broadband and wireless services change. Consequently, we produce a full range of equipment that wireless and wireline service providers need for their networks."
Bell Labs, one of the world's foremost research organizations and Alcatel-Lucent's research engine, developed much of the company's technology. "While Bell Labs is a fundamental engine of research at Alcatel-Lucent, innovation is a widely distributed and core activity of the company as a whole," DeTura says. "Bell Labs researchers can work closely with our product unit development teams to produce innovations that bring visions of the future into reality today, delivering networks that are more reliable, secure, flexible and environmentally sustainable than ever before."
One of the company's latest innovations is lightRadio™, a new wireless product that will enable service providers to extend high-speed mobile broadband services across both cellular and Wi-Fi networks. The product was demonstrated working live at the Mobile World Congress in Barcelona in March 2012 in conjunction with Telefonica.
Driving Growth
Alcatel-Lucent serves customers through three operating segments:
The Network segment provides high-speed, high-capacity and high-quality communications services including IP routers and switches, optical transmission equipment and wireless and wireline solutions.
The Software, Solutions and Services (S3) business unit provides service providers and customers in sectors including transportation and energy with software-based technology. Its portfolio includes network and systems integration, outsourcing solutions, multivendor maintenance and product services as well as network applications.
Alcatel-Lucent's Enterprise unit supports 250,000 businesses with multimedia, multi-device and multi-party communication and collaboration solutions.
"Our network technologies extend the benefits and opportunities associated with advanced communications to an ever-wider range of people – urban and rural, in developed countries and emerging economies, including those who have never even had access to a telephone before," DeTura says. "Our S3 offerings enable the delivery of e-health, e-learning and other services that realize the vision of digital inclusion, and our enterprise solutions help businesses operate more efficiently and effectively, driving prosperity and economic growth."
A Total Supply Chain
Alcatel-Lucent produces products from a number of manufacturing facilities worldwide. The company takes a total supply chain approach to its sales and manufacturing processes. "We want our manufacturing processes to be totally transparent to the customer," DeTura says. "The customer isn't likely to be overly concerned with where the product is manufactured; what they are concerned about is getting 'x' number of products in 'y' period of time.
"Our customer is more concerned about our ability to get the product to them in time to meet their schedule than where the product is manufactured," he adds. "They don't necessarily want to get knee-deep in our procedures; they want to be able to engage with our salespeople."
The company's manufacturing team applies lean manufacturing principles to improve cycle time and decrease waste across all processes. Alcatel-Lucent is ISO-9000 and TL-9000 certified.
Alcatel-Lucent's demand planning team meets with customers to forecast product needs over a long period of time, usually a number of months. That information is shared with the manufacturing team, who then builds product's and systems to the customer's specifications. Completed products then pass to a logistics team, who deliver to the customer in the shortest amount of time possible, DeTura says.
Alcatel-Lucent regularly leverages the knowledge and experience of electronics manufacturing services (EMS) providers such as Singapore-based Flextronics. Alcatel Lucent's EMSs provide the company with printed circuit board assemblies, modules and also complete systems, Senior Director of Manufacturing Strategy and EMS Operations Dave Maff says.
"Alcatel-Lucent continues to evolve its overall manufacturing strategy to take advantage of technological innovation and to ensure it will enable us to match the needs of our customers. There have been notable changes in just the past few years, including how we work with EMS providers such as Flextronics, Celestica and Sanmina-SCI," he adds.  "Alcatel-Lucent has concentrated more of its external manufacturing at fewer sites with our primary suppliers, working through these strategic changes in collaborative process with our EMS partners. We took these steps to improve our overall efficiencies, quality and ability to meet customer requirements on a consistent basis."