Alex Vazquez of Employbridge shares his insights into unlocking the potential of the manufacturing workforce
I moved to the States in the 90s from Puerto Rico where I was born and raised," opens Alex Vazquez, Vice President of ResourceMFG, Employbridge. "When I graduated high school, I wasn't dead set on college, and essentially stumbled across supply chain manufacturing. So, I started my career in Florida, where I live, working as a machine operator, material handler, and assembler: in essence, in a variety of lower-level manufacturing jobs in 2001. After two years of doing hourly, temporary gigs, I had the opportunity to recruit for Employbridge within the manufacturing division. I started recruiting back in 2003 and became enamored with the industry; with the idea of putting a paycheck on the table for people to feed their families and grow their careers.
"I have such a passion for it as I was one of those employees. There's a negative stereotype associated with manufacturing, but that couldn't be further from the truth. You never know which way the industry's going to take you and, in my case, I never thought that it would be here.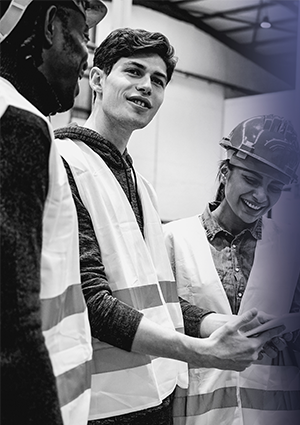 "Fast forward to maybe 11 years ago and I was tapped on the shoulder and asked to lead the manufacturing division. At that point, we had roughly 700 million dollars in revenue, which blew my mind. Here I am, this guy who doesn't have a college degree, and I had an opportunity to really grow and flourish with Employbridge, focusing on career development and learning paths for our associates. I also work with our customers to design solutions based on their needs and the issues they have in terms of production, quality, training or attracting and retaining the workforce," he explains.
Alex has been fortunate to work with thousands of manufacturers throughout his career, as well as hundreds of thousands of associates. "I'm fascinated by the industry itself," he continues, "and by the various verticals in the manufacturing space. Where I live, there is a heavy concentration of aerospace, medical equipment, electronics, and defense, whereas in other parts of the country, you're talking pharmaceuticals, automotive, food production or textiles, so, completely different facets of manufacturing.
"I feel like I haven't worked a day in my life," he enthuses, "because I love what I do. Every facility and every process are different, and the intricacies that are woven into those different verticals completely blow my mind; they're fascinating. So, it's like I'm learning every day, and no two days are the same. While that's my career in a nutshell, my passion really lies in changing the negative mindsets and stereotypes about manufacturing and presenting the industry in a more positive light for the future."
Investing in people
In recent years, manufacturing has undergone significant change and not least in terms of technological advancement. Alex elaborates: "The rapid changes in technology that we've seen over the last 20 years are just staggering. While we find ourselves in Industry 4.0 with access to highly sophisticated, connected systems, we just don't have the people with the necessary skills to operate them. We're currently struggling to train people to really understand how these technologies work.
"I think we're also experiencing a demographic shift. If we launch a talent acquisition campaign to drive applicants to our operations, it's crucial to tailor our approach to the target market. What's important to one generation may no longer be relevant to another. We must adopt a multifaceted approach to attracting individuals based on their needs and on what makes them tick. We're never going to move the needle if we do things the way we've always done them. Today, a strong digital social presence is essential to be able to attract some individuals. I visit many summits, conferences, and events and without exception, workforce development alongside attracting and retaining workers is by far the number one struggle that I hear."
Employbridge is America's largest industrial workforce as a service provider, delivering a high-quality, scalable workforce in new and innovative ways. Like Uber did for transportation and Salesforce for software, Employbridge is reinventing how work gets done by combining powerful digital capabilities with the experience of an industry leader.
"A company like ours enables us to draw from a heritage of industry expertise and innovation. We've been doing this for many, many years and we are the largest in our space for the industrial sector and in the United States. We understand how our partners' businesses work and tend not to focus on an approach based simply on headcount. We look at the bigger picture and concentrate on the challenges throughout the workflow to bring skills that are aligned with their production processes.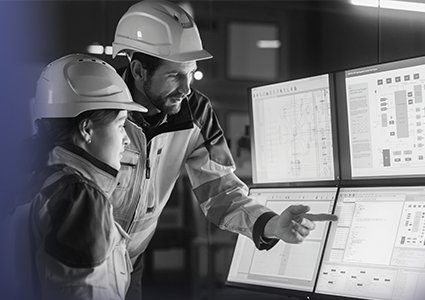 "We don't overpromise and underdeliver. We are transparent and sometimes confront the brutal reality that there may be skills shortages. We have a strong focus on workforce development and education and make that available to our customers, not only for our workers but also to their own employees. We have something called the Better Work Life Academy which is a no-cost offering to our employees, enabling individuals to advance their skills in their own time. Development isn't always about what they do day-to-day, it could be a personal interest someone wishes to pursue, so, it's about investing in people.
"We take great pride in our proprietary screening and selection process which helps us to make better placements. Our assessments enable us to hone aptitudes and abilities. Somebody may start with a trainable job and then go on to follow a career like my own. We put the work in upfront to minimize challenges and staff turnover further down the road," he explains.
The manufacturing sector does face some challenges but in Alex's opinion there is some low hanging fruit; some things that can be done quickly that are low-investment but high-return that organizations fail to see amidst the minutiae of the day-to-day. "We're facing a skills gap," he elaborates, "which is being fueled by a few factors. The first is an aging workforce. Nearly four million people are getting ready to exit in the next few years. That is a considerable amount of tribal knowledge and skill that needs to be transferred and requires effective succession planning.
"If a succession plan is something that is put into place, it is often done so too late. It's important to unpack the skills gap to assess whether there is a value proposition that will attract new demographics to the workplace. From shifts and schedules to culture and compensation, there are several factors that are decision-makers for prospective employees. Pay is king. Every year, without fail, pay is the number one motivator.
"Since we came out of the pandemic, companies have had to raise their pay consecutively over the last two-to-three years. Staying on top of pay and benefits is important, as is employee engagement. I believe employee engagement is one of those low-investment, high-return fixes that I mentioned before, alongside the onboarding process. Simple questions, such as: 'Am I being consistent? Am I having conversations with that new employee? Do I understand that they have obligations and a life outside of their commitment to the company?' All can vastly enhance engagement. We've seen this reinforced in the results of our Voice of the American Workforce survey. One of the main reasons, if not the main reason for somebody leaving a job, is because they're not treated with respect or are treated unfairly. That was cited by almost 30 percent of the working population. That also applies to being overworked or experiencing burnout. From location to flexibility, the needs of the employee rank highly."
Employee engagement
Alex touched on the importance of culture and goes on to elaborate. "Stability and job security are high on the agenda, and particularly so, during times of economic uncertainty. When someone accepts a job offer, they don't know anything about the culture other than what they've been told during the interview process. Then reality sets in a few weeks later and that person is left wondering what they were thinking. This is a red flag. If we know that's why people are leaving, then that is where we need to put our investment. A good culture needs to champion transparency and inclusion. It's important to let employees know what the operational plans are and how the organization performs financially. This will build trust, which, in turn, drives loyalty.
"Back in the day, there was a social contract between employer and employee; it wasn't unheard of for people to work for one company for 30 or 40 years. Now, we can be lucky to have someone for 30 days, and particularly so, if we don't work on those things I've mentioned. My colleagues and employees often sit around the conference room table and ask our clients what's great about their organization. We must have those difficult conversations. If the answer is not a bunch of goodness, then how is it possible to position them as competitive employers.
"One of my favorite things to ask a manufacturer is how the skills gap is affecting them and what are they doing about it. Most of the time the answer is 'not much.' From upskilling to reskilling, there are so many learning paths to put forward for employees. There are new technologies to explore that can really propel manufacturing into the future. Here in the States, we work closely with the National Association of Manufacturers, which has a program specifically created to attract high school graduates who are not going on to college to see the opportunities in manufacturing including these fun new technologies.
"This is reinforced by the annual Manufacturing Day, MFG Day, that showcases advancements in modern manufacturing. It opens the door to high school students so they can really see what's happening in the industry. We partner with thousands of manufacturing companies throughout the country to make a big splash for this day. If we only touch a few percent of those individuals and they go on to decide on a career in manufacturing, then we've done our job," Alex enthuses.
"Nearly 80 percent of the current employed population is telling us that they would stay within the sector if they were able to learn new skills and advance their careers. People are willing to learn more. There is a perception that as we introduce new technology, such as robotics for example, then jobs will be rendered obsolete. I don't believe that's necessarily true. The data shows us that the implementation of robotics will require a different skill set. So, why not repackage that with new learning paths. We need to arm people with the necessary technical acumen to operate, maintain, and program robots, so that the cobot concept can become a reality," he asserts.
"If manufacturers get better or more consistent at measuring the competencies of the current workforce, then it's possible to start devising strategies for upskilling those individuals in the new technological roles that we need. That can be a combination of classroom, online, and on the job training. Not everybody learns in the same way. If employers are willing to offer advancement opportunities and work closely with educational establishments to deliver that training, then there is a greater chance of retaining staff. Some organizations are doing this but it's not consistent across the board.
"Advancement opportunities are king, and employees are willing to invest their time. While this is encouraging, it's also important to bear in mind that ten percent of those people telling us that they're learning a new skill are doing so because they think they're going to lose their job. Hence, the importance of presenting the message in a better, more positive light."
Profitable partnerships
In drawing our conversation to a close, Alex highlights that in manufacturing, there are ordinary people doing extraordinary things every day. "In some cases, they're not necessarily recognized for it, which is cited by a lot of people. While the worker has a responsibility to start getting some of that loyalty and investment from the company by being vocal, manufacturers must meet and listen to them.
"Manufacturers need to be intentional about getting into the minds of their workforce and really providing answers and opportunities for what they're hearing. That's the way they're going to start creating loyalty. Embracing change and understanding that you have a changing workforce, in a rapidly changing world, is essential to pave the way to progress," he concludes. "Manufacturers sometimes need to get out of their own way. By embracing different demographics and different ways of thinking, organizations will be able to listen differently to the various people that we employ every day."
Indeed, this is an approach that Alex and the team wholeheartedly embraces within their own organization. "As I said earlier, I don't feel like I've worked a day in my life. We've built something great over the years that is very employee centric. We care about unlocking potential and making sure that we're changing people's lives at every opportunity. Our values and morals trickle down to every end user, to our workers and to our customers, which makes for much more profitable partnerships all round."