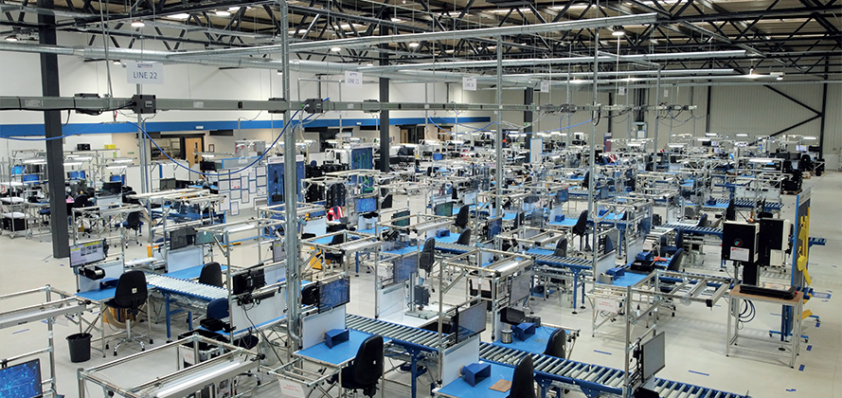 Alexander Battery Technologies
Fully charged
With a history that stretches over 30 years, Alexander Battery Technologies is taking on the battery manufacturing market with an energized approach, after experiencing tremendous growth during the testing months of the pandemic
As a designer and manufacturer of customized battery packs and charging solutions, Alexander Battery Technologies works with numerous blue-chip organizations to provide safety critical solutions for a variety of applications such as health and personal safety, medical equipment, test and measurement, military, and fire and police to name a few
Beginning as Alexander Incorporated in the US, the company was amalgamated into Alexander Manufacturing (UK) Ltd in the mid-1980s, and has been supporting customers from the UK ever since. Fast forward to 2019 and the business was acquired through a management buy-out transaction in which Shard Credit Partners provided a committed financing package worth £9.2 million. Together with grant funding from the County Durham Growth Fund, this investment enabled the company to commence a major investment in a brand new, state-of-the-art,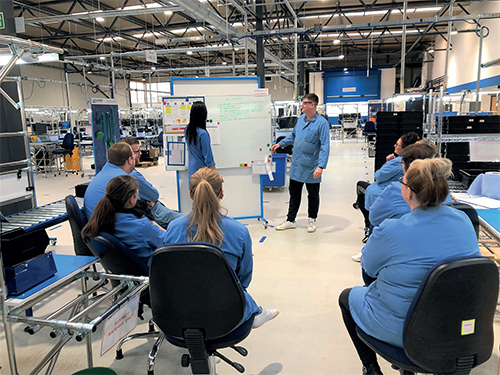 manufacturing facility at Peterlee. Completion of the construction project was nearly completed in early 2020 when the company started to receive significant increases in its purchase order volumes.
As a result of the pandemic impact creating an unprecedented demand for its products, the company experienced an impressive tenfold growth in its operations and revenue, and we learn from James Aherne, the CEO of the County Durham based business, how the company was able to facilitate this increase.
"From our modern UK manufacturing facility, we support a global customer base with the design and production of rechargeable lithium-ion and NiMH batteries and chargers, delivering innovative products on-time and on-budget to allow our partners to focus on the design and manufacture of their own products. Our client-centric philosophy and priority status with our key suppliers means we deliver outstanding battery products up to one kilowatt hour, together with critical services such as supply chain resilience, and we have the capability to support buffer stock programs, end-of-life management, and rapid prototyping," says James.
He further explains that through the design and delivery of the company's customized battery products, four key tenets to provide leading customer service are embedded into Alexander Battery Technologies' ethos. "Our position in the market is as a provider of reliability and performance. Our customers demand optimal performance from their power solutions, and every product we make is custom-designed specifically for their application using tier-one suppliers, and carefully selected components to work harmoniously together to achieve this.
"Complementing that, speed to market is also important to customers who need prototype and production products turned around quickly to ensure they remain competitive in their market. We have developed a rapid response program based on automotive techniques meaning we can deliver high quality product in weeks and months, rather than months and years," he explains.
Thirdly, the business' customers require the highest of quality to ensure they maintain their own reputational integrity. Accordingly, James shares how Alexander Battery Technologies deliver this by building exceptionalism into every element of its process from strategic direction, right down to Lean Six Sigma training at operational level.
"Finally, our customers live in a very difficult supply chain where forecasts move continuously. We take the pain out of this for them by managing strong relationships and expertise with both local suppliers, and overseas suppliers and logistics partners to enable us to deliver on time to our clients' aggressive schedules."
These key points have served as an effective strategy to assisting in increasing the company's revenue during recent times, helping it go from strength-to-strength. "Over the past three years, we have seen revenue growth of over 400 percent and an increase in our US export business which now represents 78 percent of our revenue. As may be expected, some of this increased demand has arisen due to the Covid-19 pandemic as several of our products provide power for respiratory aids, ventilators and incubators used in the health and medical sectors," he says.
"However, to achieve what we have, we needed to react to this sharp uptick in demand in a way that satisfied our customers and protected our staff. This required us to develop the strategic direction, governance, and organizational structure to meet customers' needs during these challenging months. We achieved this by taking the time to do what many other organizations don't do: we created a clear strategy and invested effort in cascading this through the company to create a culture where everybody was clear on the business goals and, crucially, what their contribution needed to be," he expresses.
Of course, not every tactical decision delivered exactly what the company expected. However, due to the strong foundation that it has
developed over the past few years, Alexander Battery Technologies has gained the agility necessary to define and deploy course-corrections quickly and, ultimately, deliver the sustained growth it is proud of.
"Productivity has received particular focus in the past 18 months as we have developed the production system elements necessary to support our growth. We now routinely achieve productivity at 85 percent or higher, which is calculated daily as a product of utilization of direct staff and efficiency of work against standard times. The secret to sustaining this level of performance lies in getting the basics right. In line with that, we have begun making performance highly visible across the board, and have invested time and resource in upskilling our teams at all levels to identify and eliminate waste in daily routines and processes. Most of our operations personnel deploy structured problem-solving techniques daily, and our entire quality department has achieved certified Lean Six Sigma status," shares James.
He continues to inform us that the company's leadership team is unified in the understanding that it is the people in the organization that will either make or break the business' success. "Two words best describe our approach towards creating the successful culture we want to achieve: communication and respect. We have worked hard to improve our communication within and between departments in direct response to historical feedback from staff. At an operational level, we have reinstated a works council after a lengthy period of dormancy, we distribute a company newsletter and we have established short daily stand-up meetings to provide a mechanism to review performance and escalate any issues. At a more strategic level, we make sure that the overall business direction and performance against objectives is visible to all, and we have enhanced the process through which individuals' objectives are discussed and performance is appraised.
"Respect is a much harder attribute to mandate as it typically comes from within and, in many instances, needs to be earned. However, as a leadership team, we have created an environment where everybody has a voice and an opportunity to have their views heard through initiatives such as our suggestions scheme, and mechanisms such as the daily stand-up meetings. We also recognize that it is rarely the managers and directors who will have the answers to some of the problems experienced in our operations teams, and therefore we proactively engage operators, team leaders and supervisors in our continuous improvement and problem-solving activities," James informs us.
Not only are the relationships with employees treated with great value, but the company's supply chain network also is viewed as equally as important. Mark Rutherford, newly appointed Managing Director, comments "One of our key value propositions is we provide flexibility in the supply of products to customers. As a result of various changes in the political and economic landscape, the battery supply chain has become very volatile recently, and we have redoubled our efforts to leverage our strong relationships and expertise with both local and overseas suppliers and logistics partners to enable us to deliver on time to our customers' schedules. In practice, this means providing suppliers with accurate forecasts, agreeing stocking strategies, and working collaboratively to address any difficulties. We genuinely consider our suppliers as partners, and treat them accordingly, as this is the only way to ensure we deliver on time to fulfil our promises to our customers."
Now, having soared through a successful 2020, the company is beginning to return to its pre-pandemic growth trajectory. Its intention moving forward is to maintain its future growth in a sustainable way that foresees and overcomes possible market risks with the lowest level of impact. James concludes: "Our vision is to continue to grow and become a £100 million business by 2026 through expansion of our customer portfolio and development of the product range and technologies we take to market."
After facilitating the massive advances in its operational excellence and customer satisfaction over the past 18 months, Alexander Battery Technologies is looking forward to shifting its focus towards the development of new business, and grow its market position to fulfill its maximum potential.
Alexander Battery Technologies
www.alexandertechnologies.com
Services: Battery manufacturer