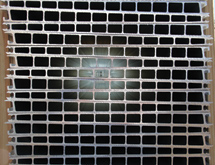 The company's dedication to quality dates back to 1971, when founders Robert Sanford and Bruner Dicus formed the company after purchasing a facility in Enterprise, Ala., from their former employer, Baltimore-based Washington Aluminum Co. The two moved from Maryland to Alabama in pursuit of a new opportunity, and pooled their resources and business knowledge. 
In addition to buying the facility – which still houses the company's operations – the two also bought the assets of  Metal Service Company Inc., of Clearwater, Fla., and expanded the manufacturing and sales of STAIRCO steel stair systems.
ALFAB has grown since its founding from its initial staff of 27 to more than 100 employees. Several of the original employees are still with the company today. They produce carbon steel, stainless steel and aluminum products including STAIRCO steel stairs, platforms and railings in a 200,000-square-foot manufacturing facility located on a 55-acre site in southeast Alabama. The company serves a wide range of sectors, including the commercial construction, nuclear, marine, power, defense and industrial markets.
Notable clients include the U.S. Army Corps of Engineers, for whom ALFAB produces support steel used on lock-and-dam projects across the country, and the U.S. Armed Forces. Some examples of infrastructure components supplied for waterways projects include "wall armor," which protects guide walls and lock walls from impact, ladder recesses and mooring bit guides. The company is one of the country's largest manufacturers of  AM-2 Mod 5 Landing Mat, used for rapid deployment helipads, airfields, parking aprons for aircraft and shelter flooring. ALFAB is ISO 9001 certified and AISC certified for steel building structures.
"Diversification has been the key to our success in that we don't just do carbon steel or structural steel, we've diversified into stainless steel and aluminum which has helped us. As markets changed, we can adapt right along with them," Vice President Danny Dicus says.
Built to Last
All of ALFAB's products are built to customer specifications on up-to-date equipment. Manufacturing processes differ based on the needs of each unique project. The company is capable of performing several production functions, including cutting, welding, machining, hole punching and painting. Each part of ALFAB's production process includes extensive quality checks.
Suppliers also help maintain quality.  "We have mutually beneficial relationships, rely on them and hold them accountable for quality, pricing, delivery and certifications," Dicus says.
ALFAB's up-to-date equipment and long-term staff have helped it earn a loyal customer base.   "Building sound customer relationships is very important to us," Brown says. "The majority of our customers are repeat business, so we're certainly proud that customers would want to come back and work with us again," Brown says.
The company's positive reputation among repeat customers also helps it gain new business.
"People do business with us because they know we've been here a long time, and we're not going away anytime soon," CEO and President Carlton Speigner says.