Vinyl collection
Alkor Draka's commitment to customer service, quality and sustainability marks it as a leader in vinyl products as well as other substrates, around the world
In 2015, Alkor Draka celebrated its 50th anniversary of producing high quality vinyl films for numerous industries around the world. Operating out of two plants, Enkhuizen in Holland and Liancourt in France, the company serves a range of industries from stationary, medical and technical, to customised films for the graphics, decorative and tapes markets. The mission of the Enkhuizen plant is: 'we craft unlimited solutions with foil to encourage innovation!'
Quality comes first in everything the business does, from product design and production through to sales and supply, and is geared towards the highest standards in accordance with ISO
9001 accreditation. To facilitate this, Alkor Draka's long history has been consistently defined by upgrades and developments within its ultramodern production facilities. Equipped to handle a full range of services such as rewinding, slitting, printing and laminating, the company offers a large range of flexible products upwards of 60 microns thick. Strict process controls are also operated in order to meet exact customer specifications demonstrating an exemplary level of reliability within the sector.
Not only are the production facilities constantly upgraded but also the ERP system is renewed. The new QAD system ensures that the productivity is maximised by automating different company processes.
"Our major markets remain to be in the UK and Germany," explains Alkor Draka's COO Pieter de Graaff. "However, we are a truly global company, exporting to around 65 countries around the world. At present, with stable market conditions a general feature, we are seeing very good business prospects in Eastern Europe, North and Latin America and also in the Middle East." Supporting this international spread, the business operates a strong strategic distribution network around the world. A multi-lingual sales department also ensures that the company can deliver the best possible service to customers wherever they are based.
"Another particular strength that helps to maintain this global reputation of quality and reliability is the fact that, whilst we are predominantly an industrial company supplying by container load to major clients, we also keep a large stock availability in warehouses across key markets," outlines Pieter. "We keep about 400 separate product lines with different designs and different colours and can supply by the roll if needed. This is very valued by our stationary and promotional sector customers who are often working to turn their own projects around quickly. Therefore, it is important that we can provide a flexible, reactive and fast service to support them in the best way possible."
Operating within the plastics industry, Alkor Draka currently represents a demonstrable commitment to sustainability, and as such is a member of VinylPlus. VinylPlus is a renewed ten-year voluntary commitment of the European PVC industry, which builds on the progress made by its predecessor, Vinyl 2010. The organisation is set up to create a long-term sustainability framework for the entire PVC value chain in Europe and aims to realise the following vision: 'PVC is a preferred material in terms of quality, value and environmental safety. It helps others to reach their sustainability goals and is seen as a safe material providing convenience, comfort and high social value as well as having good sustainability credentials. This has been achieved by leadership and commitment from the industry, itself working with others in an open and honest way.'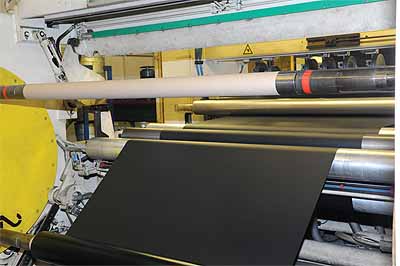 One of the core forces being driven by the organisation is the recycling of vinyl products and implementing this into its operations has been a clear strategy of Alkor Draka over recent years. Today, supporting both the recycling and the creation of recyclable products is one of the business' top priorities. The company recycles both its internal waste, by intercepting waste during the production process, and (where possible) waste from customers, which can be shredded and reused in production. Of course, ensuring that long-term recyclability is designed into any products produced by Alkor Draka is also a core part of the firm's activity.
The company is also part of a significant multiyear agreement with the Dutch government to reduce energy consumption every year and Alkor Draka has implemented a number of initiatives to help reduce the emissions of CO2 within its operations. Beyond sustainability practices, the company also plays a responsible role in supporting local communities and has helped implement projects such as the renovation of an iconic and historic monument in Enkhuizen. The Drommedaris is a cultural centre, which had to be adapted to modern access, safety, comfort, durability and usability standards.
Responsibility towards its local communities, the environment and its customers will remain a defining feature of Alkor Draka as it moves forward. Pieter highlights that market conditions in Europe are particularly favourable, and focusing on developing markets like decoration, tape and clear vinyl film will attract specific efforts over the coming months and years. Innovation and expansion will also continue in order to remain flexible in line with changing customer demands as the industry looks towards the future.
Alkor Draka
Products: Specialist manufacturer of flexible vinyl films and other substrates for a broad range of applications