Designed for the customer
Allard-Europe specialises in metal casting for a number of markets, and it has recently made significant investments and expanded its capacity to meet growing demand
Allard-Europe produces steel and iron castings for partners all around the world, and specialises in creating unique parts and small series, with the constant aim of improving and making technical developments. In order to supply niche markets the company continues to invest in the latest technologies and provide its customers with high-tech personalised solutions. Allard has enjoyed a number of key milestones throughout its history, however one of the most significant in recent years has been its acquisition by Royal IHC and DIHAG Holding GmbH that took an equity stake of 40 per cent and 60 per cent respectively. This has helped support the company across its entire range of products and provide the backing for Allard to excel even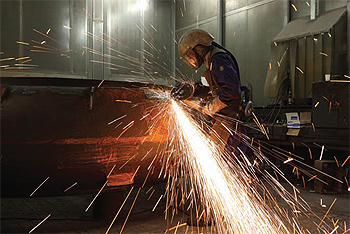 further in the coming years.
Allard offers its services to a variety of sectors, and these include dredging, offshore, shipbuilding, energy, cement and mixing, plus metal. In all of these areas the company has added to its outstanding experience, expertise, and quality, with large-scale investments. Also, within all of these it tailors its services to meet the particular challenges and demands of Allard's customers. In terms of its dredging provision the business has developed a lot of experience in designing, pouring and machining of castings for the dredging industry. It is due to these years of activity within the sector that its quality department has developed materials, specific for wear-resistant applications.
In addition to its dredging services, it also provides for the offshore industry, and within this Allard has a reputation as a leader in solutions. The company manages to do this in a number of ways, whether that be through extensive efforts to find the right materials, or to take a critical examination of the geometry and casting, which all helps to ensure that its customers get the best results. Allard also supports the shipbuilding sector, and has done so for many years and it utilises the experience of its staff to create the right application and keep the mechanical properties, weldability and corrosion resistance in mind. It understands that the best outcomes will only be through working closely with the customer, and this is a key part of its success throughout all of its operations.
Allard also supplies the energy industry with a broad selection of castings and materials, from non-alloyed to very high alloy heat-resistant grades of steel and in weights of 50 kilogram to over 25 tonnes. The company's expertise is targeted towards both wind and the nuclear industries, whose quality demands are very high. This is a testament to the high standards of the company, as Commercial Director Fienie Maasdam highlighted: "I think one of our key strengths in the market is that we are very reliable and are known to offer very good quality products."
The final areas where the company applies its skills are in cement and mining, as well as metal – which includes its provision for steel, construction, non-ferro, and automotive services. In the cement and mining sector Allard often performs one-off projects in which the preliminary phase and the engineering of the castings are central. This has meant the company has invested heavily in the latest simulation software in recent years, which allows it to perform coagulation as filling simulations for new or existing designs. The metal sector is an area where Allard has a leading reputation of supplying castings to the steel industry, and has extensive services throughout this area.
What unites these areas is a focus on finding the best materials, and Allard is able to achieve this through its many years of experience, and the importance it places upon working so closely with its customers to understand their needs and applications. It has also been made possible through the large investments that the company has made into its facilities and machinery, such as its CNC machines, CAM software, 3D design systems, and many more. All of which have helped support it on its path to double its capacity by 2016-17, and continue Allard's tradition of constant improvement and development.
In addition to this it has made important investments in its staff, which are a fundamental part to the business, and one way it does this was discussed by Fienie: "We have started a development programme where we provide training opportunities for young people, and over the course of six or seven months they develop the skills required for a specific role at the company." This is no doubt crucial to the longevity of the business and industry in general, as it helps to address the skills gap that has developed in recent years. The company combines the newly trained generation with its current staff that has vast experience, which ensures its personnel have the best of both.
Therefore, with the expertise, experience, and presence within a number of markets, and large scale investments that are targeted at providing long term success, the company looks well positioned for the years to come. Fienie elaborated on what Allard would be doing in the coming 12 months: "It will be to optimise the current production cycle and evaluating whether we can do it more efficiently, and focus on that, while also giving focus to safety, plus we will be concentrating on streamlining the whole organisation." Due to these factors and the core strengths of Allard its future looks set to be a positive one.
Allard-Europe
Products: Metal casting