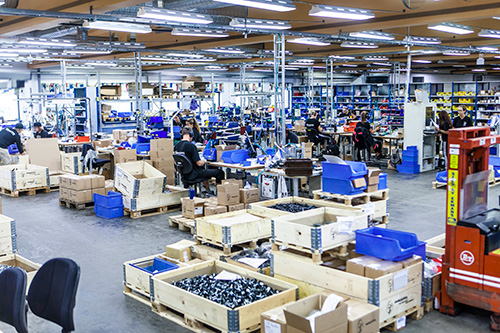 After 50 years, Allegis Corp. stands as a leader in access hardware, including handles, latches, hinges, gaskets and gas springs. Employee experience has been essential for the company to support strong product and service expertise, President Greg Mattson says.
With many employees who have been in the industry for more than two decades, Allegis provides customer focused solutions that help support their customer's journey to establish product excellence and differentiation. "The years of experience is what really sets us apart," he says.
Allegis' roots go back to 1969. Allegis will be celebrating its 50th year in business in 2019. There have been many product and technology changes over this period.
The one constant that has been consistent over this period of time has been the development and personal growth of its employees.
Today, the Minneapolis-based firm serves manufacturers worldwide, which range from start-ups to Fortune 500 companies. "Sixty-five percent of what we do is a custom solution to fit the exact application that the individual customer might have for their product," Mattson says.
Bringing Value
Allegis goes to market with three differentiated value streams, Mattson says. "The first value stream is our distribution heritage, and in that world, that's our large selection of catalog items that are available through online selection and e-commerce shopping site," he states. Through its website, Allegis offers a product selection tool that allows clients to immediately design a product into their application. "Once our customers select a product, we provide service from nine facilities across North America to provide next-day shipping," he says.
In the second value stream, Allegis provides vendor-managed inventory solutions through its supply chain services channel. "In that relationship, we come in and manage the product at the customer's facility at their point of use on their production line," Mattson says.
In this role, Allegis can manage the costs of acquisition and possession. "We are really focused on helping our clients reduce their overall cost to manage parts through their production facilities," he says.
The supply chain solutions channel offers clients an online portal to help them understand the frequency of products being used at their cell locations. "We're measuring fast-moving inventory and slow-moving inventory at the customer's point of use," Mattson explains. "We are providing visibility and accountability into the process of managing obsolescence."
The third value stream comes through Allegis' expertise in design and engineering. With this knowledge, the company provides custom solutions to help its clients differentiate and sell more of their products. The customer's experience is managed to deliver on time.
During this process, Mattson says, Allegis will take the client's design, create a prototype, test it and validate it. After that is finished, "Those parts will be handed off to our teams to manage that part at the customer's point of use," he says.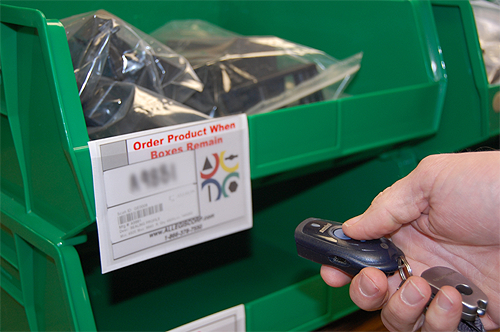 "That's what really differentiates us," he notes. "We're able to take something from concept design, validate it and then even bring it all the way through and manage it at the lowest cost at the customer's point of use."
Many of Allegis' competitors, he notes, will simply produce items in large volumes and let the customers manage the flow of parts to their facilities. "The experience that our customers get is we're managing the complete process, not just one value stream of it," Mattson says.
Satisfied Customers
Allegis serves a broad range of industries, including HVAC, construction, agriculture, electrical and telecommunications enclosures, power generation, kiosks and carts, transportation (trucks, buses, RVs), refrigeration and power sports (snowmobiles, boats, ATVs). One of its satisfied clients is CM Truck Beds, a Kingston, Okla.-based manufacturer of truck beds that began working with Allegis on latches for toolbox compartments in the truck bed.
"We were using a cheaper, more commodity-based toolbox latch in 2013," Vice President Joe Lewis recalls, noting that the company moved to a t-handle compression latch from another supplier. It ultimately turned to Allegis when it needed a better solution.
One aspect that has been key, he notes, is how Allegis and its business development manager for the south-central division, Stephen McElrath, have worked closely with CM Truck Beds. "Steve and the guys from Allegis always bring us solutions for better locking and sealing," Lewis says.
"They're always throwing new ideas to us to make our products better and look at components from different angles in purchasing," he continues, adding that Allegis also focuses on cost while emphasizing CM Truck Beds' goal of not being a low-cost supplier. "They've done a good job of bringing those solutions."
Allegis managed to provide CM Truck Beds with a latch product that is easier to operate than the one it previously used. "It has given us better performance of our toolbox doors," Lewis says. "They do not leak."
The latch brings other benefits as well. "It looks a lot better on the toolbox itself," McElrath says. "It's got a little bit of a wide footprint, [which] makes it easier for someone who has got a gloved hand to grab the t-portion to actuate it."
Allegis also assisted CM Truck Beds with its manufacturing process. The company needed to improve its manufacturing efficiency.
One way that Allegis did that was by improving the way CM Truck Beds manages inventory and receives product. Previously, "We were batch buying," Lewis recalls. "Now we're just-in-time buying."
Today, McElrath says, CM Truck Beds receives shipments weekly as well as every two weeks. "We're moving inventory much faster and have lowered our on-hand inventory," he says.
CM Truck Beds and Allegis continue looking at ways to innovate, which includes the implementation of a Bluetooth actuation device for the latches on its toolboxes. "A guy out working can hit one button and it can open everything," McElrath says.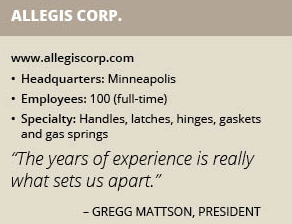 "CM was one of the only people we approached with it because of their forethought for innovation," he continues, noting that Allegis continues looking at process improvement operating efficiencies as well as ways to manage cost drivers. "[We are] making sure we are cost competitive for those solutions."
Leading the Way
Mattson joined Allegis 34 years ago. He highlights its culture, which is very focused on the development of its associates. "We have longstanding experience in developing our employees," he says.
The company has enjoyed low turnover. Additionally, "I'm extremely proud of how we've developed our core expertise in design, engineering of supply chain services, and the management of product," he says. "They have led the way in program management."
He notes that Allegis has launched new branding to commemorate its 50th anniversary as well as create more awareness. While its products were always widely available, "We never stood from the mountaintop and let everyone know who we were," he admits.
"Now we're moving in a direction to show some of that confidence in what we do," Mattson says, noting that he also sees growth ahead for the company, which will see the addition of design resources and products as well as new acquisitions.
Allegis will continue to focus on double-digit growth rates while maintaining its cost structure.
"We'll be spending a lot of time on automating processes, improving and implementing new technologies," Mattson says, noting that 3-D printing manufacturing has a bright future to change the supply chain models of the past.
"We'll just print it in our facility and ship it that same day versus producing parts off tools with long lead times and inventory commitments," he predicts. "I think that turnaround would be something that happens very efficiently and effectively."