Wiped down, but not out
From an arson attack to Covid-19, Allied Hygiene has seen it all. But after two successful years, the wet and dry wipe manufacturer is embarking on a series of new developments, including an all-new eco-friendly product range
Founded in 1990 as Allied Paper, a supplier to the UK market of centrefeed rolls and toilet tissue, the company took a decision within 12 months to diversify its operations, establishing a new business which would become Allied Hygiene. The company had an ambitious goal: to become a pioneer of impregnated wet wipes. But realizing it wasn't going to be easy. "We were trying to produce a non-woven roll using a paper centrefeed machine that wasn't really designed for the task," admits Andy Phippen Managing Director at Allied Hygiene. "We'd then mix our chemicals by pouring them from a watering can into a bucket, before creating a pallet of product that we'd go out to sell."
Humble beginnings, maybe – but the company soon hit the jackpot, acquiring a couple of key end users, including Weetabix and United Biscuits. "It's really grown from there, with a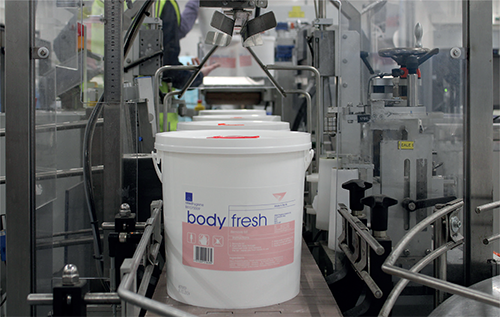 number of quite large developments over the course of the last 25-to-30 years where we've really taken the business forward," Andy reflects. "We've invested in more bespoke technology, introduced automated manufacturing lines for the filling, sealing and capping of our tubs and buckets, and we've developed our own chemical mixing facility. Prior to 2007, the business was very much focused on distribution within the UK market. In 2008, we took the decision actively develop our export sales business, which has today grown to approximately ten percent of our turnover."
Overcoming adversity
But Allied Hygiene's story isn't all positive. The year 2015 marked 25 years of operation for the company – but celebrations were cut short, as a major arson attack saw the near-complete destruction of the warehouse, raw materials and manufacturing capabilities located at its Erith facility. "That was a major turning point," Andy confesses. "At the time, we didn't know whether we'd be able to get back on our feet. We were fortunate to have a second location down the road in Belvedere; everything we had left, we moved there, re-establishing the infrastructure for our phones, our internet, and to give our people a base, and we leased some additional premises in order to restart our manufacturing.
"It wasn't until three years later, in 2018, that we were able to return to Erith," he goes on. "Thankfully, it gave us an opportunity to redesign the entire building to be far more purpose-built, at a size 60 percent greater, and with a layout that drastically enhanced our manufacturing efficiency. It also includes state-of-the-art automated converting, filling and lidding lines, as well as a high-tech chemical mixing facility. These have both taken us to a new level in terms of capacity."
Through its distributors, Allied Hygiene supplies four key product groups to the market: wet wipes, dry wipes, paper consumables, and dispensers, to a total of seven main sectors. "Food is the original area into which we first developed as a business," Andy says. "We've since branched out across hospitality, industrial, healthcare and dairy. Facilities management is another growth area, Likewise, our products are used throughout retail as a means to facilitate in-store hygiene. We're also looking at expanding our portfolio in the veterinary sector, following the pandemic-induced growth in the pet market."
Product launches
Across its 30-plus years of operation, Allied Hygiene has developed close relationships with a number of key end users. It's a distinguishing factor, and one that informs the company's product development. "We're able to understand their needs, and we can then feed that back into the business, either creating new products or enhancing our existing portfolio," Andy confirms. "As an independent company, we have the flexibility and responsiveness to be able to do that, and to move quickly when it comes to making decisions about new investment opportunities. For our competitors with a larger corporate structure, that's much more difficult."
One product to come out of this process is Allied Hygiene's Quick Release Dispenser (QRD). "We've been in contact with one major food industry end user regarding cost-of-use issues involving wet wipes," Andy notes. "The method they were using for dispensing wipes from a refill bag was leading to several sheets coming out at once, when they weren't needed. The QRD concept not only allows them to dispense wipes more easily, it removes the need for a bucket to hold the bag, thus reducing the cost of storage and distribution, and the volume of packaging that they require."
Perhaps unsurprisingly, Allied Hygiene experienced significant growth over the last two years, as the arrival of Covid-19 prompted an uptick in demand for disinfect wipes, hand gels and sanitizers. "Our sales increased significantly, but the period wasn't without its downsides," Andy comments. "There was unprecedented demand for non-woven materials such as polyester, polypropylene, viscose and cellulose, all of which were being used for the manufacture of medical gowns, face masks and other PPE. That in turn led to cost increases, and difficulties in terms of supply chain shortages – particularly for raw materials from China, as the cost of containers increased dramatically, and availability plummeted. We're now assessing that reliance, switching to EU manufacturing where possible in order to maximize our flexibility. At the same time, we were challenged for capacity: there was a roughly six-month period during which our order book was literally full, preventing us from taking any orders."
As the threat of Covid-19 recedes, the company is building up to the launch of an all-new product, designed with the future in mind. "If you wind the clock back to 2021's COP26 Conference, we saw significant media coverage in relation to environmental pollution, of which plastic is a major contributor," Andy recalls. "In the context of wet wipes, a number of the lower-cost options are 100-percent polypropylene. With the coming introduction of the UK Government's Plastic Packing Tax in April 2022, we've received requests for biodegradable wet wipe substrates, and we've conducted research into the viability of such products in terms of continuing to meet our customers' requirements.
"We're now at the point of being able to launch a couple of 100 percent cellulose products, targeted towards the hospitality sector," Andy continues. "We're also have a heavier grammage viscose product, designed for demanding tasks that require a higher tensile strength. We're putting those both into more appropriate packaging formats – for instance, using a flow-wrap pack with a 70 percent lower plastic content compared to traditional rigid tubs. We're just now finalizing the data on those products, with a view to launching the range within the coming months.
"Ultimately, the plan over the course of the next five years is to significantly increase the size of the business, led by organic growth and acquisitions," Andy concludes. "With obtaining ISO13485 certification for medical devices, we are looking at partnering with a US-based distribution company in order to develop our North American market, with a focus on healthcare. Similar opportunities present themselves in the European markets. As we look to take a larger role in product promotion and education of the market, we're also expecting the shape of the business to change, with a greater emphasis on digital marketing."
Allied Hygiene
www.alliedhygiene.com
Products: Wet and dry wipes