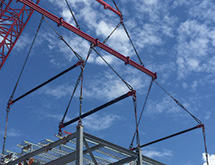 For the past nine years, Alltec Lifting Systems has prided itself on delivering safe and flexible equipment customized to fit any lifting challenge.
President Larry Bonnin developed the concept for Alltec in 2005 and the Dickinson, Texas-based company began manufacturing and renting lift systems a year later. Bonnin remains a part owner of the company, but the majority owner is Roderik Van Seumeren. The new partnership began in spring 2014 and has opened Alltec up to new business opportunities through Euro-Rigging, an engineering and consulting firm also owned by Van Seumeren.
Today, Alltec has as many as 20 employees depending on the size of the company's workload. "Even though we seem kind of small, we take on some big, very valuable projects," Bonnin explains. "Which keeps us on our toes constantly."
The company has three primary areas of business: rigging rentals, engineering and consultancy, and project solutions. Each below-the-hook lifting device is designed in-house and fabricated and certified specific to the project requirements.
Many of its customers are energy companies, including petrochemical, oil refineries, nuclear, coal and offshore drilling. Although Alltec provides lifting systems to customers throughout the United States, most of the company's work is concentrated in the Gulf Coast states, Bonnin says. Many of Alltec's clients are based in Houston and the company's proximity to the Texas and Gulf Coast markets has helped it grow along with the surrounding energy industry.
Making a Transition
The sale to Van Seumeren last year signaled the beginning of a new phase for Alltec. For most of the past decade, Bonnin has been largely hands off on the day-to-day operations of Alltec as he continued to work at Mammoet, another heavy lifting company.
Van Seumeren was an owner and former CEO of Mammoet. As part of the Alltec purchase, Alltec required Bonnin to retire from Mammoet and take on Alltec full-time. Bonnin's renewed involvement in the company and the restructuring of the internal organization have helped Alltec increase its revenue by 100 percent in the past year, Bonnin explains.
Bonnin credits the change in oversight with prompting Alltec to take a new approach in its business. "We used to be a company that sat by and waited for the phone to ring," he says. But Van Seumeren has helped Alltec to more actively seek out customers, Bonnin says, while Senior Vice President Maikel Takken has restructured the company's organization and processes to enable Alltec to take on more work.
Impact of Modularization
The split between rental and sales of lifting systems is driven by market conditions, Bonnin explains. Although Alltec favors renting lifting systems and drives rental revenue through the engineering that accompanies those rentals, the energy market's turn last year shifted the business toward equipment sales.
Bonnin believes the uptick in demand for unique lifting systems is being driven by an increase in foreign module manufacturing, which are shipped overseas and assembled locally. Customers have moved toward prefabricated modular construction to save time and reduce costs in building new facilities. Modules are constantly becoming dimensionally bigger and heavier and, as a result, lifts become more complicated and capable to handle those larger loads.
Takken says a lift process with four lifting points was common when he started in the business. Now, the challenging shapes and lopsided center of gravity of today's modules can require as many 14 lifting points at varying elevations to lift safely.
To protect their investments, companies are looking for experts who can take proper care of the modules and ensure a smooth placement. That has led to increased demand for companies such as Alltec who have the right people in place to manage each step of a lifting project.
Alltec develops equipment capable of moving up to 1,400 tons – large enough to require five 18-wheeler trucks to deliver. Typically, Alltec does the engineering and design work in-house and then uses a third-party manufacturer to fabricate the lifting equipment when required, depending on schedule or available shop space at Alltec.
Once completed, the lifting equipment is sent to Alltec's facility in Dickinson, where it goes through quality control and testing. For smaller lifting equipment, Alltec uses vendors to fabricate individual parts and assembles the entire systems itself at its facility in Dickinson.
When designing lifting solutions, Alltec works with the customer to develop a complete picture of the job. Alltec reviews drawings of each item that must be lifted, and, if necessary, the company sends teams to the field to take in-person measurement. From there, the company develops an engineered rigging plan for each item to be lifted. "We consider each lift a critical lift," Takken explains.
"In a lot of cases, the smaller projects can be more complex than the larger projects," Bonnin adds. Smaller projects can come with restrictions such as height limits that are less common on bigger jobs that have more space.
Flexibility is a key component in each Alltec lift system, and Takken says the ability to quickly adjust to real world conditions is one of the reasons that drives the company's success. Equipment must be flexible because field conditions might differ from the anticipated conditions on which the engineering design was based on.
Takken gives the example of a Japanese customer who had an issue with the rigging. A module came in on a different model ship than anticipated, resulting in a different rigging height restriction. Alltec was able to adjust immediately due to the flexible organization and rigging equipment, without causing any project delays. "You can plan in advance, do all the engineering in advance, but you as a company have to be flexible for situations like this," Takken says.
Designing its systems with flexibility in mind ultimately saves the customer money and prevents hold ups for the project's crew, Takken adds. "By sending out adjustable equipment backed up 24/7 by our organization we are able to adapt at any time," he adds.
Growing Talent
It's not enough to just have a strong product in place; companies such as Alltec require a knowledgeable team to support its equipment. Over the years, the company has developed an in-house process for training staff that relies on mixing senior and newer employees."I believe in-house training from senior guys is what the industry is lacking," Bonnin continues. He considers coaching younger employees part of each person's job description. Alltec staff members share office space regardless of their level. "If you share an office you communicate better and you share your ideas better," Bonnin says.
That open communication extends to each level of the company. Every Monday morning, Alltec spends time looking back at the previous week to learn and discuss what is ahead. Bonnin says those weekly reviews give employee a chance to turn mistakes into a successful experience. "We understand that every decision isn't a good decision and mistakes will be made," he says. "Mistakes can be used as an educational tool."
After a year of being involved in his company's daily operations, Bonnin says he is most proud of Alltec's people. Every company strives to continuously improve its quality, he says, and its people are the ones who add value and bring ideas to the table. "People are key to the success of the company," Bonnin explains. "To have that team spirit and people on the same page is very nice to see. If you have that, you realize very high quality projects and are able to grow the company success.
"We are planning on expanding operations into Louisiana in the near future," Bonnin finishes.