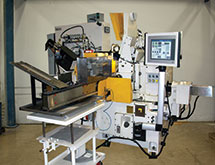 By specializing in the centerless grinders space, Allways Precision Inc. (API) has built a reputation as a company that can provide complete grinding solutions for customers' production needs. The company buys, sells, rebuilds and remanufactures Cincinnati Centerless Grinders, and it has the largest centerless grinder inventories in metalworking industries in world.
"I started the business in August 1992 after having worked for many years on all types of metal working machinery at different companies and factories," President Romas Juodvalkis says. "We now have more than 38 employees and are building state-of-the-art machines for many different industries. North America is our primary market."
Centerless grinding is machining that produces high-precision cylindrical parts and bars. API provides buyers of centerless grinders with the model that best suits their needs. Various levels include API Remanufactured, API Certified-Rebuilt or API-Inspected condition.
With an ever-changing inventory, API regularly looks for opportunities to work with companies that want to sell or trade used centerless grinders. The company carries more than 2,000 standard and custom replacement parts in stock. It can ship parts from its extensive parts and rebuilt assembly inventory.
When remanufacturing a centerless grinder, all wear parts are replaced whether needed or not. All other components are analyzed by the machine builders for defects, wear and tear, and tolerances not within factory specifications. It offers a full one-year warranty on parts and labor for each centerless grinder it remanufacturers.
Adapt and Advance
Beyond offering only single machines, API can provide turnkey solutions by linking multiple centerless grinders together to form a grinding line. It can also automate grinders, adding capabilities such as loaders/unloaders, robots, vibratory and centrifugal feeders, conveyors and custom automation solutions. In addition, API can add options such as CNC controls, CNC dressing, CNC infeed, CNC thrufeed with contact or non-contact gauging, coolant and filtration, tooling, and training.
"We are now much more involved with high-tech machinery," Juodvalkis says. "We can add CNC controls to upgrade and improve machines, and we can add all types of state-of-the-art automation. We've also become a Fanuc Robotics-certified integrator."
"One of the advantage to centerless grinding is you end up with a finished part," Vice President Rick Lang adds. "You start with the grinder and finish with the grinder, creating a high-quality part in one operation."
Making the machines smarter is critical because of a skill-base void in machining. API can make the machines more intelligent so they can do a lot of the thinking for their operators. API strives to offer controls that are highly intelligent yet easy to program for the operator.
Thorough Know-How
Looking to offer more than just the buying, selling and remanufacturing of Cincinnati Centerless Grinders, Allways educates its customers on how to best utilize the system. The company can review set-up problems and provide training for clients' staffs, and it can work well both with large production facilities and small job shops.
Allways looks at each industry and opportunity to find a niche for itself. In the aerospace sector, it can reduce the number of passes an OEM needs to make a part. In the aerospace fastener industry, API can produce parts with multiple diameters, angles and radius all dressed into the wheels by CNC dressing and plunged in one pass, improving production from the traditional multiple pass process.
"Everyone is looking for production improvement through automation and reducing the passes on a part," Juodvalkis says. "There are examples of that in the automotive industry, too, which is looking to make processes more cost-effective."
Quality craftsmanship and technical service support are ultimately the attributes that help Allways set itself apart. The company's plan is to continue to evolve so it can continue to offer the best Cincinnati Centerless Grinder remanufacturing, parts and service in the industry.
"Some companies get into centerless grinding because of problems with shipping and lead times, and they want control over the process," Juodvalkis says. "We can help customers figure out how to make parts quicker and more effectively. We can show them the best solution for their process. We can train them how to use the machine and start running the part. And we can provide all of the tooling and add-ons they need to create a profitable process."
"We can give guidance on how parts can be better designed and manufactured," Lang adds. "That is a value-add that not many companies offer."
Allways continues to make investments in equipment, facilities and people. Its facility is now up to 72,000 square feet, with an area dedicated to technology and manufacturing of centerless grinders and automation systems for the entire metal working industry.
"The recent expansion made it possible to prepare basic components in half the time," Lang says. "We must meet and exceed previous design and performance benchmarks. Also, through-time saving automation cells that we design and build for customers helps us to use some of those same ideas in our own process."
In the years ahead, Allways will look for opportunities to grow its presence in the aerospace sector. The company feels its highly advanced machinery and automation will help the industry as production ramps up.
Allways will continue to develop its automation solutions, offering best-in-class options such as Fanuc robots, Juodvalkis says. And it will work with key partners such as B&R controls, Flow Pro filtration, Saturn Ceramic Coating Co. and Tyrolit wheels.
"Customers need to know we are there to improve their production," Juodvalkis says. "We can show them the right solution for what they are looking to do in ways that can improve their production volumes and speed."
"Our founder is a master machine builder and expert grinder, and everyone on our team has lived and followed in those footprints," Lang adds. "We have master machine builders who know how to build these machines and know how to achieve the end-result. This is the base of a team of people who work together to achieve any machine and design requirement while maintaining the highest level of ingenuity and craftsmanship. This is what makes us second to none when it comes to the equipment we manufacture."