Fabricating the future
Alpha Manufacturing has the facilities to design, prototype and manufacture a diverse range of products, all from its purpose-built sheet metal fabrication factory in the UK
When looking up the definition of the word 'alpha' it is clear why this company name is such a perfect fit for Alpha Manufacturing. Just as the noun used in astronomical terms means 'the
brightest star in a constellation', Alpha shines out above the competition for its work in precision sheet metal manufacturing, leading the way in quality, reliability and accuracy.
A member of the Bri-Stor Group along with Bri-Stor Systems and Atlas Powder Coating, and sharing the same 30-acre site in Hixon, Staffordshire, Alpha Manufacturing is a privately owned business, which designs and produces both sheet metal work components and assemblies. The company last appeared in MTE in 2017, and as Rob Eley, Commercial Manager, began by explaining, the ensuing months have witnessed some exciting developments: "In June 2017 we were announced as Midlands Manufacturer of the Year by Staffordshire Chamber of Commerce. The judges specifically highlighted the level of investment and business improvement initiatives as key to their decision. They were also impressed by our commitment to developing young talent in engineering through our ever-expanding Apprenticeship programme," he said.
"We have also been very successful in terms of winning new business. Within a three-to four-month period we won long-term contracts to supply three new customers, each from different sectors and each with significant annual spend. The set up for these new customers was challenging from an operations perspective as they were all relatively complex products, which required high levels of assembly. In response, we up-scaled our assembly operations and invested in new machinery such as tower storage and automated assembly line equipment.
"We also expanded our assembly team, employed experienced NPI managers and acquired a new dedicated assembly premises to cope with the increased demand. We're delighted to say that not only did we successfully upscale to meet initial demand but are beginning to grow these accounts even further.
"We have seen a big increase in demand for assembled products as many of our customers are looking for a manufacturing 'partner' as opposed to a sub contract supplier," Rob continued. "We now often supply fully completed products assembled and packaged ready for delivery directly to the final customer, often around Europe."
In addition, Alpha's sister company Bri- Stor Systems won a major contract to supply 2000 commercial vehicles to BT fleet over a three-month period in early 2018. This placed further demand on Alpha as it manufactures all components used in Bri-Stor's conversions. These contracts resulted in a record breaking start to 2018 for Alpha in terms of turnover.
These exciting new projects were undertaken from Alpha's 65,000 sq ft sheet metal work production facility that operates 24 hours a day, seven days a week, and is equipped with a range of the latest and most technologically advanced machines – for example, in 2017 Alpha Manufacturing spent approximately £1m on a Trumpf Trubend 7000 cell, and a Trumpf TruPunch 5000 S12 machine. This came after its installation of a new Trumpf Tru Laser 3030 in 2016, as well as a Mazak Nexus 250 MSY in the CNC turning section.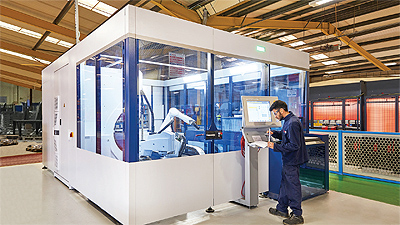 "The TruBend Cell has proven to be a sound investment, with many of our folded parts (particularly smaller components) now processed using this machine as opposed to manual folding," Rob noted. "This allows us to be much more efficient and results in savings for those customers who require larger repeat batches of components. Since its installation in 2017, we have made increased use of the TruBend Cell, employing a dedicated specialist programmer to maximise its capabilities.
"The TruPunch Machine has significantly bolstered our CNC punching capabilities," he added. "It replaced an older Pullmax machine when it was installed and has excelled in terms of productivity and reliability."
Alpha's equipment investment programme is ongoing, with the aim of doubling turnover by 2020, and as Rob pointed out, this will follow on its tradition of buying cutting edge technology, constantly striving to stay at the forefront of our market. "We are currently assessing further investments into additional folding facilities and punch capacity. A planned investment in a new panel bending machine will improve productivity in our fold department and further increase our capacity in this area," he said. "We are on track to meet our strategic goal of factory automation by 2020. A STOPA machine was installed during 2016, and investment will be made to extend the STOPA and integrate further machines to achieve the 2020 goal.
"In the coming months, our operations office will be relocated from its current position inside the factory with construction of a new office facility due to start in the next few weeks. This will free up a significant space on the shop-floor, allowing room for the next STOPA extension, and create a better working environment of office staff and production management."
It is evident from Rob's comments that Alpha Manufacturing is not afraid of change and evolution, and the company's willingness to invest in specific equipment and increase its talent levels is not only impressive but a major differentiator that sets the company apart in the market. Nevertheless, Alpha is keen to maintain its recent momentum, and with the Bri-Stor major contract now complete, it has its eye on the future: "Turnover, although still high, is levelling off and we're again searching for the next big opportunity," concluded Rob.
Alpha Manufacturing
Services: Sheet metal fabrications, metal design and a complete range of engineering services