Investing in the future
With an ongoing investment programme in place, precision sheet metal fabricator Alpha Manufacturing is gaining major new contracts and achieving significant growth
Part of the Bri-Stor group, Staffordshire based Alpha Manufacturing is a privately-owned business that has been fabricating sheet metal work components and assemblies to a diverse range of customers since 1989. Today the company employs more than 100 personnel, from designers and engineers to production staff, welders and machine operators, who combine a wide
range of skills and knowledge to deliver services such as laser cutting, CNC, metal folding, CNC metal punching, CNC metal turning, MIG welding, and TIG welding. The company also has a state-of-the-art on-site powder coating plant, Atlas Coating, which allows it to offer the complete sheet metal fabrication service, including a range of finishes. Alongside these capabilities, Alpha also has an in-house design department that works closely with customers on product development, value engineering and lean manufacturing
"We operate from a purpose-built, 65,000 square feet facility and we supply a wide range of metal components of different sizes, materials and specifications into various manufacturing sectors. We also manufacture all components that are used by our sister company, Bri-Stor Systems, for use in its light commercial vehicle conversions. To do this we utilise the latest in sheet metal processing machinery thanks to our continuous investment in technology, which allows us to offer these versatile services," says Rob Eley, Commercial Manager at Alpha Manufacturing.
Providing all services from one site, Alpha supplies to the primary sectors of automotive, agricultural and electrical, with each representing around ten per cent of its customer base. "The rest of our customer base comprises a wide mix of sectors such as medical, retail, power generation and transport. In terms of automotive and agricultural products, we predominantly supply various body parts, such as fenders, roofs, bonnets and steps. In addition, we supply many smaller components that are often used in sub-assemblies," highlights Rob.
For other markets, Alpha manufactures parts including small brackets and components used in larger assemblies; aside from the size of a product, another varying factor is often the complexity of the product being manufactured. "Some parts we manufacture require a certain level of design input from our engineering team and take some time in setting up to manufacture. However, once this initial work is complete, these parts can easily be manufactured in huge volumes using only a few or even a single process," says Rob. "On the other hand, some products are much more complex, with some BOMs containing more than 100 sub components. These can require multiple processes at various times, powder coating, often in a range of finishes, and a complete assembly consisting of a kit of parts that we have made.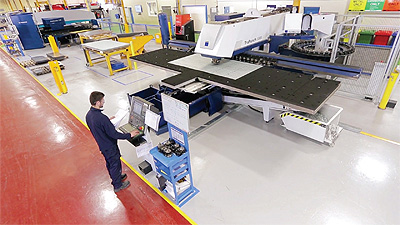 "These products require a much more involved engineering and planning process to actually manufacture. Often in this case, we will work closely with the design teams of our customer to value engineer products, adapting designs to ensure the best utilisation of our facilities and most efficient production methods. Generally, we choose to work with customers who have a need for large volume, repeat work, and will rarely produce small batch quantities unless there is potential for this to lead into further production."
Currently in the process of an investment programme with the goal of doubling turnover by 2020, Alpha is enjoying the benefits of these enhancements, having already won a number of major contracts and seeing growth in key accounts. The company has also been shortlisted for Midlands Manufacturer of the Year in line with these investments and the positive effects it is beginning to have on its business.
Rob discusses the investment and 2020 plan: "The long-term plan for our factory is a high level of automation, which will allow tighter control on stock levels, efficiency, quality and WIP around the factory. To this end, our investment has so far seen the installation of a STOPA automated storage system, which not only stores raw material, but auto-feeds into desired machines before removing the work in progress, placing it back into storage ready for the next process. Alongside this, a Trumpf TruLaser 3030 machine was installed at the same time; this machine was the first to be integrated into our STOPA system and was chosen because of the inbuilt compatibility of Trumpf machinery with the STOPA machine. Shortly after the completion of the STOPA installation, we ordered two more machines, Trumpf Trubend 7000 and Trumpf TruPunch 500S12, that were installed and operational as of June 2017. These machines were chosen for their ability to be integrated into the STOPA machine as part of the long-term plan of factory automation."
He continues: "Investment aside, the key areas identified in the 2020 plan were safety, quality, cost, delivery and people. The five factors were seen as key to achieving our goal, and various programmes and processes have been put in place since 2015 to improve these."
With two more years of investment and improvements ahead, Alpha is certain to increase in demand as customers benefit from working with a company that not only boasts a highly automated, ultra-modern facility, but also offers the best possible service in all areas of operation.
Alpha Manufacturing
Products: Manufacturer of precision sheet metal products