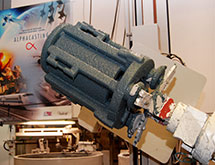 For Montreal-based Alphacasting, becoming a top precision investment casting firm has been all about diversity. Thanks to a broad service offering and an ability to serve many high-tech industries, Alphacasting continues to seek growth.
Currently, Alphacasting operates from a 75,000-square-foot facility, which it continuously looks to improve. Some of the major recent investments made at its facility including adding vacuum steel heat treatment capabilities, upgrades to the machine shop and tool room, and adding laser scanning for dimensional inspection.
"We also expanded our titanium casting line and installed a controlled solidification casting furnace for aluminum structural castings," says Frederik Centazzo, vice president of sales and operations.
Offering a wide variety of alloys and employing diverse technology have long been Alphacasting hallmarks, but it is never satisfied with complacency. Instead, the company continues to evolve.
Recently, the company began offering a new technology called Koolcast. This is a new way to cast aluminum alloys with rapid controlled directional solidification. This technology is unique in the industry and can increase the static and dynamic mechanical properties of D357 and D357+Cu aluminum alloys by 50 percent.
"Higher strength means thinner walls and lighter components, an important driver in the aerospace industry," Centazzo says. "We have also developed a computer solidification and simulation program of this process, which allows us to pre-engineer parts before pouring any metal, and to improve microstructure/density in the cast components."
Some of the key markets for Alphacasting have been the aerospace and military industries. The military market has been stagnant due to funding cuts and technological shifts to smart weapons. In the short term, this has reduced Alphacasting's production. However, the company has responded with advanced high strength steel and aluminum SLA based casting prototypes. Several of these programs will transition to volume production.
"We will be ready with advanced manufacturing techniques, including real time radioscopy and robotic gate removal and surface finishing, allowing us to meet high quality and control costs," Centazzo says.
As for the commercial aerospace market, the development of new aircraft such as the A320NEO, B737MAX, A350 and 787 Dreamliner have led to rapid growth in the sector.  Alphacasting has been working on numerous engine and airframe accessories including aluminum pumps, gearboxes and titanium structures.
"Composites will continue to dominate the large aerostructures," Centazzo says. "Precision castings are specified for turbine engine and engine accessories, actuators, braking systems, attach fittings, cabin systems, climate control and hydraulic systems."
Another important market for Alphacasting is the medical industry. One of the trends in that industry has been an increase in the use of titanium, which offers a sanitary surface that can be easily cleaned and sterilized.
"We produce numerous components that give the surgeon strong, lightweight precision tools to work with," Centazzo says. "A fusion of titanium alloy and smart technologies is evident in the latest surgical tools and lifesaving devices we help produce."
To ensure that it can help clients during product design phase, Alphacasting has engaged in a number of R&D initiatives recently. Centazzo says client engineers are fortunate to have access to flight-certified rapid prototype castings made without tooling, dimensionally inspected via laser scanning, validated for soundness via real time radioscopy and CT scanning, and achieving high strength through controlled solidification Koolcast technology.
"New aircraft and engine programs are passing flight certification testing without ever investing in production tooling," he says. "Time to market is key, as is the ability to make changes on the fly and improve designs prior to locking in their final configurations. The connected world makes this all happen very quickly, and puts a lot of demands on the foundry to be part of a lean and predictable supply chain."
Centazzo says the company's traditional suppliers of tooling and raw materials have not changed much in the past few years. Most of its raw materials are commodities such as wax, ceramic grain, binders and metal alloys, all of which are readily available. The biggest changes on the supply side have been with supply chain integration.
"These activities require strong partnerships and trust between the parties," Centazzo says.
In the years ahead, Alphacasting will look to grow business in North America and other global markets. Technology allows it to work with clients in real time across continents. A local market presence is not as important as being globally competitive and responsive.
"As a result, our location in Montreal remains an ideal hub for Alphacasting to nurture and build upon," Centazzo says. "We have a great combination of access to top talent from universities and aerospace primes, as well as a dedicated and multinational workforce. Our management and production team are aligned, supportive and focused on delivering best value to the customer. We must continue to offer outstanding products and invest in technologies that will improve our competitiveness."