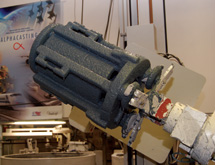 In a little more than 20 years, Alphacasting has evolved into a leading global precision investment casting company. Even though it is relatively small, the company has made a name for itself thanks to an ability to pour many alloys and a focus on innovative and modern castings in high-tech industries.
"We have a good team that is fully dedicated to customer service and helping with their designs," says Frederik Centazzo, vice president of sales and operations.
Differently Diverse
Located in Montreal in a 75,000-square-foot facility, Alphacasting was founded in 1991 and specializes in precision investment castings. One of the unique aspects of Alphacasting's operations is that the company can offer customers 120 different alloys to choose from thanks to its diversity of technology.
"We touch aluminum, titanium, stainless steel and many other exotic alloys," Centazzo says. "In this industry, other foundries are focused on specific alloys. We build our casting capabilities in ways that allow us to propose different alloys to customers. That way, they don't need to go to multiple sources for their casting needs. They can come here and get everything they need under the same roof."
Currently, the aerospace and military industries are Alphacasting's two biggest customer segments. Those are the industries where the company established its presence, and they figure to remain a large part of Alphacasting's future. But the company also is making inroads into the medical industry because of the services it can provide to companies that manufacture surgical tools and implants.
"The main business for us is aerospace, and that is a very strong business right now," Centazzo says. "We are moving toward providing services around engine parts, and there are many major projects going on in the aerospace industry with the development of new aircraft and engines. These new aircraft and engines need to have castings done."
No matter the market segment, Alphacasting prefers to take an approach with customers where it gets closely involved with them during the design phase. That allows the company an opportunity to give customers a great deal of input on its processes.
"We do a lot of R&D to refine our processes and develop new ways to do things," Centazzo says. "We are spending almost 7 to 10 percent of revenue on R&D. Every year, we have new projects coming along."
Becoming More Exact
Among the many investments into the company are upgrades to factory equipment as part of an effort to increase the company's line of production. Two years ago, Alpha­casting built a new mold room. Last year, the company invested in increasing the capacity of its foundry for aluminum. In addition, Alphacasting developed a process to develop aluminum with high integrity and introduced a new piece of equipment for its koolcast process.
"Now we are increasing our foundry output for steel and titanium, and we are looking to go to live x-ray technology," Centazzo says. "We also just invested in Guardian ERP software that specializes in foundries. That new ERP system will be a big part of our focus this year as we migrate to the software. We think it will give us an advantage in terms of overseeing production and ensuring better interaction between our customers and production department."
Another important focus for Alphacasting is its relationships with suppliers and ensuring an efficient supply chain. Centazzo says the company must maintain tight controls on its supply chain simply because of the sheer number of alloys it can process.
"We have very strict procedures for approbation of suppliers, and we closely track all of the raw materials we use internally," he says. "Our quality control department does a great job of taking care of all of our suppliers, as does our purchasing department. We are also always taking the time to investigate new suppliers while we keep track of current suppliers."
Going for Growth
As far as growth opportunities are concerned, Centazzo says Alphacasting has to be a part of everything that is going on in the aerospace field. Centazzo says it is critically important for the company to be involved in the early development process of new airplanes and engines. Otherwise, it won't be able to get involved until duplication of the new planes and engines begins.
"We need to be able to win the first orders for the new airplanes, engines and parts," Centazzo says.
"We know that there will be a great deal of pressure from the OEMs to sign long-term agreements, and we know that we will have to push that through our suppliers and work as a team to get those agreements done," he adds.
Within the aerospace industry and beyond, Alphacasting is looking forward to facing the challenges of the next few years. The company's engineering people are dedicated to helping customers with designs and alloy selection, and the company continues to invest in R&D so it can secure customers and be selected as suppliers for OEMs.
New offerings such as its koolcast process should help the company in the here and now, while it continues to evolve as a foundry and remain flexible and fast when it comes to meeting customer needs.
"In Europe and in the U.S., we are putting a lot of effort into aerospace, and are still procuring military work even though that is a little slower right now," Centazzo says. "Another area with opportunity for us is the medical industry and surgical tools, which we see as an area where there is a need for titanium mainly.
"Those are the three markets where we will really push for the next two or three years," he adds.