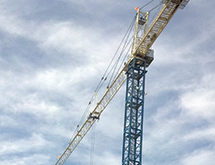 Some set out to dominate their industry with their size, but not Alps Wire Rope Corp. "We're not trying to be the biggest company," President Brad Benner says. "We're trying to be the best company that we can be. That's our goal."
Based in St. Charles, Ill., Alps Wire Rope manufactures wire ropes and wire rope fabrications for clients in the United States, Canada, Mexico and the Caribbean. The company started operations in 1968 as part of Tokyo Rope Manufacturing Co. Ltd.
"We've been just selling wire rope ever since, throughout the United States," Benner says, noting that Alps Wire Rope sells its products to the crane, oil and gas, marine and general industry markets.
Although wire rope has many applications, its use often goes unnoticed in applications such as railing systems, Benner says. "That's the beauty of wire rope," he describes. "It's one of those products that everyone sees all the time, but no one knows it's there."
Consistent Quality
Benner joined Alps Wire Rope in 1990. Previously, he worked for a freight carrier and at a Teledyne Inc. manufacturing facility in Elk Grove, Ill.
Benner says he appreciates Alps Wire Rope's commitment to quality and delivering products immediately. But, he asserts, this would not be possible without Alps Wire Rope's suppliers.
Over the years, Alps Wire Rope has built strong relationships with them "so we get some favorable responses," he says, noting that its largest supplier is Kiswire Ltd., headquartered in Seoul, Korea. "We supply their elevator rope throughout North America."
Thanks to these partnerships, "We have not just good quality, but consistent quality," Benner declares. "It's something that our customers can depend on and they don't have to worry about whether we're going to [deliver] some cheap product."
Being the Best
Some industries are enjoying an economic recovery, and Alps Wire Rope is still finding the market to be difficult, Benner admits. "Competition is tough," he says. "Everyone's fighting over a smaller piece of the pie."
These competitors include synthetic products manufacturers who "are always trying to take a piece of the pie away from us," he says. "[Their products] are a lot lighter."
But even in the face of the competition, Alps Wire Rope has still thrived. In the past five years, "We've been able to achieve 10 percent growth for every year," he says.
Alps Wire Rope manages this with its product quality and by forming strong bonds with clients, Benner says. "We try to have good, solid relationships with our customers so we can understand and maintain a cognizance of what's happening in the industry," he says. "Then, we try and make sure we're providing those products at a high-quality level."
The company also focuses on what it does best, Benner says. "In the past, we dabbled with providing some forged products and chain products," he recalls. "We realized that we [were] really losing focus. Our strength is on understanding our products, both technically and from an application perspective."
Going International
Alps Wire Rope has seen a drive among its customers in the past decade to manufacture to international standards, which includes the use of metric measurements, Benner says. Although the company is based in the United States, it was in an ideal position to serve this need.
"We've been providing metric ropes to the industry for over 20 years, which gave us a great advantage when all this started happening," he explains. "We're familiar with all the international standards."
This allows its clients to enjoy more convenience, instead of ordering parts from Europe or Japan, Benner says. "[It] is a great savings for them," he says. "They're not paying urgent freight charges."
Getting Closer
Alps Wire Rope realigned its facilities to "be more relevant in the marketplace," Benner says. This spring, the company moved its Jacksonville, Fla., location to Houston, so it could better serve the oil and gas markets.
It moved its Columbus, Ohio, site to Harrisburg, Pa., bringing it closer to New York's metro area, "the largest elevator rope market in the world," he says. "Since it's a big part of our business, we needed to be closer."
Alps Wire Rope is reorganizing its management structure so it can better support its new facilities, he says. "We're going to be … more regionally oriented so that each facility can be able to support their markets better," he says. This will enable the facilities to react quickly to market changes and maintain a competitive advantage. "That's our goal for the next five to 10 years," he states.