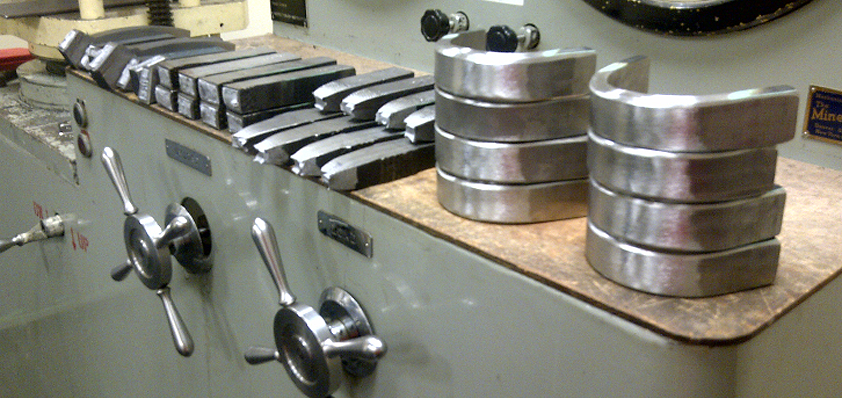 ALS Maverick Testing handles all things welding, NDE and inspection.
"We are a turnkey welding and inspection company that can sell engineering services for material testing, welder testing, lab testing, welding procedures, development and NDE services – all in one," Director of Welding John Brunnett says. "We test welders and certify welders. We have a full-blown machine shop for welding procedure development and a lab to test specimens for oil and gas and the structural welding industry."
Maverick Testing was founded in 2010 and acquired in 2016 by ALS, an Australian company with testing operations in 55 countries. ALS Maverick is based in Deer Park, Texas, about 20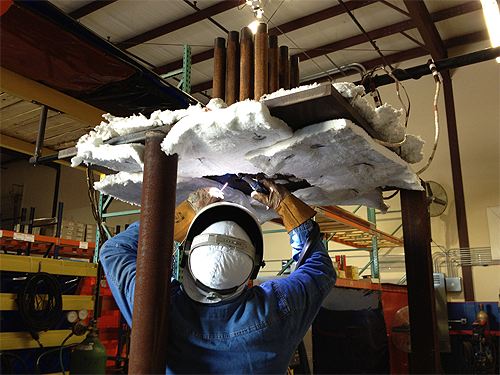 miles east of Houston and also has locations in Corpus Christi and Beaumont, Texas and, Sulphur, La.
The company works largely in the Gulf Coast and primarily with petrochemical, structural, offshore, power and utility, pipeline, and oil and gas refining. The company's customers include household names such as ConocoPhillips, BP, Chevron, Enterprise, Energy Transfer, ExxonMobil, Shell and CITGO.
One-Stop Shopping
ALS Maverick differs from its four or five major competitors in that it offers one-stop shopping for a variety of services. Those services include mobile testing and on-site testing, selling of test coupons, testing welders and welding procedures, cutting and machining, welding and developing welding procedures for its clientele.
The company has a dedicated machine shop to provide specimen preparation. ALS Maverick can provide a range of laboratory procedures including material certification, unknown material identification, trace element analysis, chip and shavings analysis along with quantitative and semi-quantitative analysis.
ALS Maverick has expanded its capabilities and services, with the latest being the ability to perform corrosion testing per ASTM and NACE standards. Staff have the specific industry expertise to handle a variety of corrosion problems that are encountered in oil and gas production and transmission, and in energy conversion systems. Maverick can conduct tests to determine weight loss corrosion, intergranular attack, pitting corrosion, corrosion fatigue, stress corrosion cracking, sulfide stress cracking and hydrogen-induced cracking.
The company also has the equipment and expertise to conduct macro and micro analysis of materials and various types of hardness testing. "Other competitors are doing parts of that," Brunnett says. "They might source out the laboratory or source out the machine shop parts. We also have four welding engineers on staff and two senior metallurgists. You don't see that everywhere."
ALS Maverick also offers weld test coupons. Coupons are used for customers to test welders off site or on a project site location. "We've expanded our ability over the last few years," Brunnett says. "We started selling coupons in 2011 and 2012 at a high volume level. We started mobile testing a few years ago where we go on-site and test welders and welding procedures and also perform nondestructive testing using radiographic and ultrasonic testing on welds. We just started out testing welders and everything else developed exponentially over time."
Texas Two Step
ALS Maverick has seen a steady increase in customers. To handle that growth while maintaining quality and quick turnaround times, the company has taken two steps.
First, ALS Maverick has switched this year from paper to a live electronic schedule system that all employees have access to. "We update it so we can cut down all the extra time following something to make sure it is completed," Brunnett says.
Second, ALS Maverick is hiring new employees – and that hiring is the company's biggest challenge. "We are hiring people who have the technical background and top notch customer service skills," Brunnett says. "It's a rare mix to find people with [both] the technical background and customer service or personal skills to support and service our customers."
Brunnett, for example, earned a BS in Welding Engineering at The Ohio State University and an MBA at Western Governors University Texas. He is certified as an AWS-CWI welding inspector, API 577 welding inspection and metallurgy inspector and NACE Level 1 coating inspector and previously worked as a welding engineer, director of quality, and supplier quality specialist. Brunnett is knowledgeable and experienced in various areas of welding, metallurgy, quality, materials, design, and welding-related software. He also has the personal skills developed from having worked with project managers, engineers and procurement managers.
When the company does hire people with both technical and people skills, it prefers that those employees are developed and cross trained so they stay with the company. "It takes about three to five years to get in tune with how the company operates as a whole system at a very fast pace," Brunnett says. "It takes so long for people to get accustomed to what we're doing because we serve all industries and not just one."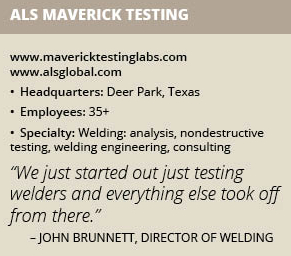 To retain employees, ALS Maverick pays well and offers above average benefits and "we try to treat everyone as family and every position equally important as the other. Titles do not matter. People do and everyone chips in to get the work done," Brunnett says.
What's New
"ALS Maverick restructured recently and has a commitment on fast turnaround time with high quality results thus providing a versatile service to clients," the company says.
As part of its effort to be fast and accurate, ALS Maverick moved into a new and larger facility in Deer Park in July. In the process, the company combined four buildings and added NDE inspection. "We were maxed out in our old facilities," Brunnett says. "With everyone in the same location, it makes it easier to get work done. Also, clients come in and see we have multiple capabilities and not just one service."
Sidebar — Services Offered
The services that ALS Maverick Testing offers fall into five main categories:
Materials testing, which includes mechanical testing, chemical analysis of alloys and metals, corrosion testing and metallographic analysis;
Testing welders in everything from refinery to rig welding including SMAW, GTAW, GMAW and FCAW, SAW;
Manufacturer and selling of welder test coupons for customer shop testing and project site testing;
Technical service for welding procedure specifications and procedure qualification records and research and development as well as consulting; and
Non-destructive testing in house and for project sites including advanced radiography, ultrasonic, and specialized inspection including refractory inspection and eddy current.