A comforting choice
Since the business was incorporated in 1934, the Belgian workwear provider Alsico has established itself as a leading name in the development, manufacture and marketing of quality workwear
Taking its name from an acronym of the company's founders, 'Aelvoet Siau Confection', Alsico has over eight decades of experience in the development, manufacture and marketing of workwear that is worn across several industry sectors. The business was founded and managed by Mr. and Mrs. Aelvoet, until 1947 when Mr. and Mrs G. Siau took over operation of the company. The third generation, with M. B. Siau, was responsible for international expansion, which now results in the global presence of the group, with production facilities all over the world. Today Alsico continues to operate as a fourth generation, privately owned business that represents one of the largest producers of workwear in Europe.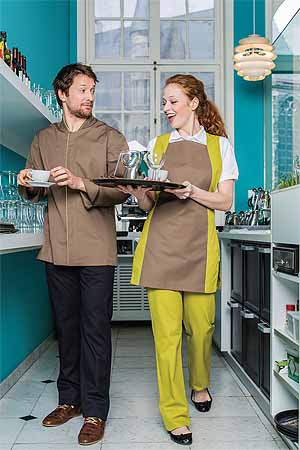 Alsico is a 'Faminational' with the right values of a family company and the positive values of a multinational (focused on results and innovation).  As a company of the future, Alsico cares for its employees and encourages their empowerment.
Sustainability forms an integral element of Alsico's strategy. Sustainable operations support all business targets and form a core part of daily operations, management and decision-making. Carrying responsibility for finances, the environment, personnel and purchasing makes Alsico a reliable, stable partner for customers. Continuous dialogue with customers and development of operations ensure that both products and services meet customer needs and that they are produced sustainably.
Alsico serves the full circle: from the design to the creation of the patterns and the first samples to the production in its own production facilities and the follow-up by its dedicated customer service team.
Presently the Alsico Group employs a workforce of over 7000 employees, including 4000 multi-skilled machinists in manufacturing plants across 12 countries. Furthermore, the company maintains sales offices in 30 countries throughout Europe, Asia, Africa and America and within the European Union, Alsico is represented in Belgium, Netherlands, France, Germany, the UK, Ireland, Spain, the Czech Republic and Slovakia. Its global manufacturing presence allows Alsico to supply over 16 million garments annually to its customers, generating a consolidated turnover of €205 million.
Alsico NV is based within Ronse, Belgium and plays with 126 employees an extremely important part in furthering the development of new innovations across the company. A key focus for the business at present is the continued development and marketing of its patented A-move system, which was developed by Alsico to deliver workwear that is designed with freedom of movement in mind, enhanced for comfort and ergonomic to the workers' daily routine. Through a combination of new materials and a refined system of assembly, the A-move system allows the wearer to continuously experience a refreshing sense of freedom. Lifting movements and actions that are common within the care and hospitality sectors, can be easily performed with A-move to help ensure pleasant and safe working conditions, while maintaining a sense of job satisfaction. Since the introduction of A-move the system has enjoyed highly positive feedback and is presently being worn by Aldi in Belgium, Colruyt in Belgium, as well as in hospitals throughout Europe.
The A-move system is used extensively within the company's CARE collection, which was designed by Alsico to specifically meet the needs of personnel working within the medical, care and wellness sectors. Its 80 years of operation within the workwear sector has given Alsico extensive experience in delivering complete workwear solutions, paying particular attention to quality, comfort, design and innovation.
The company's 'Shake Your Style' initiative represents a second area of focus for the business that has enjoyed great success and will continue to develop during 2016 and beyond. Shake Your Style is a manufacturing process innovation, which allows clients to customise workwear in many ways including the machining of fabrics in a very rapid process from design to delivery. Shake Your Style allows clients to choose the garment's desired model, fabric, colour and pockets, as well as to add their company logo as required. Customers may choose from various colours and fabrics to design a unique creation in workwear including knitted tunics, knitted tunics with woven side panels and woven tunics. For knitted tunics Alsico uses a high-quality material, with a specific weaving technique, with a polyester knit on the outside and cotton on the inside, with a fabric composition of 55 per cent cotton and 45 per cent polyester. The use of a special fibre in the manufacturing of Shake Your Style allows the range several k y advantages, including a modern look, comfortable feeling on the skin, long durability, greatly reduced shrinkage, freedom from creases, good moisture absorption and rapid moisture transport, but also and simple maintenance and industrial laundry resistance.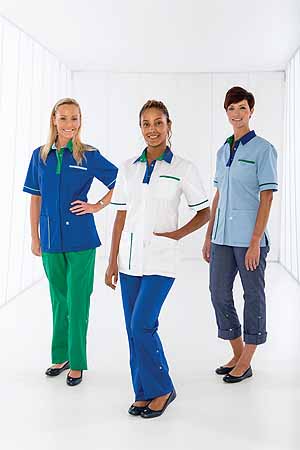 Since its launch on 21 December 2012, the Shake Your Style range has proven highly successful and popular with clients and is today worn by staff operating within the restaurant, hospitality and care industries. The success of the brand was further demonstrated during 2014, when Alsico and the Shake Your Style range were awarded the Roularta Industry Award in its 'Best Practice in Manufacturing' category. Victory in this category proves the dynamics and dedication of Alsico employees and highlights the company's ability to deliver high-quality workwear both rapidly and at a competitive price.
Overall, Alsico collections are divided into three segments: CARE – INDUSTRY – IMAGE+. The CARE collection, especially designed for the care sector consists of several fashionable clothing lines, each available in several colour combinations. Every clothing line offers a total package and has been designed to dress every function of the care facility and guarantee a uniform image to the outside world. Freedom of movement and wearer comfort are obtained thanks to the A-move concept.
The INDUSTRY collection contains a large range of PPE (CE certified), but also basic and functional workwear. Besides a large standard collection, designed for men and women, which is in stock, Alsico specialises in projects. This personalised clothing is entirely designed to the customer's corporate design and meets the customer's specific needs in terms of image, colours and functionality.
The IMAGE+ collection focuses mainly on professionals in the hotel, catering and service sector. This new collection is characterised by the diversity of colours and ease of maintenance.
Across all of its product lines, safety is extremely important to Alsico and the company is committed to delivering reliable clothing that meets all statutory European and international standards. These options coupled with its A-move and Shake Your Style lines, allow Alsico to deliver a comprehensive product portfolio that will ensure that the company's workwear will remain a common sight through Europe's workforce.
Alsico NV
Products: Development, manufacture and marketing of workwear