A firm grip
The highest levels of quality assurance, continued innovation and bespoke manufacturing all define Alterever's environmentally friendly offering to the market
Founded in East Yorkshire in 1974 by father and son, Alan and Howard Malcomson to provide retreading tyre services to local agricultural customers, Alterever quickly established a name for itself providing high quality and affordable tyre solutions. "The business has enjoyed significant diversification, development and expansion in the time since and whilst we've retained our agricultural business, today we specialise in supporting customers in port, OTR (off-the-road) and industrial sectors worldwide," begins Operations Manager, Jonathan Hall. "We have also developed our range of value adding services to include custom manufacturing, major tyre repairs, tyre management, consultancy and tyre monitoring."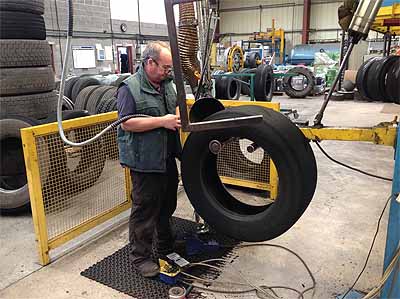 With its entire manufacturing operations carried out in-house, Alterever has used its time in the industry to become a true expert in the field of tyre retreading, having been at the forefront of the industry for much of this time. "With a strong track record in advising ports and OTR businesses around the world, we are perfectly placed to provide our customers with the expert consultancy and advice needed to make the right decisions when it comes to tyres and wheels," continues Jonathan. "No two businesses are the same, and making sure they have got the right tyres will make a huge difference. Our expert team will help ensure that every customer gets the right tyres to perfectly match their environment so that they can benefit from optimised tyre performance, life span and value."
Providing bespoke and tailored solutions to its clients is the core of Alterever's business model and as such the company does not mass-produce tyres at all. As well as understanding and listening to the needs of each customer and adhering to national legislation and framework, the business also holds a number of accreditations to ensure peace of mind is passed on. Safety is paramount to a quality retreaded tyre and as such it is no surprise that Alterever carries out extensive testing and inspection throughout its processes. "Quality assurance is at the very top of our agenda, which is why we only source original, high brand casings," explains Jonathan. "Nothing is left to chance however, so on arrival the casings undergo a series of rigorous inspections to ensure their integrity before they can be approved for the production process."
These inspections include shearography, which uses interferometric laser systems to detect and highlight any separations inside the casing structure, as well as a host of expert visual and pressure testing. If the casings pass this stage then they pass through to production, however a constant inspection programme is maintained throughout to ensure no defects are missed or built in during. Minor defects that are found are repaired according to industry standards using a hot-cure repair method. Significantly, the final curing stage of the production process involves placing the rebuilt tyre in a hot mould to be heated for up to 95 minutes at 150 degrees Celsius and inflated to 200psi. "The combination of heat, time and pressure ensures that the new rubber is correctly vulcanised and produces the exact tread patterns and depths required from the mould, using the same process as the one used for the production of new tyre," points out Jonathan. Upon completion, the tyres then undergo further shearography, visual and pressure tests to ensure maximum and absolute quality is being passed onto the end user.
As a result of such rigorous and highly specialised retreading, Alterever can count amongst its clients high-profile names such as DFDS Seaways, P&O Ferries, Harsco Metals, Tata Steel and Charles Marshall, amongst many others. However, the company has its sights set on further European expansion where it feels its bespoke services will be crucial to delivering improved tyre performance in hot climates. It is also focusing on improving its wider offering of other value-adding services and as part of this it recently invested in a new IROP SP0005 Horizontal Autoclave for OTR tyres. "The new machine now enables us to become a one-stop-shop for existing and new clients who have large OTR tyres," says Jonathan. "The new pressure-curing vessel allows us to vulcanise both minor and major repairs up to a massive diameter of 1800mm."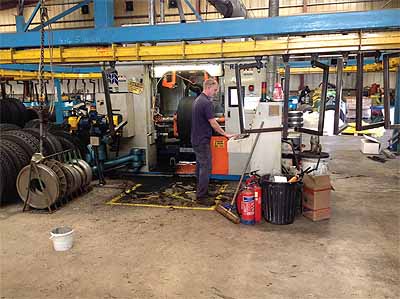 One key area of importance within Alterever is its environmentally responsible approach to operations. The very process of retreading tyres is in itself an eco-friendly solution to prolong tyre lifespan. The process uses 30 per cent less energy and less than eight gallons of oil per tyre compared to the 22 gallons used in the production of a new tyre. At present Alterever is recycling an average of 100 casings per day, which equates to 32,500 a year and a saving of half a million gallons of oil per year over new tyre production. The company also captures much of the waste material produced from the retreading process to supply processed materials for cushion backing in the carpet industry.
As the company looks ahead, continued product development will be key to ensuring it maintains growth and secures its reputation in global markets. "The essence of our strategy is choosing to perform our activities differently to our competitors," concludes Jonathan. "We like to think that it makes economic sense to produce products and services that will greatly assist our clients' needs, whilst remaining competitive in today's turbulent market. As such, 2016 will see the launch of our Tyre Pressure Monitoring System for commercial vehicles, which has been designed to increase tyre life through correct inflation. Correctly inflated tyres lead to better performing tyres, which reduce fuel consumption and cost. TPMS ensures that tyres are managed correctly, reducing the amount of blowouts through an early warning system and real time date recording."
Alterever
Products: Manufacture retread tyres for industrial markets