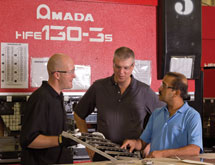 After more than 50 years, Alto-Shaam Inc. has become a leader in its industry, Vice President of Marketing John Muldowney says. "[We hold] the No. 1 or No. 2 market share positions in three of our core markets," he states.
The Menomonee Falls, Wis.-based company manufactures premium-cooking appliances for commercial foodservice kitchens worldwide, Muldowney says. Founder Jerry Maahs started Alto-Shaam in the 1950s.
Initially, Maahs worked as a chicken delivery franchisee and needed a way to keep food hot during the Wisconsin winters. With two engineers, Maahs developed a stainless steel cabinet heated with thermal cable, Muldowney says.
After Maahs had success with the cabinet, he sold them to other franchisees. Eventually, the cabinet was re-engineered to cook and hold meat, allowing it to deliver products that had greater flavor and tenderness.
"With a great oven and a lot of hard work, Jerry promoted his cooking philosophy and technology to restaurants across the country," Muldowney says.
Today, Alto-Shaam's products include its ovens, smokers, heated holding cabinets, blast chillers and rotisseries. "We also manufacture food merchandisers, thermal shelves, carving stations, fryers, hot wells and convection ovens," Muldowney says.
Its customer base, he notes, consists of approximately 2.5 million foodservice operations worldwide, which range from limited menu quick-serve restaurants to high-volume food preparation customers, including casinos and convention centers.
"We engage in and are responsive to the voice of the customer across a wide spectrum of company activities, ranging from new product development to outstanding customer service," he says.
Promoting Quality
Alto-Shaam has improved its manufacturing operations, which are engineered to be highly effective for low-volume/high-mix (LV/HM) production. Vice President of Operations Dr. J.K. Raghavan says the change process started five years ago, with the goal of improving productivity, inventory turns and lead times.
"Productivity without quality is of no value to Alto-Shaam's customers," he states. "Recognizing this, Alto-Shaam places higher emphasis on product and process quality."
The company's initiatives included implementing lean manufacturing methods to remove wastes and non-value added activities. "Lean manufacturing is preached and practiced across all branches of the organization, from the business owners down to the employees," Raghavan says.
To teach its workers about lean, Alto-Shaam formed a partnership with the Lean Learning Center in Novi, Mich. "As awareness and understanding of lean tools such as 5S, Kaizen and waste walks became a mainstay, Alto-Shaam saw the value of an engaged work force culture to continue its journey," he says.
"Today, lean manufacturing flourishes with the help of two continuous improvement technicians, who commit 100 percent of their time working with shop personnel, encouraging to think lean by constantly improving production processes together with taking waste out," he says.
Aiming for Improvement
Annually, Alto-Shaam operates with the goal of improving its total inventory position by one turn. "This strategic goal is systematically being addressed through cross-functional teams, encompassing members from various business functions," Raghavan says.
In the last three years, the company has improved its total inventory turns by 25 percent. Raghavan notes that its approach to maintaining minimum inventories across all areas of manufacturing is different when compared to high-volume manufacturers who build for finished goods inventories.
"In the case of raw material, Alto-Shaam adopts a creative planning model, mixing vendor-managed inventory and kanban-based stockroom managed inventory strategies, supported by a rolling three-month demand plan coordinated with a blanket annual plan," he says, noting that the firm can respond within 24 hours of a customer order with a material assurance plan.
When it comes to finished goods, Alto-Shaam has an inventory of SKUs that are in high demand. "In the LV/HM manufacturing model, that's less than 5 percent of the total SKUs," he says. "Because of the very nature of the manufacturing model supporting a high velocity, Alto-Shaam achieves greater than 40 turns with its [work in process]."
Mutual Benefits
Alto-Shaam also concentrates on developing collaborative relationships with its suppliers, Raghavan says. "This is imperative in order to utilize supplier capabilities and expertise so that it translates into benefits of improved quality, delivery and technology, along with lower costs," he says.
The company strives to ensure its suppliers are successful, allowing Alto-Shaam to share a mutually growing business model with them.
"With that come high expectations, which are primarily driven by standards by which all suppliers are measured with a score card on various tactical and strategic metrics," he says.
The vendor supply base receives a performance report on a monthly basis. Raghavan says this reflects the companies' performance in such areas as "quality, cost, delivery and velocity, along with strategic assessment in areas such as innovation, collaboration, continuous improvement and responsiveness."