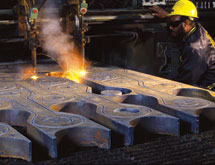 For more than 120 years, A. M. Castle & Co. – operating under the Castle Metals® brand since 1973 – has been supplying high-quality metal components to some of the world's biggest manufacturers as well as local machine shops. From its humble beginnings in the late 19th century, the company has grown by leaps and bounds, adding plastics to its capabilities and becoming a global force with a presence in more than 50 countries. President and CEO Scott Dolan says the Illinois-based company has become one of the world's leading suppliers of specialty products, services and supply chain solutions through its diverse capabilities and focus on continuous improvement.
Dolan notes the global manufacturing market is changing, and what OEMs need from suppliers such as Castle Metals has changed along with it. As the company continues to build upon the many advantages that have made it a leader in the industry, Dolan says Castle is gearing up for the future by focusing on what its customers need and adapting to the new realities in the marketplace.
"Castle Metals is recognized as one of the worldwide leaders in the distribution and processing of carbon, alloy, stainless steel, nickel, aluminum, titanium, cast iron, and plastic shapes," Dolan says, "and the company also provides complex supply chain solutions for many of its customers." The company serves large-scale OEMs as well as many of the suppliers to those OEMs in a wide range of industries, including aerospace, oil and gas, and heavy industrial. "We have a very blue-chip customer base," Dolan says.
Even if the company only served one market, Dolan says Castle would face competition of all types from all sides because of the nature of the manufacturing sector. "It's a very fragmented industry; there are thousands of competitors of different sizes out there," he says.
Multiple Sectors
The fragmented nature of Castle's competition makes its diverse services all the more important for success, Dolan says. "There are very few companies that play in all of the end-markets that we play in," he says. "From that perspective, we are fairly unique."
Within those market sectors, Dolan says the company's value proposition is composed of three key factors: Castle can purchase large quantities of metal from mills and serve customers who need smaller quantities through economies of scale, it can provide just-in-time inventory for customers, and it can take some of the processing off customers' hands.
Dolan says Castle Metals can offer so many diverse services to customers because of its responsive footprint, which includes more than 60 service centers around the world. These include facilities with unique capabilities such as its heat-treating facility in Indiana. Having such a global network already made the company a strong presence in the global marketplace, but as Dolan explains, Castle has taken steps recently to ensure it makes even greater use of its facilities.
New Foundation
When Dolan took over as president and CEO about a year ago, its facilities were focused on serving specific customer bases, which limited the company's effectiveness in serving all end-markets with the same level of efficiency. Now, as part of its overall initiative toward continuous improvement, Castle Metals has reorganized its facilities so that they can all serve the same end-markets simultaneously.
The company's continuous improvement initiative is inspired by the Toyota model and lean manufacturing principles, according to Dolan. These principles have been put into practice by creating a more visual representation of the workflow through each facility, which Dolan says helps everyone on the production floor know and understand exactly how efficiently they are operating.
Under the restructuring plan Dolan put into effect at the start of 2013, the company's sales force also received an overhaul, Dolan says. Castle's cost structure was too high and that was due in large part to how narrow the company's various sales teams were focused. "We weren't leveraging our sales force globally to sell all of our products," he says. "We were very siloed and going after specific business."
By refocusing its sales teams worldwide to reach out to broader customer bases, Castle has been able to respond much faster to customers than in years past, Dolan says. Finding new and improved ways of doing things was a priority for Dolan when he took his current position because even the most successful companies need to change things up sometimes. "We're an older, very mature company that has done things a certain way for a very long time," he says.
Another way Castle has become easier to work with has been by taking on more machining work for customers. Dolan says many of Castle's customers have switched from manufacturing to assembly, and as such they want to consolidate suppliers and rely on just-in-time delivery of manufactured components. Director of Marketing Steve Kaminski says customers also expect a faster, self-service experience when working with suppliers akin to the Amazon model, and Castle is in the process of implementing the architecture to provide that for them.
On Solid Ground
Dolan says Castle was hit pretty hard by the recession in 2008 and 2009, but business has been improving over the past few years as the economy slowly improves. The new initiatives the company has undertaken have created more centralized decision-making that allows it to share best practices throughout its global operating centers. With better internal communications in place, Castle Metals can continue to offer its customers faster response, available inventory, and solutions to take costs out of the customer's supply chain.
"We're really solidifying the new structure that we've put in place," Dolan says.