Making good things better
Amaray is a leading global plastic injection moulder with a rich history of innovation within plastic packaging and injection moulding
Amaray is a company with a history that stretches back to before the turning of the 20th century, having naturally evolved over subsequent years to compliment market and manufacturing dynamics. An overview of the business as it currently operates was outlined by managing director Jamie Tinsley and marketing manager Neil Pentecost: "Amaray is a high volume, highly efficient, highly automated plastic injection moulding company providing insight, innovation and cost effective manufacturing solutions across varied consumer markets. Amaray's success in being one of the highest volume producers of plastic components and assemblies has been built on creating plastic packaging with enhanced performance, enriching people's lives and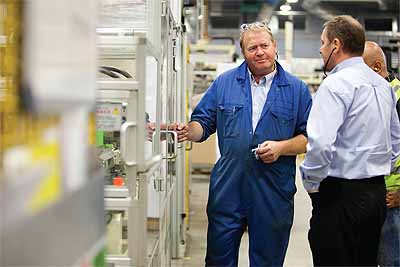 driving sales throughout the world."
At the heart of any successful manufacturing company are its facilities and capacity, which Jamie and Neil provided details on: "In Europe alone, Amaray has over 90 high performance production cells with moulds varying in size, clamp force and cavitation. With the inclusion of robotics all the cells are fully automated and optimised, from material silo selection right through to palletising. With the addition of in-line decoration and secondary welding operations we have utilised our working environment to deliver the highest output and quickest turnaround for customers. We also operate robotic banding and wrapping, supported by computerised automated guided vehicles for productive and accurate storage. A key element of the Amaray proposition is highly efficient moulding with high throughput and our proactive approach to streamlining processes is what sets us above other injection moulders."
The facilities and approach to manufacturing is clearly a major strength for Amaray, and in addition to this Jamie and Neil further elaborated on the company's approach: "Amaray's business is driven by customer experience and therefore sets out to achieve extreme customer satisfaction. With a vision to 'make good things, better' Amaray have maintained their competitive advantage through innovation, ingenuity, customer orientation, extensive product offering, lean manufacturing processes, and increased integration of automation. Over the years Amaray have registered in excess of 330 patents, representing its determined approach to be innovative. This compliments Amaray's focus on developing and diversifying, bringing together the skills and strengths of marketing, research, technical, and business development, to create an exciting and proactive attitude.
"With packaging being an invaluable communication vehicle for brands, it is important for brands to recognise and satisfy consumer needs and deliver a solution that is beyond fit for purpose. Packaging must be considered as an inseparable element as it is the only marketing element experienced by 100 per cent of a brand's customer base. Our new ideas bring the consumer and brand closer together."
The benefits of plastics were something that Jamie and Neil also discussed: "The global rigid plastic packaging market exhibits considerable growth thanks to a variety of beneficial properties plastic delivers. It is lightweight in comparison to competitive materials – easy to manipulate, and extremely durable. Functionality is key, however with waste and sustainability continuing as priorities, consumers' seek rigid plastic packaging to extend the life of goods, which can then be either re-used or collected for recycling. In addition, the change in consumer lifestyles continues to have an impact on consumer spending and it is these factors that are contributing to the overall growth of the global rigid plastic packaging."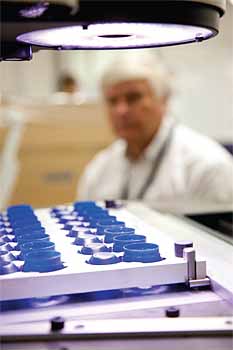 There are a number of good signs coming from the market for Amaray, which Jamie and Neil provided details on: "At present the UK packaging market is experiencing year on year growth as a result of consumers becoming more willing to pay for premium products.
Re-sealable closures and thin walled containers are notably benefiting from a growth demand for convenience, gaining share in categories where products are used frequently and not in one interaction. Food and confectionery are the most obvious categories, where retaining freshness is vital for both the consumer and brand reputation. Within other categories there is a strong focus on portion control and dosage, from calorie consumption in food to detergent usage in home care. Our experience of manufacturing over one billion products globally, helps us to overcome the challenges many packaging designers encounter in relation to right weighting. Our knowledge and expertise has enabled us to consistently manufacture packaging that is structurally competent, fit for purpose, designed for value, that meets government regulations, whilst retaining our environmental responsibility."
The company's expectations for the coming years were something that Jamie and Neil concluded with: "Driven by our purpose to make good things better, our focus will continue on creating inspiring and thoughtful bespoke packaging for major global brands. Packaging that creates additional value for consumers through ease of use and addictive functionality is more likely to encourage repeat sales than the standard pack offering. We look at inventing packaging that delivers distinct brand differentiation whilst inspiring consumers to remain loyal and committed. Our primary applications will involve technologies we have pioneered in the media market – living hinges, snap closures, and high volume products lending themselves to highly automated secondary process. Amaray are well positioned as an innovative solution provider; strengthening brand to consumer relationships to aid long term sustainable growth."
Amaray
Products: High volume, highly automated, highly efficient plastic solutions