Investing in growth
Providing its clients with quality filtration products and services for more than three decades, Amazon Filters is now embarking on the next stage of its growth journey with the backing of significant external investment
Since we last spoke with Neil Pizzey, Managing Director of Amazon Filters (Amazon), at the turn of 2017, the months that have followed have been kind for the UK's largest independent manufacturer of bespoke filter housings and cartridges. "The last 18 months or so has been a buoyant period for the company for sure, characterised by increased sales and increased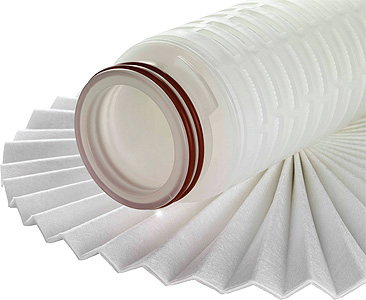 volumes going through our factories," he reveals.
Employing over 200 staff across its facilities in the UK, Poland and Germany, Amazon is a preferred supplier in what is a highly-regulated market. Offering a complete range of standard and customised filter housings and consumables for use in a wide range of industrial sectors, the company has built up a client base of more than 1000 different businesses.
"There are several factors that I would say have contributed to the continued growth of the business," Neil continues. "First and foremost, this is a booming market sector where the demand for filtration systems that clean to the highest industry standards has never been greater. Secondly, we are now very much reaping the rewards of the infrastructural work that we have put in over the years and this has helped position us to win business from our competitors. Lastly, what we have found increasingly in recent years is that there is a clear space in the market for a strong challenger brand such as Amazon filling in the space between the large, multi-national conglomerates and the smaller players. Here we can leverage our flexibility, nimbleness and hunger, together with our speed to market and superior customer service to great effect when it comes to securing work."
The potential for such independent, ambitious companies has also not been lost on others, and in October 2018 it was announced that Amazon had received a significant investment from Business Growth Fund (BGF), the most active and influential investor in small and mid-sized businesses in the UK. Boasting £2.5 billion in capital to invest in a range of growing companies, BGF makes long-term equity investments in return for a minority stake in the companies it backs.
"Led by a strong management team, Amazon Filters has built scale, attracted a loyal customer base and established a global reach," commented Rahul Satsangi of BGF at the time that the investment was announced. "They are already well invested in their technical expertise and facilities, and we're delighted to partner with the company and share our expertise, network and connections to help the business scale even further."
Truth be told though, this is far from the first time that Amazon has been approached by potential investors, as Neil goes on to explain. "The fact is, this is a multi-billion-dollar industry that
has proven very interesting and attractive to investors, and as such we have been routinely approached about our willingness to receive external support for years now. When it comes to BGF, we believe that Amazon hits the sweet spot of what they are looking for in the sense of being a British company with strong growth ambitions and the ability to deliver upon its targets."
So why is now the ideal time to accept said investment? "We have done very well to date when it comes to getting the company to a reasonable size and scale, growing organically through our own efforts, however we believed that now was the time to really show our ambition," Neil states. "With BGF we have got an investment partner that will challenge us and help us to reinvigorate Amazon as we take it into the next phase of its development."
The self-funded efforts that Neil speaks of above are certainly impressive, and provide another example of why Amazon was such an attractive proposition for BGF. "In the last year and a half, we have added around 25 per cent of extra factory space, putting approximately £2 million into building infrastructure, plant and equipment," he adds. "On top of this, we have undertaken a major programme of vertical integration, bringing in-house metal working processes that we historically have subcontracted. This has resulted in the creation of a new CNC machine shop and press shop, as well as the incorporation of additional automated welding equipment. As is the case in most industries, ours typically revolves around a pattern of growth spurts intersected by phases of preparation and regeneration, and I think it is fair to say that Amazon is now coming out of the back of such a preparatory stage, installing the internal capacity needed to embark on the next part of our growth journey."
As Neil goes on to conclude, the investment being made in Amazon by BGF will not only help to further reinvigorate the business and raise its ambition level even higher, it will also allow him and his team to have some fun reaping the benefits of 30-plus years of hard work. "In my opinion, Amazon has long proven itself to be a very credible, technically proficient specialist in its field with a product portfolio that allows it to do things at least as well as the global players, if not better. With the backing of BGF, what we want to do now is go out there and showcase this to the world, and earn the rewards that this will bring, not just financially but also in terms of gaining great satisfaction and pride from being successful."
Amazon Filters
Products: Microfiltration filter cartridges and housings