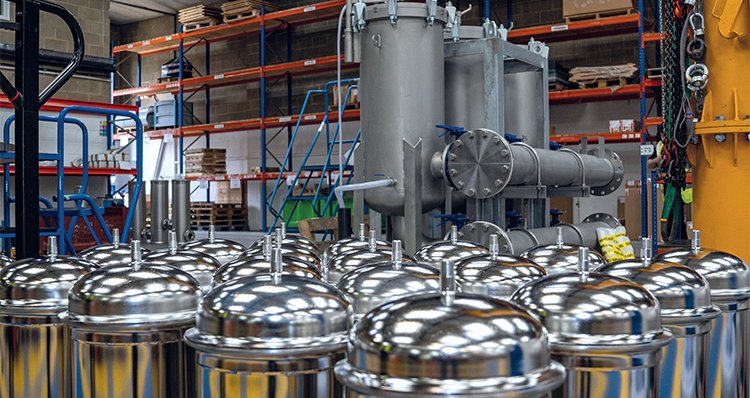 Filtration Innovation
Following a strong performance in 2021, Amazon Filters is predicting equally positive results for its innovative filtration solutions in 2022
Living up to its reputation as one of the world's leading manufacturers of filtration solutions, Amazon Filters enjoyed a positive twelve months of business in 2021. Despite the lingering presence of Covid-19, the organization has recorded stronger than expected revenue, either meeting or exceeding targets across all its activities. Talking to Manufacturing Today, Managing Director Neil Pizzey delves into some of the key factors behind another successful year:
"The first thing that comes to mind has been our ability to turn around urgent orders for customers in need when other, larger suppliers have let them down," he begins. "Many times, and in critical sectors such as pharmaceuticals, we have been able to design, make and ship bespoke filters and housings under our 'quick and able' manufacturing capacity, delivering real customer value and proving the worth of our investment programme.
"Diversification has also been key, both by sector and geography," Neil continues. "We service a wide range of process industries globally that rely on high quality filtration products. This includes growth sectors like renewable energy and biopharmaceuticals, as well as sectors we are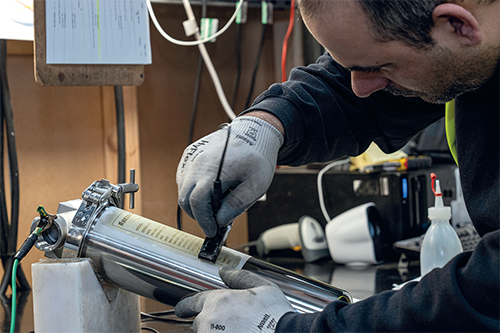 strengthening in with specialist products like municipal water, chemical processing and liquid coatings. These weren't necessarily core to us in the past."
As a growing company, Amazon Filters is benefitting from a recently increased headcount, along with an expanded shipping and despatch team to better fulfil customer demand. Having worked flexibly to overcome the persistent operational challenges of the last 18 months, the company's progress has continued unfettered.
"Seeing the company grow and prosper in spite of the difficulties we have seen across the world during the Covid crisis has been a real highlight for us," Neil says. "I am very proud of how our team has stepped up, including those who have adapted seamlessly to working from home, as well as those dealing with the stresses of continuing to work on site.
"As well as investment into 'quick and able' manufacturing here in the UK, we are now focusing more of our efforts outside Europe, on the American and Asia-Pacific markets in particular. We have appointed a US-based Sales Manager responsible for market development in North and South America, and we are actively seeking to strengthen our distribution network in these territories."
To support the company's ongoing growth, Amazon Filters has recently undergone a significant program of capital investment at its Surrey-based UK production facility. In the last few years, the firm has ploughed funds into a number of initiatives, including the introduction of handling and welding automation equipment for the metal fabrication workshop, and the bringing in-house of a variety of pressed and machined component parts.
"On top of this," Neil adds, "we have a completely new production hall and further equipment to boost capacity for our meltblown and pleated cartridge products. It's helping us turn around orders more quickly, especially the larger ones. Increasing capacity gives us more opportunity to target specialist markets, whereas previously some projects would have been out of scope."
Aided by its upgraded facilities, Amazon Filters launched a host of new products in 2021, including a range of filter housings to aid critical processes in the production of biopharmaceuticals – all of which conform to the latest ASME BPE standard and its criteria for hygienic design, materials of construction and fabrication.
Elsewhere, in the oil and gas sector, the company introduced Contour Gas, a product designed to stop black powder contamination accumulating in upstream pipework and harming downstream equipment and instrumentation. This was accompanied by VisClear II – a range of filter cartridges that help with the challenging filtration processes required for the manufacture of high-viscosity fluids, such as resins,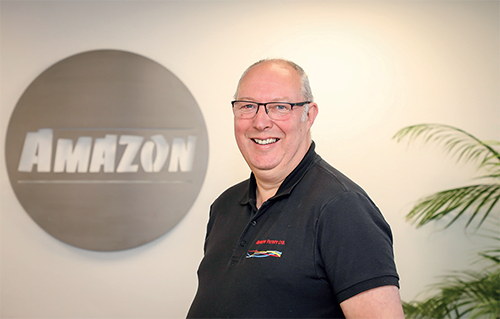 adhesives and coolants (many of which require processing at high temperatures). SupaSep LGP, a high-performance liquid-gas coalescer that supports essential separation processes, rounds off the latest additions now available to Amazon Filters' clients.
Looking to the future, sustainability is set to be a headline topic for Amazon Filters in 2022 and beyond. Determined to spread the word that a good-quality filter can not only last long-term, but also reduce waste and minimize system contamination, the organization is confident that it can make a real difference to its clients – and the wider world – for years to come.
"Regulatory regimes driving environmental standards and actions are bringing many industries under pressure to make better use of their resources," Neil reports. "In the municipal water sector, our 'quick and able' manufacturing proposition directly supports water companies' sustainability and AMP7 ambitions, especially in their management of climate events such as flooding and drought.
"Our filters, available for emergency deployment on mobile rental skids, underpin asset management, whether that is through small boundary-box filtration installations or large-volume, fully containerized systems. These sustainability efforts are also reflected in how we carry ourselves as a business, increasing recycling, minimizing waste, using renewable energy where we can and acting efficiently in our use of water."
With the firm pushing for continuous improvement across its entire operation – including better use of technology in support of the company's warehouse and dispatch operations – Amazon Filters is ready to re-engage with its customer base, acquire more manufacturing space, hire more staff, and, most importantly, invest in the future of all of its people.
"Despite all the challenges, our staff have coped admirably during the last two years," Neil declares. "I am proud of how we have supported vaccine production and healthcare provision, as well as helping to keep numerous industrial sectors running. We are a small cog in a large machine, but we are quite an important one!"
Amazon Filters
www.amazonfilters.com
Services: Filtration solutions