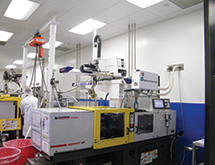 Ambrit Engineering excels at injection molding components that other molding specialists might consider too difficult. "We're really good at taking parts that are tough to manufacture and engineering a plan that allows us to produce those parts," says Les Middleton, director of sales and marketing for the Santa Ana, Calif.-based company.
Several of the tools used by the company were transferred to it by other vendors unable to suitably produce components to the tolerances and quality levels required by its clients. "We don't get a lot of easy parts here," he adds. "We tend to gravitate toward more challenging parts that require a heavy engineering focus, by identifying customer issues and coming up with engineered solutions."
Ambrit is a tooling and injection molding supplier serving the medical device, consumer, safety, aerospace and commercial markets. Roughly 60 percent of the components molded by the company are used in medical devices including infusion equipment, cardiac monitors and respiratory devices. Other components molded by the company include commercial aircraft components, irrigation components, safety products, gas valves, thermostats and plastic casings for displaying rare coins.
"We cover a diverse base of markets, as well as submarkets within the medical device category," Middleton says. "Spreading out across the different markets we serve has given us some stability in terms of sales as well as a broad platform to drive future growth." The facility also offers secondary manufacturing operations including leak testing, bonding, packaging, ultrasonic welding, packaging, heat staking, hot stamping, laser marking and product assembly.
Total Transformation
Although the diversity of Ambrit's customer base has enabled it to thrive where several of its peers have not, manufacturing products for a variety of markets has proven challenging in other regards.
"Our niche right now is low-volume, high-mix manufacturing," Middleton says, noting the company produces less than 50,000 pieces of most of the items it makes annually. Its production for the medical sector is higher, with average individual components getting runs of roughly 150,000 per year. The company averages 10 equipment changeovers a day.
The complexity of Ambrit's manufacturing operations is leading the company to make significant changes to its facilities and processes. The company in mid-December will undergo a lean transformation project during its scheduled holiday shutdown. During the shutdown Ambrit will focus on cleanroom expansion and a realignment of the manufacturing floor with a single part flow in mind. "We're applying lean and Six Sigma principles to our operation in a meaningful way, which, for a custom molder, can be challenging because of the different number of products we manufacture on a daily basis," Middleton says.
The lean project includes expanding a clean room used to manufacture medical devices as well as removing all existing manufacturing equipment and replacing it with new molding machines. Ambrit will lay out its manufacturing floor with a single-part flow process in mind. "We are a 43-year-old company that's added capabilities along the way, but a lot of our equipment was brought on board at a time before many of the lean Six Sigma activities we now engage in became industry standard," he adds. "We are working toward aligning our resources with a lean manufacturing approach in mind."
The company has prepared for the manufacturing floor realignment by engaging in several smaller-scale lean projects within the past nine months. These include an inventory-reduction project and several single-minute exchange-of-die (SMED) projects aimed at reducing waste.
The four molding machines being added to the company's manufacturing floor will allow the company to meet its efficiency goals. The machines, provided by ARBURG, were selected by Ambrit because of their design. The ARBURG machines feature a quick-change barrel system that allows molding barrels and screws to be changed out in 15 minutes.
"We made significant improvements through SMED in terms of reducing changeovers, but we were still doing screw and barrel changes in five hours with our current equipment," Middleton says. "The best way for Ambrit to continue to reduce our changeover times and increase our efficiency was to address the barrel issue, and the ARBURG machines allowed us to do that." The company also is developing a proprietary modular tooling system that will enable its tool setups to be more efficient.
Future lean manufacturing efforts include moving toward a just-in-time inventory system with its suppliers. Ambrit is already working with vendors to improve its kanban system, which includes renegotiating the maximum amount of materials placed in its replenishment bins. The company next year plans to implement an electronic data interchange platform to better manage its supply chain, Middleton says.
Ambrit is being assisted in its lean transformation by CMTC Lean Consulting, which is helping Ambrit secure government grants. The operation is using the grant funding to train its employees up to the Six Sigma yellow belt status.
Quality Assured
Ambrit's lean transformation will enable it to improve on the already high quality of its engineering and manufacturing efforts. The company is ISO 9001:2008 and ISO 13485:2003 (medical device) certified. Ambrit is also UL certified and recognized by the state of California as a medical device manufacturer. "All of our customers expect zero defects as well as on-time delivery," Middleton says.
The company's quality assurance processes include optical inspection, stress testing and color control procedures. In addition, each part undergoes a quality planning process that includes PFMEA's, control plans, formal process validations such as IQ, OQ, PQ or PPAP, gauge R&R's, and a unique quality inspection plan synced with the customer's quality team.
The majority of the company's projects involve engineering and manufacturability reviews. "Our typical customer looks to us to manufacture a particular type of component for them," Middleton says. "We will work with their engineering staff to optimize the design of their components for molding, by reviewing part designs to ensure they are manufacturable."
Ambrit develops the tooling needed to mold components in-house, and also partners with outside companies to provide tooling. All tools go through a DOE, scientific molding process optimization and process validation before production parts are produced. "Thanks to our lengthy experience in building close tolerance tools for the medical industry, we get the job done – under pressure, on time and within budget," the company says. "Our highly trained mold makers utilize state-of-the-art workstations and a tool room fully equipped with the latest equipment and processes.
The company has three certified master molders on staff, and all of its process engineers and process technicians are trained in scientific molding principles.
The experience of Ambrit's staff enables it to offer solutions to its customers' product needs. One recent example is its work for a client in the consumer marketplace who needed Ambrit to include anti-counterfeiting holograms on its products. The client had been working with a consultant who recommended a labor-intensive process to perfect the hologram, which drove up costs.
"Our engineering staff took over the procurement of foil, and worked with a vendor to identify a type of foil that might be best for this application," Middleton says, noting that Ambrit developed a foil combination that allowed the hologram to be transferred cleanly thus eliminating a secondary operation to remove debris.
Ambrit also developed an automated system to manufacture the client's component that includes hot stamping, printing and laser marking processes. These processes reduced the labor needed to manufacture the product from eight people to one, Middleton notes.