Sound opportunities
People sit at the heart of Amcanu, a company committed to delivering high quality solutions to global customers in a flexible and diversified manner
Founded in 1975 and now into its second generation of family ownership, South Wales based Amcanu has amassed years of expertise in sheet metal manufacture and today is a leading specialist in high performance industrial enclosures. Supplying to a host of international OEMs, the core of the company's offering revolves around helping engine-powered systems, such as pumps, compressors and engines, meet the various noise regulations imposed upon construction, mining and quarrying sites around the world. However, a highly flexible and proactive approach to the market has resulted in a company that is able to react well to changing market conditions and take advantage of emerging opportunities.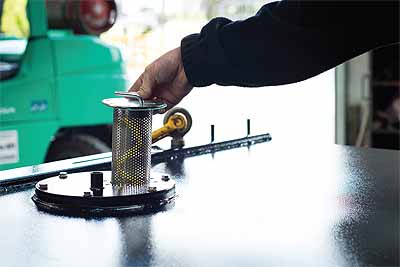 "We consider ourselves to be a glass-half-full organisation, even through challenging times," begins current MD Owain Davies. "We were hit very badly in 2008 and 2009 by the recession because at the time we were supplying to a lot of hire equipment suppliers, a segment that lost its funding overnight. We had to cut the workforce in half and lost a lot of money. However, it forced us to do a lot of restructuring and, despite the pain, it has made us stronger." Finally recovering around 2011, progress since the downturn has been exceptional to the point of exceeding
pre-recession performance.
Keen to adhere to its philosophy of sticking to what it knows, Amcanu today splits its core focus into three key areas: industrial enclosures for sound insulation, enclosures for digital technology, such as for Renishaw's industrial 3D printers, and small subcontracted projects for local customers. "Years ago a water pump would sit in the middle of a quarry or a construction site and it was noisy and dirty but nobody bothered about it. Now however, because of new regulations and legislation around the health and safety of on-site workers and their environment, we have seen a strong market open up," Owain explains.
As part of the global Xylem group, dewatering and liquid transfer pump manufacturer Godwin is one of Amcanu's major customers, with products operating in over 150 countries. Working closely with the customer, Owain and his team have developed a complete enclosure system which integrates all the necessary components whilst regulating noise emissions and increasing the airflow for optimum engine performance. Successfully applied to a broad range of Godwin systems, the work has led to subsequent discussions with Xylem to develop a new globalised standard for its attenuation enclosures.
Similar collaboration has been necessary in the development of what Owain refers to as a "supersilent" enclosure system for Hydrainer, a leading manufacturer of hydraulic submersible pumps. With the remit to reach a benchmark for sound attenuation of 70dB(A) at one metre, encompassed by an easy-to-maintain modular system, the equipment is currently operating in the centre of London on the prestigious Crossrail programme, amongst many other sound-sensitive applications.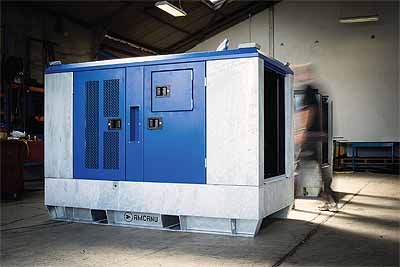 It is clear that Amcanu learnt from the challenges it faced during the recession and the growth that followed its recovery has exemplified this not only in its ability to diversify and focus its core offering, but also in its understanding of the market conditions. "The markets in India and China are learning about what we do and it could be a challenge to stay ahead of this potential competition," Owain expresses. "There are also opportunities developing in some of the emerging economies in Africa and South America. However keeping control of our costs is paramount as we approach this because we consider ourselves to be sheet metal tailors catering for the premium market where customers are willing to pay that bit more for quality and service."
Long-term relationships with customers play a major part in occupying this premium position and it is the company's people that make this possible. In fact, people are absolutely central to Amcanu's business as Owain goes on to discuss: "Our core values centre around being part of this community, employing local people and supporting apprentice training. I came in as an apprentice working around all the business areas so I understand the challenges that everyone faces on a daily basis and this is true for our entire management team. We support this with continued training opportunities and investment into our staff and as such have a very high retention of people."
Having celebrated its 40th birthday in 2015, Amcanu is now gearing up to reach the next level of success with renewed vigour. "As a business that survived and successfully recovered from the economic challenges we are now confident to put some investment back into our operations. Therefore 2016 will be all about investing in our continued growth with new equipment, such as a £300,000 powder coating plant, as well as new people and skills in order to secure new and existing opportunities and improve our quality offerings," concludes Owain. "This amounts to a five year plan in which we hope to double the size of the business and create even more opportunities for both our global customers and our local communities."
Amcanu Ltd
Products: World-class specialists in manufacturing sound attenuation enclosures