Expert warehousing and logistics for manufacturing
Amco Services have provided reliable and dedicated Logistics and Warehouse services for 36 years
Founded in 1983, Midlands based Amco specialise in the supply of high-quality UK, European and International Warehousing and Logistics services to the manufacturing, automotive, FMCG, engineering, waste and environmental industries. As a business they have evolved into a group of business units with a wider proposition than any other UK 3pl. The services they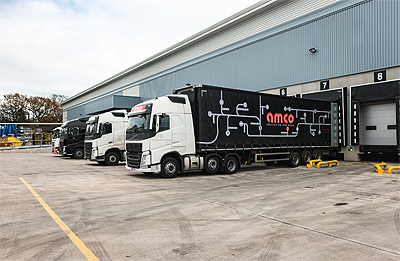 offer customers include; warehousing, logistics, packaging, tooling, IT and consulting.
Amco have achieved major success in providing warehousing and logistics services to manufacturers across Europe and include major automotive OEMs as well as Tier 1 and Tier 2 suppliers amongst their customers. A great proportion of what Amco does is linked to the automotive sector and their understanding of the needs of this particular market. This has drawn international marques to seek their services; among these are Sertec, Futaba, DENSO JLR, BMW, FORD, GM, Morgan Motor Company, Lear Corporation, MAGNA, Grupo Antolin, Komatsu, Brose, Webasto and many others, each of which has benefitted from the expert and time-critical supply chain services provided by Amco.
Amco's links with the Automotive Industry were forged early in their 35 year history. Amco Services (Motorsport) was founded in 1983 by, our now, Chairman Graham Storry, and was originally a specialist shipping and freight forwarder for the Formula One and motorsport industry. Its sister company Amco Services was formed to handle all other general freight before evolving into the business it is today.
What does a manufacturer look for in a logistics and warehousing partner?
Mastering the ability to think like its customers has enabled Amco to develop a logistics and warehousing service offering that is far superior than anything else other businesses in the field is able to provide.
We asked Amco's Business Development Director Seán Trainor about the Amco promise. "Experience, added value and the ability to solve problems whilst consistently removing obstacles alongside a customer centric approach and excellent customer service are all part of the Amco promise. We understand the manufacturing industry and in particular the automotive manufacturing sector, and we are able to constantly demonstrate that our customers are our number one priority. This is what makes us different in the highly-competitive and time-sensitive supply chain market we operate in."
Flawless customer service works hand in hand with a seasoned and flexible workforce when it comes to managing customer expectations and Seán echoes this sentiment, praising the company's dedicated operations team, before adding: "In this day and age, I am sure that people want to deal with people who are skilled and experienced in what they do. We believe in ongoing training and skills development and customer communications are key. Our International team, for example, speak 14 languages between them enabling them to talk, negotiate and manage in local languages wherever possible; a positive benefit when clearing customs or negotiating time critical services. This is why we make sure we maintain a well-trained group of skilled employees who are truly committed to our customer base."
Location, location location. Warehousing where you want it
Having warehousing and logistics where you need them is an important part of considering who, as a manufacturer, you should partner with for your warehouse and supply chain management?
"Over the past few years, we have invested and grown considerably and now have warehousing facilities and transport fleet strategically located in 4 major UK transport locations across the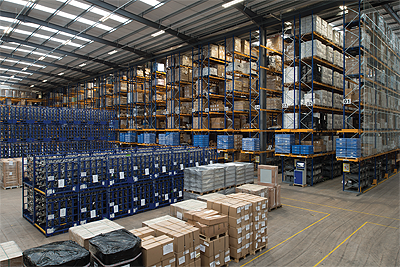 Midlands to service both customer and operational needs. We also have our own distribution and transport fleet in Romania servicing manufacturing customers across Eastern Europe and back to the UK. In addition, we have JV and global partners in Eastern Europe, China, India, Germany and the USA so we can provide a truly global service all controlled from the UK."
Coupled to this, the company operates customs-bonded warehouse facilities where customers can store consignments, stock, and goods with duty or import VAT payments suspended.
Technology, timing and tracking at your fingertips
"Having already mentioned good personnel and strong experience, what also makes us competitive among OEMs, Tier 1 and Tier 2 suppliers and manufacturers, is our ability to adopt efficient systems that allow us to manage shipments transparently", Sean continues.
From a customer point of view, monitoring the status of their shipments and giving feedback at any time is vital. "We have recently invested in new technology to enhance our offering and we have implemented new Warehousing and Transport Management Systems to further improve our supply chain proposition, helping us to remain a leading force in the industry."
Green credentials and a trusted trader
More recently, manufacturing organisations have become increasingly concerned with the environmental impact of their manufacturing and logistics activities and that in turn is driving the manufacturing sector to aim to reduce this impact and to seek like-minded partners who share this clean ambition. In response to these objectives, Amco has been accredited with ISO 14001, the standard for Environmental Management Systems (EMS).
Don Mucci, Amco's Managing Director commented: "We operate in an extremely competitive sector wherever we work across the globe, and businesses like ours face increasing pressure from customers, suppliers and governments to look at the impact our activities have on the environment. Amco now have ISO 14001 certification and this clearly demonstrates our commitment and further increases and strengthens our business reputation. ISO 14001 will not just save us fuel, reduce waste, energy and water consumption, but will help us to become a 1st choice supplier partner."
Don added: "We have also recently been AEO certified as an Authorised Economic Operator (AEO) which gives us HMRC 'Trusted Trader' status; this gives our customers the reassurance that Amco complies with all the HMRC standards and is proof of our quality systems and experience in customs and international transport. This is particularly beneficial to our customers who are importing in these turbulent times and the addition of ISO 14001 goes another step forward in telling our customers why we are 1st choice."
In the UK, less than 700 British Businesses successfully achieved the Authorised Economic Operator (AEO) status. Despite the advantages, this brings to businesses importing and exporting from the UK this equates to only 4% of AEO Businesses registered across the EU.
Award winners and new business winners
So far this year, Amco has won a number of prestigious and high value contracts where the company could showcase the full extent of its capabilities. These new business wins are across the manufacturing sector and include some transport, logistics and warehousing for manufacturing businesses including mining giant Komatsu, the world's largest automotive roofing systems manufacturer, Webasto Group, and Sertec Group, a major Tier 1 supplier to automotive OEMs of automotive pressings.
To top the business wins Amco were awarded Coventry Business, Excellence In Business Award, recognising the strides that they have made in the Warehousing and Logistics sector.
The practices outlined above and followed by Amco have clearly established the logistics provider as a genuine problem solver, whose extensive expertise helps it deliver positive customer experience. As Seán remarks, "wherever possible we completely integrate with our customers and have a willingness to understand their needs and offer effective solutions. Manufacturing is a very competitive sector and our expertise, flexibility, knowledge, IT and infrastructure is what makes us a leading warehouse and logistics partner to manufacturers."
Amco Services