American Aluminum Extrusion Co.
When Samuel Popa sees an opportunity, he has a knack for making that opportunity pay off. Popa started what is now known as the American Aluminum Extrusion company in 2001. Purchasing aluminum extrusion presses from an abandoned plant in Japan, he had the equipment dismantled and shipped back to the United States.
Popa sought a location for his new company while storing the equipment in an abandoned factory in Beloit, Wis. While there, he partnered with Ken and Diane Hendricks, who suggested using the facility where the equipment was stored as a Popa's new factory space.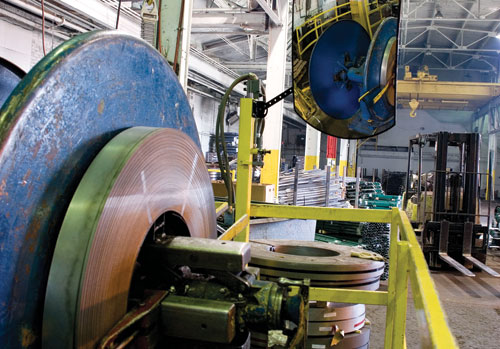 The Hendricks and Popa forged a partnership and purchased the 140,000-square-foot building that has become the headquarters for American Aluminum Extrusion Co. The company has since opened a 280,000-square-foot factory in Canton, Ohio. Poised to open a third plant in Roscoe, Ill., at the former Warner Electric site, the company will create 130 manufacturing jobs over the next three years. American Aluminum Extrusion is set to reap the benefits of $750,000 in Illinois state incentives and tax credits.
A Passion to Succeed
The company attributes its growth to "a passion to succeed and an engaged staff." American Aluminum Extrusion specializes in supplying standard and custom aluminum extrusion shapes and fabricated aluminum parts to the market. As a smaller operation, it can supply these parts at a "lesser capital cost than the larger corporations," the company claims.
Clients can utilize the expertise of American Aluminum Extrusion's design engineers to manufacture custom shapes, as well. Using computer-controlled extrusion processes, the company can assist with CAD part design and die creation as well as in choosing the optimum finish and alloy for the product. The company boasts a state-of-the-art manufacturing management system with an ability to create products "of unique and complex shapes." American Aluminum Extrusion serves a range of industries including transportation, distribution, building, linear motion and electronic OEM markets.
In an effort to control costs, American Aluminum Extrusion offers customized stocking programs and long-term contracts to accommodate a client's just-in-time aluminum supply needs.
Also, the company will help a client float or fix aluminum pricing and manage material releases according to custom and/or annual contracts. Clients can "save on warehouse space and financing costs," while getting the parts they need in a timely manner.
The company's services include punching, drilling, sawing, deburring, bending and computer numerical control machining to create the exact part for a company's operation or product.
American Aluminum Extrusion also employs state-of-the-art management control systems to track orders through each phase of the manufacturing operation. The company claims that its combination of "timely communication as well as a quality product is the foundation of our success."
"We strive for quality, fair pricing and good service to forge long-term relationships," the company states.
As Popa says, "Our customers are growing and we are continuing to improve our capacity to make sure they do not outgrow our capabilities."