Laser optics is an extremely specialized industry with only a handful of players competing for market share. American Photonics filled a gap in the industry in 2000 when it emerged as the only United States-based manufacturer of precision laser optics for the CO2 laser industry, offering the same high-quality products for a much lower cost.
"American Photonics has 15 percent of the market share, so we are better, faster and cheaper because that's the only way to survive," CEO Ana Piumbini says. "We take a boutique-style approach to our customer service. My husband, Steve Walters, and I are the owners of the company and are here every day. Our approach is completely different and more personalized than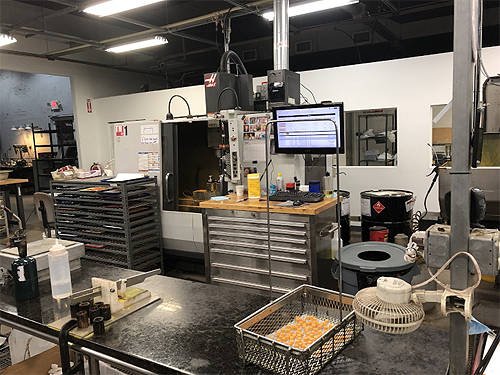 working with a big corporation."
Steve Walters bought the business from his father and came aboard in 2008, bringing with him the manufacturing and technical skills to redevelop the manufacturing process. "He changed machines, hired new people and implemented alternative and flexible ways of fabrication," Piumbini says. "Those changes resulted in the manufacturing process to be 'better, less expensive and faster.'"
In 2014, Piumbini joined American Photonics as CEO. She brought with her an extensive background in international business with sales and marketing being of primary importance. The expertise has allowed the company to begin to reach its goal of increasing business with international customers and suppliers.
Today, American Photonics is poised to become a significant player in the CO2 laser optics industry with its continued focus on innovation, continuous improvement and dedication to reliability. The company designs and produces optics that require soft crystals such as zinc selenide (ZnSE), zinc sulfide (ZnS), silicon (Si), gallium arsenide (GaAs), germanium (Ge) and more. It offers a full range of products for high power, low power, military, medical and customized laser projects.
American Photonics manufactures optics and components and stocks laser nozzles and accessories that are compatible to OEM specifications as replacement parts for such OEMs as Trumpf, AMAD, Mitsubishi, Mazak and more. "About 70 percent or more of our revenue comes from replacements parts that are equal in quality to the OEMs and at half the price," Piumbini says. "The other 30 percent of our business consists of custom projects, fiber laser accessories, nozzles and the military and medical markets."
Quality Control
American Photonics is one of only three companies in the world that manufactures infrared optics lenses with CNC machines. Using CNC machines, American Photonics can produce a radius surface faster and cheaper than a plano surface, which is the easiest to manufacture conventionally. Manufacturing meniscus lens cost less and is easier to produce a higher quality product. The meniscus lens is superior, and the larger the beam and shorter the focal length, the more significant the improvement in focal point size and beam mode.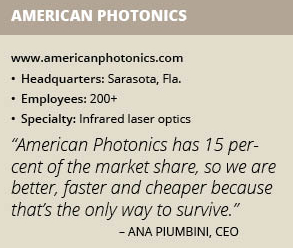 Its 18,000-square-foot headquarters in Sarasota, Fla., houses state-of-the-art conventional and CNC optical fabrication equipment, inspection equipment and a coating lab with two high capacity 1.4-meter chambers. "Our products last three times longer than our competitors' because we have better technical specs on our products, in addition to our coating being far superior than that of our competitors," Piumbini notes. "Steve is an engineer and creates his own machines, which is a major differentiator because he assembles chambers for the coating, which is our secret weapon. Our coating is the best in world. What really differentiates the quality of our product is how we manufacture using CNC machines, our quality control and our coating."
American Photonics offers more than 45 special coatings, which is more than any of its competitors. The company is equipped with three very sophisticated, high volume vacuum chambers that deposit multilayer and anti-reflection, reflective beam splitter, polarizer, mirror and filter coatings. Its coating performance is measured using an infrared spectrometer, which is used to test a sample from each coating batch to confirm the specifications. Every surface is inspected by a highly skilled technician prior to coating and again before shipping.
American Photonics is the only optics company to manufacture 100 percent of its products in the United States, but sources raw materials from suppliers around the world. "Steve and I travel around the world to find suppliers," Piumbini says. "We visit suppliers' operations, ask for samples to be sent in-house and qualify each supplier. We have partnered with some suppliers for years, but the company is open to new suppliers as it develops new solution and maintains its mission of providing better products faster and cheaper."
Building its Brand
In November, American Photonics will set itself apart from the competition during FABTECH 2019 in Chicago as the only United States-based optics manufacturer with a high-quality inventory of 4,000 items part numbers. "We control every aspect of our supply chain including procurement, manufacturing and distribution to ensure each part number SKU, replacement part and consumable our clients need is always in stock when they need it," Piumbini explains.
FABTECH 2019 is just one of the ways American Photonics plans to increase its customer base and improve brand recognition and reputation. "To survive, American Photonics needs to find new customers around the world," Piumbini says. "American Photonics' long-term goal is to grow sales and revenues by 20 percent yearly, allowing us to grow at a comfortable rate."
American Photonics plans to achieve its growth goals through expanding distribution channels, product diversification and efficient use of raw materials purchased through competitive pricing. "We will seek continual improvement in all aspects of the company, proactively promote responsible growth and become the respected 'company of choice,'" Piumbini says. "Our goal is to always exceed customer expectations from request to reality with affordable products using innovative technology and production processes, current business models and experienced talent."