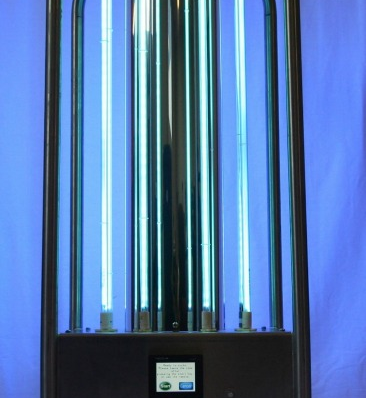 As one of the leading UV companies specializing in all facets of the industry, American Ultraviolet is riding the next wave of the future with its high-powered UV LED curing light. Cool Cure 365/395 is the most powerful LED UV spot curing device on the market and is a direct replacement for old mercury arc lamp technology.
"It will cure the same substrates with a lot less energy," President and CEO Meredith Stines says. "LED lasts for 20,000 hours and is very energy-efficient. Cool Cure can be used to manufacture juice boxes, membrane switches and foil wrap. LED is the wave of the future for the UV curing industry. I think it's going to be quite a while before it really takes off because it's too expensive right now for most applications, but it's growing faster this year. By 2020, I expect it to be a standard product."
American Ultraviolet's curing products include additive lamps and conveyor systems used to cure ink and coatings. They are used in applications including screen and digital printing and wood processing, as well as spot curing systems that bond substrates together using UV-curable adhesives, Stines explains. Curing products are produced by two divisions: AETEK UV Systems, which serves the flooring and industrial curing markets; and Lesco UV, which manufactures UV conveyors and LED curing devices used in the aerospace, electronics and other markets.
Both Lesco and ETEK product lines were acquired through acquisition as part of a company diversification effort. This effort helped American Ultraviolet maintain its bottom line by serving markets less affected by the recession, such as healthcare and the food industry, when other markets were in decline.
Ultraviolet Experts
Stines' father, Harrison O. Stines, founded the Lebanon, Ind.-based company in 1960 as a manufacturer of ultraviolet technology for curing solutions, germicidal solutions and coating solutions. American Ultraviolet has been so successful over the past 56 years that the company has continued to expand its facilities to meet production demand. "We are the fastest-growing company in Indiana," Meredith Stines says.
In 1995, American Ultraviolet moved its manufacturing plant from Murray Hill, N.J., to its current headquarters where it operates a 70,000-square-foot state-of-the-art facility. "With the new LED technology for the UV curing industry, we didn't have to add more space to the manufacturing plant because it's a smaller product," Stines explains.
Today, the company's focus continues to be on UV technology. Its goal is to provide the highest-quality UV equipment at a fair price. "We're probably the only ultraviolet company that sells in all facets of the UV industry: germicidal, curing and coating," Stines says. "Being in all three of these parts of the UV industry gives us the ability to take our experience with one of these areas and apply it to the other two, giving us more of a wealth of knowledge than many of our competitors have." 
Product Improvements
Since it started nearly 60 years ago, American Ultraviolet has manufactured nearly 60,000 UVC germicidal fixtures for commercial, healthcare and residential applications. The company's systems are used to reduce harmful pathogens, prolong the life of sensitive equipment and improve indoor air quality in homes, hospitals, laboratories, clean rooms, commercial buildings and food processing plants. "American Ultraviolet is the clear leader in hospital UV, water treatment UV, and UV air sterilization technology," the company says.
The Automatically Reliably Targeting Zero (ARTZ) mobile room sterilizer was developed by American Ultraviolet in 2014, and Stines says since then the product has become very popular in hospitals to eliminate microorganisms. Users of ARTZ input the dimensions of the room they are in and the type of organisms they are trying to remove on the device's control panel, and then press start. The device disinfects the surfaces in minutes, Stines says.
The company prides itself on the quality of its products and extensive tests are performed during production before shipment. In-person testing on customer systems is conducted with customers present. American Ultraviolet maintains the quality of its products through lean manufacturing practices, such as just-in-time inventory control and manufacturing cells. "Customers come to us at trade shows and tell us they bought a product of ours in 1990 and they can't believe it still works," Stines says. "That's a nice thing for us to be able to do."
Moving forward, American Ultraviolet will continue to work to improve the products it makes with newer technology, like upgrading the standard curing lamp with LED. "Hopefully that technology will expand. I assume it will come into sterilization and be used in water purification," Stines says. "We could also potentially see it used for in-room sterilization."