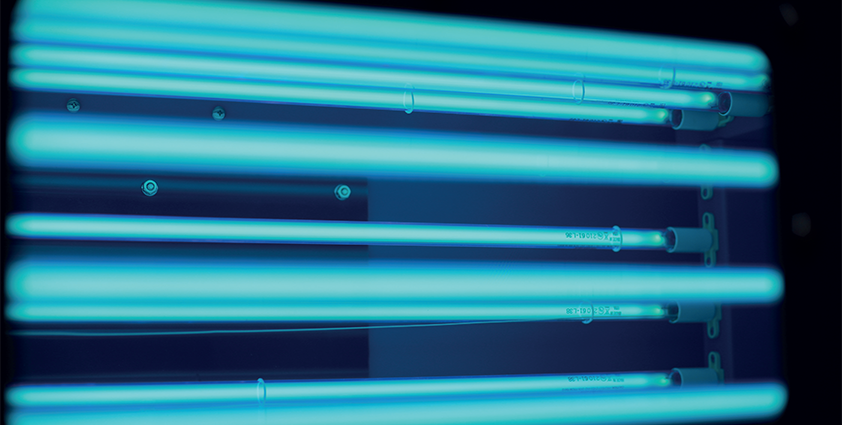 Pivoting the pandemic
While many companies collapsed during the Covid-19 crisis, American Ultraviolet's diverse range of products, including vital germicidal UV solutions, ultimately worked to guarantee its longevity
A lot has happened since we last featured American Ultraviolet in Manufacturing Today. Put simply: the pandemic happened. In conversation, Meredith Stines, President and CEO of the company, explains how the Covid-19 crisis affected life, work, and industry demands, as well as how American Ultraviolet was able to successfully navigate such turbulent times.
"Well, since we last spoke, it's been very hectic," he begins. "But it's also been very good. As the only ultraviolet company that sells to every single ultraviolet industry, including printing, water purification, and transport, it was always going to be busy."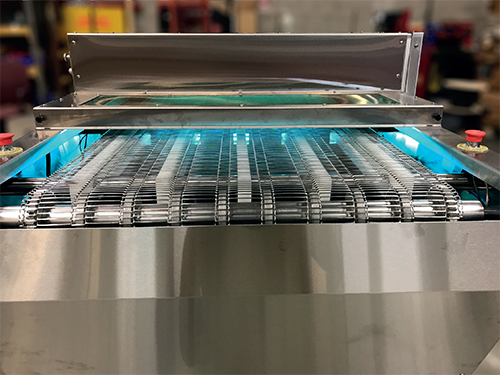 Founded in 1960 by Meredith's father, American Ultraviolet initially operated out of a 2000-square-foot facility in Chatham, New Jersey. Since then, the company has rapidly grown and consequently transitioned to a 70,000-square-foot base in Lebanon, Indiana. Its mission has stayed the same throughout this change: offer the highest quality ultraviolet (UV) products at a competitive price, while maintaining a full and content employee base consisting of top engineers who share the company's overarching passion for all things UV.
American Ultraviolet prides itself on a renowned bespoke service that guarantees the design and manufacture of perfectly fitting products for each customer. These customers are found in myriad industries. UV-reactive chemistries are used in adhesives, inks, and coatings in just about every imaginable sector. In food and beverage production, UVC light fixtures are used to inactivate mold spores, bacteria, and viruses. Moreover, HVAC equipment which is fitted with American Ultraviolet's market-leading UV technology is also expected to become more efficient, have a longer lifespan, and cost less to run in general.
Though these economic factors are still important, the ability of UVC (a specific form of UV with a wavelength of 200 to 280 nanometers) to neutralize harmful microorganisms in the healthcare industry has ultimately become a vital element of personal and public protection against Covid-19 following the virus' outbreak. So far, American Ultraviolet has installed approximately 60,000 UVC systems in hospitals, laboratories, clean rooms, doctors' offices, commercial buildings, and a variety of domestic residences throughout the world.
"Our ultraviolet germicidal products and fixtures are used globally to fight viruses," explains Meredith, who has served as company President since 1980. "So, naturally, our technology was in high demand throughout the pandemic: our sales increased by around 30 percent in 2020, and they have continued to perform well since."
Vendor support
It's no secret that many companies across the world suffered during the Covid-19 crisis, and a significant proportion of those didn't make it out the other side. Meredith is aware of this, and is grateful for the strong market position that American Ultraviolet found itself in. "We were able to help healthcare environments, school settings, and many individuals by aiding in the mitigation of Covid-19's spread," he continues. "We're incredibly proud of our role in fighting the pandemic, but we're also grateful for increased sales as a result of it. It meant that, even though other sides of the business (like UV coating services) suffered, we could still maintain high overall production rates. As the pandemic poses less of a threat currently, germicidal sales have dropped off; other aspects of our business, which two years ago were suffering badly, have since grown in output. These peaks and troughs are a natural part of business.
"So, when all is said and done, we were actually pretty fortunate," Meredith adds. "Without a doubt, our vendors represent the lifeblood of the organization. Luckily, amid the pandemic chaos, we were able to efficiently work with them – and add a few new ones. That certainly helped our manufacturing capabilities, enabling us to get our production out on time. This is particularly important when you factor in supply chain issues brought about by the crisis: we saw lead times leap from four-to-six weeks up to 12-to-16 weeks. But, because of our strong relationship with vendors and suppliers, we were able to maintain consistency and delivery schedules without creating a mammoth backlog."
Though Meredith admits that large, interesting projects had to be put on hold due to issues induced by the pandemic, American Ultraviolet was able to quickly pivot, turning negatives such as this into positive room for improving other aspects of the business. "With some free time left over from paused projects, we were able to purchase new sheet metal equipment, press brakes, punch brakes, and more," explains Meredith. "Necessary updates to heating systems in our shop were made, and as a company we came up with some really interesting new methods of production, including 3D printing, allowing us to keep up with high demand."
Technological improvements
In a global crisis scenario, however, some issues prove impossible to pivot. Knock-on effects of these are still being felt by businesses all over the world. As Meredith notes: "The supply chain is still being affected negatively. One company, which we rely on quite heavily for our California operation, has been hit really hard. In fact, they are having worse problems today than they did over a year ago. That will naturally affect our business, too. Another particular issue is with skyrocketing freight costs: what used to cost, say, $1000 two years ago will now cost more than $3000. It's no wonder inflation is going crazy because it's not just the US. It's the entire world.
"From here on, anything can happen," he admits. "Fortunately, however, I think some of the issues are starting to lessen a little bit. People have also figured out that, at least in America, we must make things in-house or within the country, instead of buying from overseas. These are things you cannot change, and that appears to be the way production is looking in terms of the future. Not having to worry about overseas markets is key; pivoting to in-house is the next step forward."
American Ultraviolet intends on making these strides forward with a broad string of exciting new technologies, processes, and ideas. "The germicidal demands of the pandemic have ushered in many exciting developments on our part," discusses Meredith. "We have always made a wall and ceiling mounted fixture to cleanse the air in a given room, but it only spaces being built, allowing the congregation of more and more people, it became clear that two wasn't enough. In larger areas, you need 360-degree protection. To achieve this, we are creating a suspension fixture that will hang at, say, 14 feet, providing a strong radius of germicidal protection within the upper air level. We will have two options available: one that has four lamps and covers up to 1500-square-feet; and another with six lamps that covers up to 4500-square-feet."
The health and safety applications of this feature are manifold and particularly relevant to how Covid-19 circulates. "The virus spreads like a common cold," Meredith informs us. "When you breathe, the temperature of the air coming out of your body is higher than the air around you. Consequently, your breath rises and then, as it cools, comes back down. In normal circumstances, the virus will quickly spread through a room as it moves through the air. However, with our new suspended lamp offering 360-degree protection, air which holds the Covid-19 virus is neutralized as it passes the UV light, knocking out any other potentially harmful microorganisms at the same time. This is vital in substantial venues like restaurants, offices, gymnasiums, concert halls, churches, and other similar places – whether individuals are vaccinated or not.
"We constantly look at our fixtures and consider how we can improve them," he continues. "There's a constant stream of technology out there. A lot of people, for instance, want to be able to turn fixtures on and off with their mobile devices. To that end, American Ultraviolet has carried out key technological improvements: you can now download a mobile app, turn our units on when out of the room, and see how long units have been running for. We have done a lot of things like that while we have had some downtime. Since industries are coming back powerfully after the pandemic, we are continuing to look at new ways to improve our systems. The food industry, for example, is asking for better disinfection methods. So, we have been building a lot of those systems recently. You must stay diverse in business; if one part of your business, or one industry you rely on, begins to fail, then you must have others to pick up the slack."
If the pandemic proved anything, it was that loyal employees can make or break a business. They, too, can make up for the slack caused by external market factors. But, to do this, they must be loyal – and to be loyal, they must feel valued. That's where American Ultraviolet is proud to come in. "Our employee bonus program really grew out of the pandemic," explains Meredith. "Criteria that employees have to meet in order to be awarded the bonus includes on-time deliveries, no increase in inventory, no mistakes, and keeping the shop clean. Once they do meet that criterion, however, they will receive a full year-end bonus of up to $7000. We're incredibly fortunate with our employees, so we try to keep them happy! A significant portion of our employees have been with us for 15-to-25 years, and I think that stands as a testament to how we operate our business. Simply put, we wouldn't be where we are now if it wasn't for our employees."
After talking with Meredith again after several years, it's clear that we've caught him at an exciting time. "Yes," he proudly admits. "It's a really great time here at American Ultraviolet. More people will have to be added to the production team to keep up with demand. We're also looking at acquiring a new facility in Texas or South Carolina, enabling a better handling of our services in that area. The South is growing rapidly, so being close to where things are happening not only helps sales, but it also helps the local people. We are right on track with equaling our 2021 sales increase at the moment. Mind you, if everything goes the right way, we might even exceed it!"
American Ultraviolet
www.americanultraviolet.com
Product: Ultraviolet technology