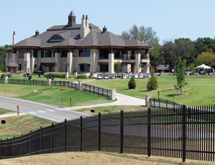 Ameristar Perimeter Security USA Inc.
When ASSA ABLOY, the world's leading manufacturer of door opening systems, was looking to expand its holdings in the United States recently, one company stood out as being particularly attractive from a operations and product standpoint.
"What attracted us to Ameristar was that their approach to the market was similar to ours," says Larry Denbrock, president of ASSA ABLOY's door and perimeter security group, of the company's November 2013 acquisition of Ameristar Fence Products Inc. "They are creating an end-user demand for security solutions, and their recent move into related products such as bollards, vehicle barriers and gate automation systems allows them to supply a complete solution to end-users and architects that is in line with our philosophy of providing complete door solutions to the architectural community."
The acquisition is part of ASSA ABLOY's effort to expand its market presence. "We're continuing to redefine that we mean by 'door openings' from a security perspective," Denbrock adds, noting the company also produces access control products in addition to doors, frames and related hardware. "The acquisition of Ameristar fit very nicely into our overall access control vision for protecting property and lives."
Ameristar, now known officially as Ameristar Perimeter Security USA Inc. after the transaction, is the largest ornamental fence manufacturer in the world. The Tulsa, Okla.-based company produces high-quality steel and aluminum fences and gates and vehicle barriers used in the security, industrial, commercial and residential markets.
Ameristar's products are widely used in the markets it serves, which President Mark Meek attributes to its aggressive sales and marketing efforts. "We dwarf everyone in the industry in terms of outside sales and marketing," Meek says, noting the company allocates $12 million annually toward marketing. "We make more than 1,200 presentations to architectural firms each year, while most other companies in the industry make maybe 50 tops. As a result, architects specify our products 10 to one over our competitors."
In addition to being specified by architects, Ameristar's products reach customers through a network of more than 200 distributor locations served by 11 regional distribution centers.
The backing and resources of Ameristar's new parent company will open its products up to even more clients. "We have a significant presence with architects specifying our products and work around the clock to create end-user demand," Denbrock says. "Our intention is to influence and drive demand for perimeter security products in addition to our door opening products. We also have a strong international presence that will allow us to bring a structured and focused international expansion effort to Ameristar."
A Comprehensive Solution
Prior to its acquisition by ASSA ABLOY, Ameristar itself made two acquisitions in recent years that greatly enhanced its product line. The company's presence and marketshare in security fencing led it to acquire the assets of ATG Access Inc. of Lillington, N.C., a subsidiary of Merseyside, England-based ATG Access Ltd., Ameristar Vice President Barry Willingham says.
ATG's products include bollards, wedges and crash beams. Ameristar now manufactures these products in its main manufacturing campus in Tulsa, which has more than 1 million square feet of production area. The acquisition, combined with Ameristar's fence, gate and vehicle barrier products, allows the company to become an all-around leading manufacturer of perimeter security solutions.
"No one else in the industry offers a complete, comprehensive security fencing set as a one-source stop," Willingham adds. "A perimeter solution for a refinery may be different than that needed for a military base or a school, but we can scale our products to accommodate each of those customer bases."
Ameristar's perimeter security product strategy also led it to acquire Parking Booth Company Inc. of Sun Valley, Calif., a manufacturer of prefabricated booths and buildings including guard and tollway booths. "The synergies of our existing manufacturing processes with the production of these structures are quite incredible," Willingham says. "Our ability to reduce cost while producing a higher-quality product with the shortest lead times in the industry, supported with the experience and capabilities of the Parking Booth Co. team will quickly move Ameristar into a leadership position in the booth and building structures business."
Ameristar's diversification across multiple sectors helped it retain business during the worst years of the recession. "Many of our competitors felt the pain during the worst part of the recession because they were geared toward the residential market only," Willingham says. "Our business at that point was about 25 percent residential. The security market continued to push on even during the recession, allowing us to rebound more quickly than our competitors."
A Better Way
Ameristar Fence Products founder Eddy Gibbs started the company in the 1970s to provide specialty fence products that were affordable yet did not compromise the quality consumers and specifiers demanded. To do this, the company completely reformed the way fence products were manufactured, it says.
From its beginnings to today, the company has approached product design from the perspectives of maximizing high-volume productivity, increasing strength and durability, promoting ease of installation and enhancing aesthetic appearance.
Over the last 18 years, the company has gradually expanded its manufacturing operations, allowing it to install technology including high-speed roll forming equipment and robotic automation for welding and transportation. "When most organizations were dormant in growth, we went out on the acquisition trail, automated our operations and innovated in order to open new capacity because we knew the recession would end and we were preparing ourselves to do more with less," Vice President of Manufacturing and Engineering Dennis Patrick says.
The company is fully vertically integrated in its manufacturing processes. "Our biggest advantage is that we are the only company in North America that basically produces material from raw steel procured from the steel mill," Meek says, adding that most Ameristar fence products are produced from recycled steel, which qualifies for LEED points. "With the investments we've made in robotics, we can provide products faster and at a competitive price."
Ameristar's coating processes also distinguish the company from its peers. Its powder coat process has set the industry standard for coating performance. The dual-layer process coats the product with a finish that yields more than 4,000 hours salt spray, which is more than four times the industry average. This proven process set the groundwork for its e-coat finishing line. "No one in North America does coatings the way we can," Meek says, noting that the e-coat process fully encompasses the product inside and out for superior corrosion protection, which is why the company supports these products with a 20-year warranty.
Gibbs spearheaded the investment of more than $20 million in e-coating and robotics processes after touring an automotive facility in Detroit. Ameristar's robotics systems can complete 120 metal panels in an hour.
Personal Quality
Lean manufacturing and Six Sigma principles, as well as a dedicated workforce, are at the heart of Ameristar's operations. The company currently employs 26 Six Sigma Green Belts and two Black Belts. "We utilize lean and Six Sigma on a daily basis," Patrick says. "It's no different than the English language to us."
Ameristar also applies its knowledge of Six Sigma and lean to its work with vendors. The company is progressing toward a just-in-time inventory program with suppliers, and regularly works with vendors on implementing process improvements at their facilities.
The importance of product quality is deeply instilled within Ameristar's staff. The coil processing facility is ISO 9000 certified. "Our employees have the opportunity to grow professionally and be a part of the decision-making process and innovation that take place here," he adds. "They drive the quality that goes through our products."
Willingham and other Ameristar executives credit their staff with the company's success. "We have some pretty incredible machinery, robotics, coating systems and roll forming equipment here, but if you emptied this building and filled it with a brand-new group of people, it would not function the same as it does today," he says.