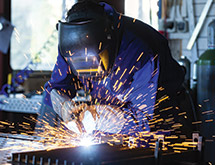 AMI Manchester has a strong foundation built on a team of people who are prepared and willing to do whatever it takes to keep the company going. "We have got people who truly believe in the dream we set out [to achieve] for this company and that dream has become our vision now," President and CEO Vincent Henderson says. "This company has endured through some of the toughest times you could imagine. I tell my employees all the time that if it wasn't for them we wouldn't be here and I truly do mean it."
The Manchester, Mich.-based company was founded in 1963 as Manchester Stamping, an automotive sheet metal stamping business that makes brackets primarily for automotive suppliers. American Engineered Components (AEC) purchased Manchester Stamping in 2000, and then it was bought by American Metals Industries in 2004. Three years later, Henderson purchased AMI Manchester and "has never looked back," the company says.
After Henderson took control of the company, the Michigan Minority Supplier Development Council certified AMI Manchester as a Minority Business Enterprise. Company sales in 2010 grew by 31 percent and 30 percent from 2007 and 2008, respectively, which was in the opposite direction of car sales in the United States during that time.
Exceeding Expectations
Today, AMI Manchester is capable of handling small to medium metal stamping with presses ranging from 32 to 400 tons. It also provides in-house engineering support, production welded parts and light assemblies. Its full-service die maintenance department includes a wire Electrical Discharge Machine from Charmilles Technologies and an Elox Sinker Electrical Discharge Machine. "At AMI Manchester, we're dedicated to providing best prices, best quality, on-time loading and exceeding our customers' expectations," the company says.
AMI Manchester supports new product, platform and cost-saving line walk activities with on-site application engineers. Its CAD capabilities include VISI design software, which is fully compatible with CATIA, IGES and Step. The company has key strategic relationships with partners to provide a full range of prototype services. AMI Manchester operates a 100,000-square-foot facility that includes 15 mechanical stamping presses, two assembly presses, two Nilson Four Slide machines and seven production welders.
Because of its hard work and dedication, AMI Manchester was named the winner of Honda's "Excellence in Value" award as one of the top-three suppliers in North America for quality, delivery and value. "Nothing speaks quality and reliability like Honda," the company says. "Since 1998, AMI has been proud to be a tier one supplier to Honda of America, providing various stamping and assembled components used in Civic, CRV, Accord, Acura RDX and MDX."
Above and Beyond
AMI Manchester prides itself on its reputation for great customer service. For example, the team showed its willingness to go above and beyond and at the same time, saved the company from potential ruin. "[We have] the greatest people in the world and they have really put together an outstanding manufacturing company," Henderson says. "Our people here are what really makes this company different."
The reason for Henderson's boast about the workforce started on his very first day at AMI Manchester in 2007, when Honda called during a blizzard. The automaker needed products warehoused in Lake City, Mich., to be delivered to its plant in Marysville, Ohio, the next morning. "We could get some parts done, but we had to pick up parts from Lake City, which is a three-hour drive, and then take that to Ohio for a build job," Henderson remembers. "That day, our employee [and Senior Vice President of Sales and Engineering] Dennis Herman drove overnight to get a product to our customer on time. Had we not got it done, the first day I got here we would have been in trouble."
At that time, Honda owed AMI Manchester $1.8 million in back invoices, which Herman collected in exchange for the parts. "That literally turned this company around in 24 hours," Henderson told The Manchester Mirror. "And that's what I mean when I say the people here just would not give up. I have been proud to promote from within – John Kampf, our senior vice president of operations, started working here in the tool crib. We have many employees who have been with us all their careers."
Henderson and his team have positioned AMI Manchester to take home Honda's "Excellence in Value" award for two years in a row, be added as a tier one supplier for Chrysler and experience 50 percent growth in 2011 and 2012. AMI Manchester is an OEM supplier to Chrysler for stampings and assemblies for fasteners and flag nuts. Its parts are sometimes used in Chrysler's internal engine parts.
Moving forward, Henderson says he plans to grow and keep the company local. "We want to continue to grow right here where we are," Henderson said last year during an open house for village officials. "We'll take it wherever our customers want us to grow."