A few years ago, Amity Technology became the first company from North Dakota to be named Exporter of the Year for Region VIII of the U.S. Small Business Administration. This region covers Utah, Colorado, Wyoming, Montana, North Dakota and South Dakota. Additionally, in 2009, the company was chosen as one of the top 100 U.S. manufacturers on the Inc. 500 list.
This is pretty good for a company that is not yet 15 years old. Based in Fargo, N.D., Amity Technology manufactures soil samplers, sugar beet equipment, air seeding equipment, air carts and crop management products. The company went from having approximately $10 million in annual revenues in its early years, to $20.9 million in 2005 and more than $49 million in 2008.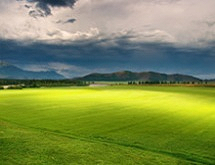 Amity Technology attributes this growth to its quality product line and ability to respond to the needs of its global customer base. In addition to sales to customers in the U.S. agriculture sector, the company earns nearly half of its revenue from customers in Russia, Ukraine, Kazakhstan, northern China and Azerbaijan.
In fact, because of its success in the past few years and a forecast of continued growth, Amity Technology completed a large-scale plant expansion last year. At a cost of $2.2 million, Amity Technology added:
6,400 square feet of assembly capacity to accommodate the growth in demand for its products;
4,500 square feet for shipping and receiving, which allowed it to significantly upgrade its ability to load containers for export through the addition of two shipping docks; and
4,300 square feet for powder coating, which allowed it to increase its paint operation's throughput. Amity says this also allowed it to "tremendously improve" the finish quality of its painted products.
The company explains the addition of the powder coat paint line involved two phases. The first phase was part of the physical plant expansion and involved adding two powder coat paint booths and a 3.5 million BTU curing oven. Next, Amity modified its existing liquid paint line to accommodate the addition of a shot blast booth as the first step in its finishing process. The company also connected its existing paint line to the new addition via an overhead monorail.
"The new finishing system allows for the efficient loading of parts to the paint line, blasting, washing, painting, curing and unloading of product used in final assembly or service parts," the company says. "A majority of our product is now powder-coat painted, although we still maintain the ability to liquid-paint select parts.
"This expansion project allows us to significantly increase our plant capacity, throughput and our ability to design, produce and deliver innovative and quality product to our customers."
Enhanced Capabilities
While expanding its facility, Amity Technology also was busy adding new equipment, such as a Motoman EA 1900N arc welding robot cell. The company explains this robot is designed to maximize the performance of arc welding operations. The EA 1900N model features a horizontal reach of 1,904 millimeters and a vertical reach of 3,418 millimeters, as well as an expanded range of motion that improves welding on cylindrical parts.,
This cell also features a two-sided rotary turntable, the company says. The work surface of each side of the turntable is 2,565 millimeters long by 1,016 millimeters wide. Amity says the key feature of this turntable is that it allows for loading component parts into fixtures and unloading of finished welded components as the robot is welding on the opposite side of the turntable. "The acquisition of this cell al­lowed Amity Technology to significantly increase the throughput of our welding department," the company says. "Certain parts welded in this cell are completed three to four times faster than if they were welded manually. This cell also helps to ensure the consistency and quality of welds. Amity Technology currently has approximately 12 different weld fixtures designed for this cell.
"An example of some of the components welded in this cell includes openers, axles and running gears on the Air Double Disk Drill."
Industry Pioneer
Amity Technology says it combined past experience with innovation to introduce the new release of the Air Till Drill. This single-pass, direct-seed drill is unmatched in shank seeding technology, the company says.
The exclusive 5.5-inch wide, fully pneumatic packer wheels mounted on walking beams provide maximum seed-bed utilization and more uniform packing, Amity explains. Nitrogen banding options allow growers to apply 100 percent of required fertilizer during seeding.
"Amity Technology has pioneered many features adapted by other shank drill manufacturers," says Jack Oberlander, manager of the planting and seeding division. "This drill is the culmination of more than 30 years of experience and innovation."
The company also recently added the Air Double Disc Drill to its equipment offering. This minimum tillage drill is an extremely effective seeding tool with excellent seed placement at higher field speeds, and an efficient and reliable drill for a variety of crops. This proven seeding technology has been re-engineered for less maintenance and greater precision.
"Individual row depth control on the double disc drill ensures superior seed placement and uniform packing," Oberlander says. "This drill is unbeatable for reliability and precision in seeding specialty crops such as soybeans, canola and field peas."