Interconnecting the dots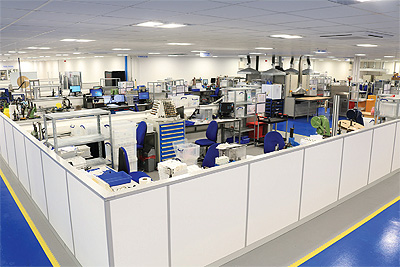 Making up part of the family of companies that form global interconnect specialist the Amphenol Corporation, Amphenol Ltd is a proudly British manufacturing business, based on these shores since 1963. From its site in Whitstable, Kent, its team of approximately 300 men and women offer a full design and manufacturing service for a large range of connectors and interconnect solutions, including cable assembly, over-moulding and electronic packaging.
"In broad terms, the end-to-end manufacturing capabilities that we have become known to be leaders in have not changed since the company established itself in the UK in the 1960s," begins General Manager, Steve Roberts, who himself joined the business in 2012. "While from a wider industry perspective much has indeed changed over the decades, we have strived to remain close to our customers, providing them with local design knowledge and local manufacturing capabilities, including pre-production, moulding, machining, plating and assembly. In that time, we have also made it our mission to take our world-leading capabilities and combine them with a modern, contemporary, high efficient manufacturing platform, which is reflected in our tag line of 'Innovative Interconnect'."
The strategy of the business today focuses heavily on targeting narrow market segments, such as the defence and aerospace sectors, both of which have been sources of strong growth. The Amphenol Corporation is a strictly international entity, with its various businesses based around the ability to offer significant low cost manufacturing capabilities in individual country markets, which have the ability to communicate and operate on a global scale with one another. Amphenol's success in the UK is heavily bound to this fact.
"Our ability to use the best design capabilities, the best pre-production and development capabilities and the best manufacturing capabilities is entwined in how we operate," Steve continues. "This means that we are able to provide those customers that demand local immediacy and flexibility, or access to high volumes at the lowest possible cost, with the manufacturing capabilities necessary to meet their respective design, plating, moulding and assembly needs."
Over the past year, the company has invested capital to the tune of £2 million into its Whitstable facility, a pattern that Steve expects to continue over the course of the next few years. "Much of our recent investment has been based around building up our pre-production capability in order to improve the speed and 'Right First Time' approach to transferring great designs into great production," he states. "Getting things right first time, and at the right cost, is central to our whole investment strategy. Allied to that, we have also put a great deal of effort into ensuring that our assembly function becomes a key area that determines quality and efficiency. To that effect, we have completely refurbished our clean room assembly areas and have completed the purchase of a family of new Nakamura CNC and high pressure coolant machines. In the meantime, the first phase of completing a brand-new assembly facility was completed in October 2017, with phase two expected to be complete by the end of the year."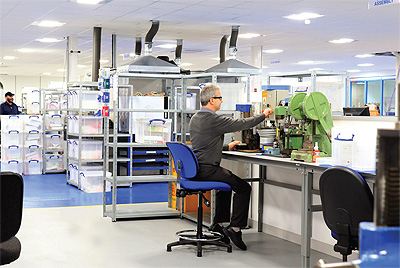 In harking back to the tag line of 'Innovate Interconnect', it should come as no surprise that Steve and his team have been more than willing to engage with new technologies such as automation and robotics during the course of improving upon Amphenol's manufacturing capabilities. "We have begun to engage robotics in activities such as pin placement, where connectors have become smaller and of a higher density, meaning that you have smaller contacts in a smaller space. Such conditions make robotic processes essential in achieving accurate pin placement. Elsewhere, we are using technological advances in our inspection processes, using camera systems to magnify images for easier inspection and developing software solutions to conduct product comparisons against gold standards. The latter provides us with an added layer to our culture of 'Right First Time' and quality."
Turning to the future, there is one untapped area of the business that Steve feels very passionate about and that is the end-of-life product cycle. "This is an area that I believe could become of increasing importance," he says. "We have a vision whereby customers will be able to purchase an original designed and manufactured product, which can then, ten or 20 years later, be returned for repairs, overhaul or upgrades. This approach has already been adopted as part of major contracts with Eurofighter and Airbus Helicopters, and we expect to see it extending into more projects and products going forward."
While much continues to be made of the potential challenges facing the UK in the months ahead, what with Brexit a matter of months away, Steve has maintained a commendable level of excitement and optimism about the future for UK manufacturing. "I honestly believe that there is a renaissance in UK manufacturing to come, one that will allow us to go back to our roots as being world leaders in design, innovation and manufacturing efficiency," he enthuses. "I think this will spark further growth for companies such as ours, and if we are able to combine factors such as the weaker pound with the best of contemporary manufacturing practices then there are massive opportunities for all of us."
Amphenol Ltd
Products: Global interconnect specialists