Breaking tradition
Having achieved global success for its silicon semi-conductor chips, manufacturer ADI is seeking to extend its product range to serve the development of the Internet of Things
A manufacturer of silicon chip semi-conductor products for over 50 years, global organisation Analog Devices Inc (ADI) has 9000 personnel driving its success as a supplier of a wide range of products to more than 100,000 clients across the world. Serving a number of markets and applications, the company has a global HQ near Boston, a manufacturing facility in the Philippines and an Irish plant in Limerick.


Established in 1976, the Irish plant employs approximately 1100 people operating in business segments such as manufacturing, design, sales and marketing, and forms one of the three main global ADI operations. Discussing the complex work undertaken by the Irish plant with Manufacturing Today Europe in August 2015, Manufacturing Operations VP Denis Doyle said: "The analogue market is a very complex specialty in the overall electronics market. We manufacture products that interface between the real physical world, by taking measurements, and the digital world, by converting those measurements into digital signals, and vice versa."
Across its global supply chain operations, ADI delivers approximately 20,000 different types of product to its diverse customer base and processes around 750,000 orders each year. Main markets include industrial, communications, automation, health care and consumer; this diverse spread offers an advantage to ADI to remain stable during economic fluctuations. Notable examples of the company's capabilities in some of these markets include the use of its MEMs accelerators for airbag deployment and the utilisation of its semi-conductor chips or radios in virtually every base station in the world; this means every mobile text, call or data usage goes through one of ADI's devices.
With the invention of new technology that can be applied to a diverse range of markets at the heart of ADI's operations, the company has continued its focus on the Internet of Things (IoT) since it was previously featured in Manufacturing Today Europe last year, as Denis notes: "For a manufacturing perspective we want to go into the IoT space, which offers a lot of opportunities despite causing disruption when it comes to business. To enable these opportunities we realise we need a broad suite of tools to manufacture everything from RF transceivers, and actuators and most importantly sensors. In the IoT space all sensors have to be the same size, shape and cost as traditional semi-conductors, and this is where our strengths in manufacturing come to the fore.
"Because we have existing capabilities in semi-conductors and extending this range, we have used this experience to further expand our tools and clean room space while also developing strategic partnerships with both start-up and mature companies with the goal of developing a whole new range of sensors, transceivers and actuators in line with growing market demand."
Indeed, following a major 50 million euro R&D investment programme at its campus in Raheen, Co. Limerick, ADI is further investing in a new clean room that will enable new technologies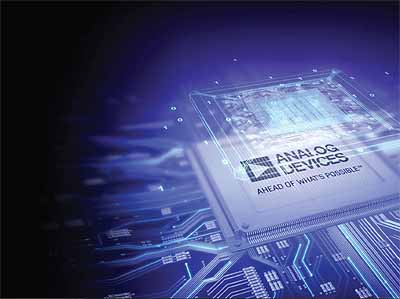 to be expanded and replaced. "It is important to have space for growth," says Denis. "New technologies take a long time to develop, which is why a new and flexible clean room with new tools is needed so we can prototype new equipment or products quickly. This is one of the major changes for us here at ADI since we last spoke as it will enable us to buck the trend while other traditional silicon component makers close their manufacturing facilities. To stay ahead of market demand and competition our plan is to use and expand our clean rooms, utilising the strengths of our personnel and develop our established technology to make mini sensors and actuators for IOT. There are huge opportunities for us despite the market being challenging at the moment, but if we play our strengths we will continue to grow."
The most recent product to be launched by the company is the RadioVerse technology and design system, which provides customers with integrated transceiver technologies, a strong design environment and market-specific technical expertise for the client to quickly move their radio designs from concept to creation. Unveiled in May 2016, RadioVerse is redefining radio design at the circuit, architecture, system and software levels to make integration simpler and accelerate the customer's time-to-market. Other recent innovations of note include MEMs switches, which are used for high frequency RF's; by using gold, the company is manufacturing mini switches to be used in RF instrumentation and test equipment as well as other applications. To make this production possible, the plant set up an isolated clean room to prevent contamination with its silicon chip processes.
Unique in its approach to look beyond the immediate opportunities its capabilities can serve, the company's commitment to reinventing itself through specialised technologies that aren't available off-the-shelf anywhere else will continue to prove fruitful during this complex period of evolution, as Denis concludes: "We have gone from main frame computers to PCs, laptops and mobile phones and are now in a hugely disruptive third wave that people call the Internet of Things. In ten years' time we will look back and say this was a great time of disruption and opportunity. Although there will be challenges, by playing to our strengths and extending beyond our traditional component business into solving broader system problems we will continue to have a positive outlook for the future."
Analog Devices Inc.
Products: Silicon semi-conductor products