Leading diversity
With the technology to manufacture silicon semi-conductor chips behind it, ADI is achieving unrivalled global success by diversifying and innovating for a massive range of applications
Analog Devices Inc (ADI) has been manufacturing silicon chip semi-conductor products now for 50 years. With 9000 people driving it forward, the global company supplies an extremely varied range of products to over 100,000 customers worldwide for a number of different markets and applications. As a result, in 2014 ADI turned over $2.9 billion in sales revenue and initial results from the first half of 2015 suggest that it is only going up. Based in Limerick, the Irish plant of the company was established in 1976 and employs about 1100 people to drive its manufacturing, design, sales and marketing divisions, and forms one of the three main global ADI operations sites alongside the global HQ near Boston and manufacturing facility in the Philippines.
"The analogue market is a very complex specialty in the overall electronics market," explains Manufacturing Operations VP in Ireland, Denis Doyle. "We manufacture products that interface between the real physical world, by taking measurements, and the digital world, by converting those measurements into digital signals, and vice versa." From Ireland and across its global supply chain operations, ADI serves over 100,000 different customers with around 20,000 different typesof product and processes 750,000 orders every year. Its main markets are the industrial, communications, automotive, healthcare and consumer segments, within which a huge number of applications and divisions are also served. This diverse spread of markets is an advantage for ADI to stably survive any economic fluctuations, as often a blip in one market is offset by a peak in another. "One of our claims to fame is that our products are used in virtually every base station in the world, so every mobile text, call or data usage goes through one of our semi-conductor chips or radios," says Denis as he points out the immense scale of the company's applications. ADI's devices have also been pioneering in the automotive industry introducing MEMS accelerometers for airbag deployment and other devices for various safety and infotainment features being developed within the industry. This market has grown from zero to 20 per cent of the company's sales in a matter of years.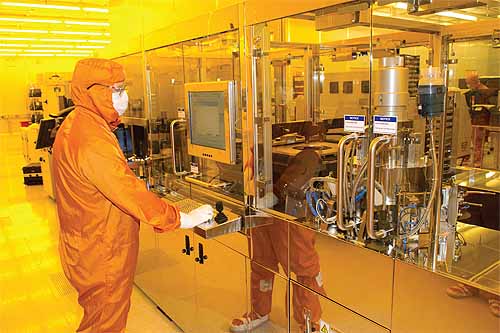 Over the years the Limerick site has evolved and diversified its manufacturing operations to facilitate changes within the market as large scale, volume driven foundries set up in the Far East as competition. Denis explains that the separate divisions in the company operate autonomously, so the design team can choose what manufacturing technologies can be used, effectively putting its internal manufacturing plant in competition with such foundries. However, as Denis notes: "A lot of these foundry services in the Far East are taking on the mainstream designs, because they have a scale that we can't match here. Therefore, internal manufacturing has become extremely specialised and focused on so-called "More than Moore" technologies. We run 150 flows to make maximum use of our equipment with a run of 2000 products on our books, which are almost all made-to-order products. Volumes can vary then from 100,000 chips a year to several million. It's a very different type of operation from the foundry services and is v
ery much in line with the business of being application driven and supplying many elements of the signal chain." An additional feature of ADI product offerings is the commitment to manufacture these products for many years and well into the future, which is a requirement of many of the markets ADI serves.
ADI places great emphasis on diversifying as much as possible into new markets with the existing technology and products it already has. "The underlying DNA of the company is to invent new technology and then apply it to as many markets as possible," says Denis. However, what makes ADI unique in this approach is its ability to look beyond the immediate opportunities its capabilities can serve. "We have continued to reinvent ourselves with specialised technologies that aren't available off-the-shelf elsewhere," continues Denis. Where this has been particularly successful is in using its existing semi-conductor production technology and expertise to manufacture a completely different type of product. For example, over the last few years ADI has been producing micron-level isolators and transformers to isolate high voltage signals. Similarly as Denis puts it: "We have cracked the longstanding nut of making MEMS switches, a very small switch for high frequency RF." Using gold, which can run at very high frequencies, ADI is producing miniature switches to be used in RF instrumentation and test equipment and other applications. To do this, the plant has also had to set up an isolated clean room to prevent contamination with its silicon chip processes.
This diversification becomes particularly significant with the Internet of Things on the horizon. Within this, many applications will be developing their own ecosystems to connect more and more processes, all of which will require signal processing and microelectronics and can be facilitated by the existing technology already developed by ADI.
The future for ADI is very much defined by this continued focus on diversification and the next strategic step will be as a systems provider in addition to components. "The strategic view is to provide our customers with a more integrated signal chain as they also move up by developing and supplying more of the electronic ecosystems," explains Denis, who sees huge growth opportunities for this across all its core markets. "The key for us is to continue innovating. For manufacturing, it is important to use a lot of your core competencies and skills that you already have and look at where else you can take that. This is what we have done and this is what makes our manufacturing capabilities very unique and successful here."
Analog Devices (Ireland)
Products: Manufactures silicon semi-conductor products
Sites: Five worldwide