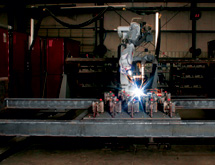 Anchor Fabrication was set up as a job shop in 1990, employing 50 people and doing some cutting and forming operations. Over the next 23 years the company grew and expanded. Today, Anchor is the leader in long and heavy metal fabrication with 400,000 square feet of manufacturing floor space in Fort Worth, Texas, and 350 employees.
The company, owned by Tray Willbanks, has acquired a number of companies along the way and now owns Roughneck Trailers, specializing in manufacture and assembly of trailers and containers for the oil and gas industries;  Alliance Coatings, specializing in industrial coatings; and DaveCo Industries, providing precision sheet metal manufacturing for a variety of industries. All of these companies are managed under the umbrella of Anchor's leadership.
One of the characteristics that distinguished Anchor from other companies from its inception was the drive to employ the latest technology to maximize production.
"At Anchor, we're always trying to apply new technologies to create value for the customer and stay ahead [of the competition]," President Trey Thompson explains. "We also apply new technology to keep projects locally and avoid sending them offshore."
Thompson, who has been with Anchor for 15 years, notes that the company's unique array of services makes it a one-stop shop for most customers. "It's rare in manufacturing to find somebody who can do all those processes, all the way from engineering specs, welded assemblies to private-label packaging," he says. "Our clients enjoy seeing us control the entire process within our family of companies."
Cutting-Edge
Thompson admits that being diversified can pose a challenge for some companies, but he also notes that Anchor has found a great resource in technology to manage its client portfolio. "We are leading the way in technology, not only in the equipment we use, but also in our capabilities, in the scheduling we do and in what we do on the floor," he says.
The company's facility is Wi-Fi based and all processes are managed electronically. "All our supervisors have a tablet device, giving our team real-time information for quick decisions," Thompson explains. "All our scheduling is set up on LCD screens throughout the facilities. Everybody knows how to look at the displays and figure out what is the next most important thing that needs to be done for their department and team."
Anchor is proud of the way it runs its facilities and credits it with gaining the upper hand with some clients. "Prospect clients who come into our facilities are continuously amazed by what they see: a very well organized, very well run, lean facility with employees who are proud of what they're doing," Thompson describes.
The company's capacity is not only remarkable because of its size, but also for its equipment. Anchor's plasma cutting tables feature 60-foot-long cutting surfaces, allowing the company to cut any size the customer needs, which reduces the weld seams and additional steps typically required for long parts. Anchor's eight Trumpf lasers provide the company with high cutting capacity and fast turnaround times. The company's high-quality manufacturing and management practices have earned its facilities ISO9001-2008 certification.
Exceptional Results
In February, Anchor faced a challenge that tested its manufacturing capabilities. "We had a client that came to us because a different supplier had failed them," according to Thompson. "The client had a product with a six-step process. They asked us to take on the manufacturing process and to do twice the amount [required from the previous manufacturer]."
Anchor got to work and faced this challenge by first assembling all its experts in operations that covered those particular processes, which included welding, machining and forming. "We then rallied our team together and started working with our supplier to make sure the material was sped through the process. We did specific studies to reduce cycle times," Thompson recalls. "We identified where we could have a bottleneck in our process and we took all non-value-added operations off of that bottleneck to increase speed for that particular center."
In a short time, Anchor was able to double its capacity and, by working with its supply base on the raw material side and decreasing its cycle time on the processes used, it made sure that there was a continuous flow from one operation to the next. The company had the assembly of all six components "beating to the same drum beat," as Thompson says.
Thompson notes that Anchor will continue to grow through teamwork. "I recently read this: 'If you want to go fast, go alone. If you want to go far, go together,'" Thompson says. "We know there is not one single person that can make this organization go far; we have to do it as a team."
Anchor is looking to grow both organically and inorganically, he says, looking at companies with products that can complement the services the company currently offers.