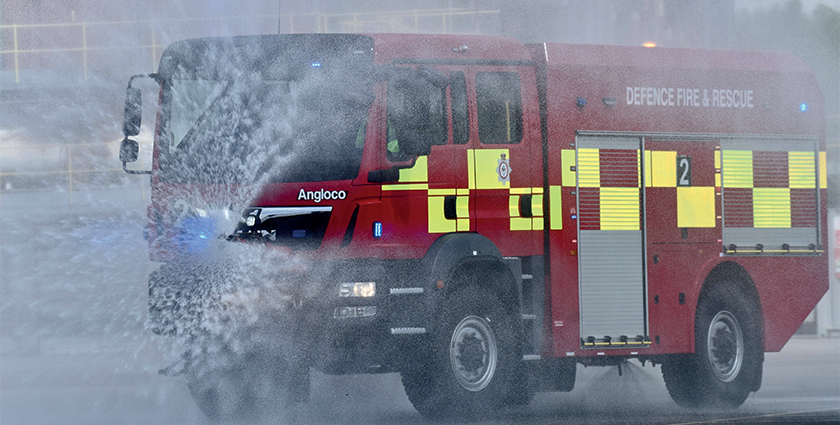 Fighting fire with innovation
For over 45 years, Angloco has been a leading manufacturer of fire-fighting and rescue vehicles; having recently won a number of major contracts, the company now enjoys significant growth and continues its incredible reputation for quality
Since 1974, Angloco has been dedicated to designing and building special-purpose firefighting and rescue vehicles. With a wealth of experience and a team of highly capable engineers, the company has also become a leading specialist supplier of firefighting and rescue equipment. Today, Angloco continues to offer a comprehensive service with the customer at its core, which has helped it establish an international presence and grow into new markets with high-profile partners.
Originating as a small family company, Angloco soon grew into a major manufacturer and supplier. As Operations Director, Chris Stubbs, discusses: "Angloco is still an independent, family-owned and operated company based in Batley, near Leeds. Established in 1965, as Anglo-Coachbuilders Ltd., the company soon moved into its current headquarters, and built its first firefighting vehicle in 1974.
"The first fire appliances we built were two type B water tenders for Surrey Fire Brigade. These were based on the Ford D-series chassis, and, like most appliances at the time, the body and crew cab were framed from hardwood timber.
"After a few years of success, the company changed its name to Angloco Ltd. In 1986, seven years after changing its name, the company was acquired by Bill and Julie Brown, who undertook a management buyout. From then on, the company has continued to grow. We now supply our firefighting vehicles all around the world, and since developing the technology for those first appliances, we have delivered them to over 70 countries.
"We have also grown our manufacturing facilities out of the company headquarters in Batley. We now have four separate production sites centred around our head offices, and additional facilities in the West Midlands and Southeast of England."
Today, the company offers a whole host of vehicle design and aftermarket services, as well as a range of affiliated products. "Angloco designs, manufactures and supplies firefighting and rescue vehicles and equipment. It has customers in a vast international customer base, and is supported by a comprehensive customer support service.
"The company also supplies firefighting and rescue equipment and accessories, including thermal imaging cameras, rescue tools (cutting and spreading), power tools, stabilisation/cribbing equipment, air bags (for lifting/recovery), firefighting delivery hose, water mist technology branches and lances, firefighting branch pipes/nozzles, portable pumps, firefighting foam concentrates, and firefighting training units (from portable extinguisher simulation to full-scale rigs).
"In support of its products and vehicles, Angloco has a dedicated after-sales service and spare parts department. In addition to carrying out on-location commissioning and training, it has experience in major servicing and refurbishment projects overseas, as well as throughout the UK.
"Our firefighting and rescue vehicles are designed and manufactured by our in-house team of engineers. Additionally, we are a UK representative and key supplier of specialist equipment to numerous other manufacturers.
"For example, we work closely with Finnish manufacturer, Bronto Skylift. As a global market leader in hydraulic aerial platforms, Bronto Skylift is known for having pioneered early conceptions of the telescopic aerial ladder platform. We were appointed to be their UK distributor in 1988; with our connections in the fire and rescue appliances sector we were able to increase their international presence, and provide our customer base with over 160 units," Chris details.
Offering such a diverse product and service portfolio means that Angloco is able to serve a wide international customer base. As Chris confirms: "We have customers in a considerable number of countries all around the world. We cover a range of territories, from the Caribbean, China and sub-Saharan Africa to The Falklands, New Zealand, the Middle East, and Mediterranean Europe. Our biggest customer to date is Capita Fire and Rescue, to whom we have supplied 80 Multi-Purpose Response Vehicles for the UK Ministry of Defence.
"Despite our large footprint, we consider each market and customer as equally important. We have only been able to grow into the large international operation we are today thanks to the support of our customers, and the dedication we offer each and every one of them."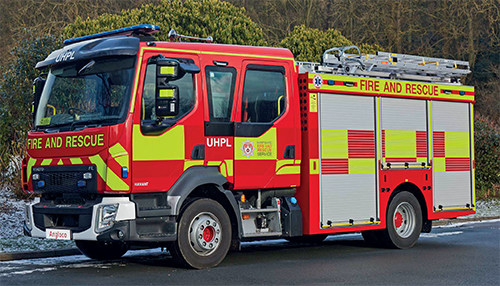 It is clear that strong customer relationships are at the root of Angloco's success. The company's team of informed engineering experts ensure a consistently high quality of service, as Chris asserts: "The secret behind Angloco's success is its employees. Our culture is about putting our people, and the needs of the customer, at the heart of everything we do.
"We have a fantastic workforce, with many of our team members having been with us for well over 20 years. We have recently had one of our treasured employees retire after over 50 years of service, which we made sure to recognize as the amazing achievement it is."
For decades, Angloco has enjoyed a steady stream of success. In the hopes of accelerating the company's growth, its leadership team decided to take a bold step in a new direction. "Around six years ago, the board of directors made the decision to take on higher volume opportunities. This was a shift in strategy for the company, because we had traditionally only taken on small batch and specialist orders.
"We soon won our first sizeable order in the UK's Eastern Counties region, with a collaborative project involving Bedfordshire and Essex County Fire and Rescue Services. Since delivering successfully on that project, we have refined our process in terms of efficiency, and significantly reduced our lead times.
"We haven't looked back since. Our success with the first few batch orders helped us optimize our operation, which, in turn, was instrumental in winning Angloco a major contract with Capita Fire to supply vehicles to the Ministry of Defence (MoD)," Chris explains.
This new chapter for Angloco is characterized by a series of high-profile partnerships, as Chris reveals: "The Capita contract was for 80 vehicles to be delivered at a rate of one finished firefighting appliance per week. This was a fantastic achievement for the company, especially during a pandemic. Unlike some of our competitors, we did not take furlough and instead ensured that we could fulfil the commitments we made to our customers. As a result of that dedication, there are now Angloco vehicles in every MoD base around the world.
"Since then, we have been awarded several other major contracts, including one with Lincolnshire Fire and Rescue Service. Additionally, we have supplied specialist firefighting vehicles to numerous airports all across the UK."
The company has even expanded its facility network, in order to meet increased demand. "These new facilities have been fundamental in providing us with the space to both expand our operation, and, more importantly, to keep our people safe through the pandemic by allowing us to incorporate safe working bubbles.
"As we move forward, this space is allowing us to expand our manufacturing capabilities into new areas which would previously have been carried out by some of our suppliers. By bringing these operations in-house, we have managed to save significant costs throughout the business," Chris enthuses.
With renewed momentum, and a series of exciting projects on the horizon, Angloco no doubt has a bright future ahead of it. As Chris concludes: "For the rest of 2022, and in 2023, we are looking forward to more of the same success that the company has enjoyed for a number of years.
"In the long-term Angloco will continue to do all the things that have made it a local employer of choice. We believe in looking after our people, because they will always look after our customers in return. It's an ongoing cycle – we will continue to offer an unparalleled service and high-quality vehicles, and as a result Angloco will continue to be a successful business for many years to come."
Angloco
www.angloco.co.uk
Services: Emergency vehicle manufacturer