Anstey Wallpaper Company Ltd
Got you covered
Benefiting from the broadest machine profile in Europe and backed by design and technical expertise, Anstey Wallpaper Co Ltd has achieved an enviable reputation as one of the world's most versatile, professional and capable wallcovering printers
Based in Loughborough, England, Anstey Wallpaper Company Ltd's (Anstey Wallpaper) history stretches back more than 100 years, during which time the company achieves an enviable global reputation as a versatile and professional wallcovering printer. Not only the largest contract wallcovering printer in the UK, Anstey Wallpaper also has the broadest machine profile in Europe, a strength that is backed by design and technical expertise.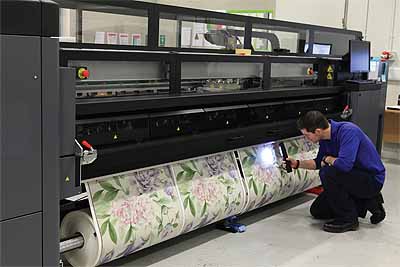 "Anstey Wallpaper is the wallcovering manufacturer of Walker Greenbank PLC, sitting alongside a sister company Standfast and Barracks who print and dye fabrics. The wallpaper manufacturer, then known as Wallcovering International, which as well as being a manufacturer also had the marketing brands Zoffany and Harlequin, was purchased in 1987. However, wallcovering manufacturing with direct lineage can be traced back through a series of different names for a hundred years or more," begins Carl Ashby, Business Development Director at Anstey Wallpaper.
"The ambition early on was to transform the wallpaper arm of the business, now renamed Anstey Wallpaper (after the village it was situated in and drew a large proportion of its workforce from), targeting the higher 'luxury' end of the market where the vast skills within the business would focus less on wallcoverings being a commodity product and more on it being a lifestyle decorative purchase, in what was identified at the time as being a rapidly changing consumer led market," he continues.
Today manufacturing in excess of two million rolls per year through using a variety of different print processes, substrates and inks, the selfcontained company is constantly looking for new ideas to stay ahead of its competitors. One way it does this is by researching the latest trends and colours at the London and Paris shows, which results in cutting-edge, on-trend products for its client base. Moreover, Anstey Wallpaper has a specialist technical development department that explores and combines inks, substrates, techniques and technology to ensure the continuous development of new and innovative products from within its own wide range of processes. Additionally, the company's strong partnerships with suppliers also guarantees it remains fully up to date with the latest raw materials and works with these suppliers with the goal of creating new ones.
A recent example of the company's commitment to continuous innovation is the addition of a high tech scattering machine to its factory, which enables tiny beads and particles to be added to a wall-covering; as a result, texture, colour and even light reflection can be added as an accent or simply used to create stunning designs that offer superior durability and adhesion. During 2016 the company also acquired a new digital press, which Carl says provides a number of benefits: "Firstly, unlike conventional printing, digital has no pattern repeat because it doesn't use cylinders, which by nature have a circumference and therefore a pattern repeat. Therefore a design can theoretically be endless; it reality it tends to lend itself to designs that have a two to three metre repeat, which essentially a wall height. Another benefit is that the minimum order quantity is significantly lower than conventional printing, thus reducing the financial 'risk' to our customers in launching a wallpaper range with all the normal associated costs to it."
No stranger to investment, the company has a total of 19 individual print machines, which enables it to virtually cover the entire spectrum of printing technologies, which can therefore satisfy any customer demand. The company can also combine these processes to create unique product offerings that won't be found anywhere else. "We consider ourselves very blessed at Anstey Wallpaper as, to the best of our knowledge, we are globally unique in having every single wallcovering print process, plus a number of variants and hybrids, all under one roof in the heart of the UK," highlights Carl. "The processes range from 400-year-old traditional wooden block printing through to the uber-modern, very latest digital print machines. Chronologically taking in surface print, which was the first mechanised way of printing wallpaper, surflex print, flexographic printing, long table screen print, Roto Gravure printing and a state-of-the-art Gravure-Rotary screen hybrid machine that we recently commissioned; this was built in the UK to provide a very specific, unique look."
He continues: "The beauty of having such flexibility is that we can accommodate most customer's design desires, even if they aren't prepared to pay the cost of that process, in that we can generally take a more cost-effective process and exploit this to get as close to the look of the suggested process as possible. In fact, we have both a product development and design team whose functionality is to support our customers in this area, which in turn, as you may expect, fosters strong relationships with all of our clients."
With the wallpaper market growing significantly out of the recession, Anstey Wallpaper aims to continue reaping the benefits of this growth by reacting, adapting and supporting the rapid changes in wallpaper tastes. However, the company is aware that this growth will not last forever and will also focus on its objective to continue building ever-stronger relationships with customers over the coming years.
Anstey Wallpaper Company Ltd
Products: Wall coverings