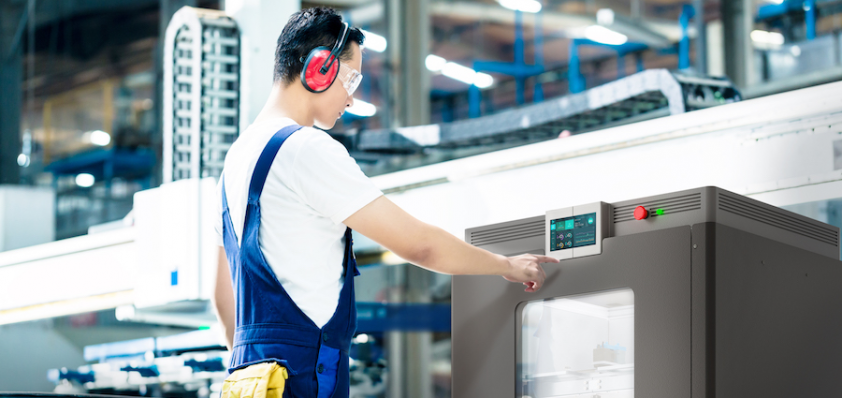 AON3D formed in 2015 to fill what its founders saw as a massive gap in the fused filament fabrication (FFF) 3-D printing market. "When we started, there were two types of 3-D printers: desktop consumer printers that are generally used to make trinkets and toys using a limited variety of weak plastics, and $250,000-plus industrial printers that, while functional, only worked with a limited range of proprietary plastic filaments," says Leif Tiltins, head of business development for the Montreal-based company. "We are in the emerging middle market between those two extremes – providing 90 percent of the functionality for 1/10th the cost."
The company's founders sought to market a 3-D printer that could be used to produce high-quality, functional parts from a wide range of thermoplastic materials. Each founder had a background in materials engineering from Montreal's McGill University. "We saw a huge gap in the market for FFF-based 3-D printers built around a strong understanding of polymer science," co-founder Randeep Singh says.
After benchmarking the first prototype in 2015 and a successful online crowdfunding campaign in 2016, AON3D has just announced their 3rd generation 3-D printer, the AON-M2.
The AON-M2 printer, available starting at $30,000, is suitable for use in sectors ranging from aerospace and defense manufacturing to biomedical research to automotive tooling. "This is an attractive solution for people engaged in low-volume manufacturing," Singh says. "With the AON-M2, we are enabling high-strength engineering materials to be 3-D printed into strong parts at a price point that makes sense."
AON3D's customers typically fall into three categories: manufacturing companies with existing but aging industrial 3-D printers they're looking to replace with more modern, cost-effective equipment; companies where the business case for outsourcing no longer makes economical sense; and  with engineers who have made good use of their desktop 3-D printers and can justify the need for a larger, more capable machine.
AON3D printers are being used to research, prototype, and manufacture everything from spacecraft components, implantable bone scaffolds and cranial plates, and jigs and check fixtures for automotive components. "I'm proud of the cost savings and efficiencies we've brought to our customers' manufacturing operations, and what we've enabled our customers to do with our machines," Tiltins says.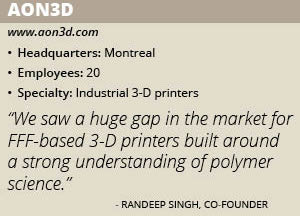 An Open Platform
Like its predecessors, the AON-M2 printer is designed to use practically any and every composition and brand ofthermoplastic filament available on the market. This includes ABS, ASA, PLA, HIPS, Nylon (PA), PEEK, PPSU, PET and ULTEM™ (PEI). The printer can also produce parts using carbon fiber or glass filled variants of the above as well as certain wood and metal composites.
"We are an open filament platform," Tiltins says. "Many of the world's top chemical and resin suppliers that are entering the market to supply their own filaments are finding out there are no good options that can process their materials because they lack environmental temperature control, but ours can. We are a sensible, versatile platform for [these companies]."
The AON-M2 is able to handle such a wide array of materials because of its actively heated build chamber. Heating high-performance plastics at high temperatures prevents warping and cracking. The AON-M2's temperature chamber can reach temperatures above 100 C (212 F). "This is the highest chamber temperature of all of the 3-D printers currently available in the middle market," he adds.
The printer can print single parts up to 18 inches (454 millimeters) in length and width, and 25 inches (640 millimeters) in height. The AON-M2's other notable features include two independently controllable tool heads, which allow users to print dissolvable and breakaway support structures or create unique multi-material components. The dual tool heads also enable users to use a duplication mode, which allows production runs to be completed twice as fast.
The Right Track
AON3D develops and assembles its printers in-house in Montreal, Canada. The company operates a 15-plus unit cluster of its own printers internally to support its operations. This includes engineering, manufacturing, and research and development.
The cluster allows AON3D to support special technical projects for customers ranging from new material characterization and development to customized sample parts.
"Extensive use of our own products internally allows us to experience the same challenges our customers face daily, ensuring that our product and service offerings are closely aligned with customer requirements," Founder and CEO Kevin Han says. "Our customers usually come to us with 3-D printing challenges they haven't been able to solve in any other way, and often the sales process involves a technical demonstration project with our print cluster. We're happy to provide free consulting to anyone curious about how 3-D printing can solve problems in their own businesses."
As one of the company's core strengths in its focus on material science, "the properties of the final printed parts are really what matter to our customers – the printer is just a tool to get there," Tiltins says. "Our job is to make sure our user base can draw from our experience in order to print the strongest, most precise parts possible."
AON3D continues to develop new technologies and grow its staff. The company last year was accepted into the Y Combinator program, which supports promising tech companies with the best mentorship Silicon Valley has to offer. AON3D was one of around 100 applicants in their batch, out of roughly 20,000 companies, to be accepted in 2017.
AON3D is the first 3-D printer manufacturer to go through the Y Combinator program, which helped launch technology-based companies such as Airbnb. "This showed us that there are a lot of people out there interested in our technology, and is validation that we're on the right track," Singh says.