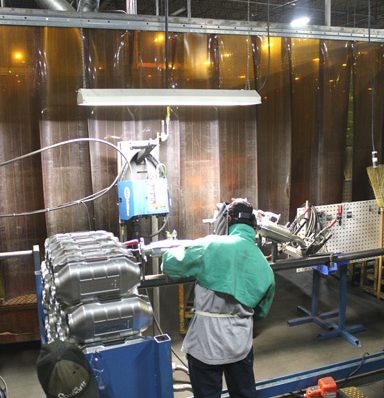 AP Emission Technologies is a leading global manufacturer of automotive, light truck, and heavy-duty exhaust and emissions products. For 90 years, the Goldsboro, N.C.-based company has continued its tradition of providing high-quality mufflers, exhaust pipes and catalytic converters to commercial customers and auto service professionals.
The company attributes its success to several acquisitions in recent years. In 2011, AP Exhaust acquired Catco and ANSA Automotive Import Exhaust, which helped to extend its product line. The company acquired a competitor, Imco Maremont, in 2013 and its 2015 acquisition of Eastern Catalytic not only helped to provide customers with more product choices for their business needs, but also created synergies in terms of design and manufacturing technologies.
This past September, AP Exhaust also acquired Durafit, a brand of OEM quality replacement diesel particulate filters (DPFs) and diesel oxidation catalysts (DOCs). President Doug Wolma says the acquisition allows the company to enter the commercial vehicle aftermarket with a full line of exhaust after treatment, targeting vehicle fleets operating Class 7 and 8 diesel-powered trucks.
"This is important for us because DPF / DOC on commercial vehicles is a growing aftermarket," he explains. "And Durafit really makes sense as an addition to our current operations. It uses the same technology as we have used in the automotive segment for many years."
Performance Driven
AP has three manufacturing facilities located in Hobart, Ind., Goldsboro, N.C., and Langhorn, Pa. With 625 employees – and growing – the vertically integrated company designs, manufactures and tests products in-house. Its constant research for product improvements has resulted in numerous patented designs throughout the years. These include the patented Single Cartridge Internal Muffler, which boasts improved performance and muffler life.
"We buy coils of steel, substrates, and precious metals which represent almost all of our outside purchases." Wolma says. "Everything else is manufactured in-house, which gives us a real advantage of being able to meet our customer needs. Because we control the entire supply chain we have quick reaction time, differentiating us from competitors who do much more out sourcing of components."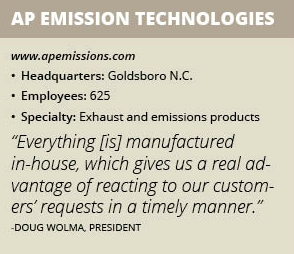 Each manufacturing plant has a design center responsible not only for all of AP emission's new product development, but also its continuous improvement. "We own and operate the entire substrate coating process in our Indiana facility, which does all of the catalyst manufacturing for AP product," Wolma says.
He adds that AP employees include degreed scientists who are based in the Hobart, Ind., facility labs. "That is a bit different than you would see in a typical aftermarket company," Wolma says. "We have a high degree of technical capability to develop the chemistry required for EPA and CARB catalyst coatings
Weathering the Storm
In 2016, Hurricane Matthew became the first Category 5 Atlantic hurricane since Hurricane Felix in 2007. It caused widespread damage in the southeastern United States including in Goldsboro, where AP's 800,000-square-foot manufacturing facility is located.
Hurricane Matthew rainfall destroyed the facility's roof allowing water to flood the plant floor. But what could have been a catastrophic event instead built camaraderie among AP's employees.
"Our team did an unbelievable job, which shows what makes this team special," Director of Marketing and Product Management Gary Nix says, recalling that staff was there to help the same day.
"Our plant wasn't the only place that was hit," Nix says. "Our employees also had to deal with their own issues at home. However, we were all committed to helping the facility get back to operating fully."
Although it took a few months to restore damaged areas of the facility completely, including its offices and roof, AP was able to start shipping product within days.
"The water levels rose up to a point where we weren't able to get back into the building for a week," Nix says. "Once the floodwaters receded, we were shipping out product within three days. Within a week after that we were fully operational in other areas of the plant."
AP has a 250,000-square-foot distribution warehouse on-site that ships products worldwide. "We are the best in the industry in terms of our delivery performance," Wolma says proudly. "This warehouse distributes products from all our manufacturing plants and consistently performs at a 98 percent fill rate."
Nix adds that AP's resilience demonstrates a "tremendous amount" of flexibility in not only its workforce, but also its processes. "We were able to move equipment and production lines to get things rolling," Nix says. "It didn't matter what someone's normal role was, we all did whatever necessary to get the facility back up and running again."
Wolma agrees, noting that AP's suppliers played a critical role. "We have a customer-first mentality," he says. "We choose suppliers based on their ability to react to our customer needs."
"We continue to leverage technology, which will take us successfully into the future," Nix continues. "In addition, our people have shown their ability to overcome any obstacle. With that said, you have a company that's world-class and destined to continue being an industry leader."