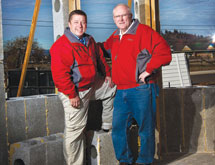 Plastic explosives, hurricane-force winds, fire and extreme projectiles are just some of the abuse the team at APEX Block Corp. has subjected their building block to prove strength and durability. APEX Block™ is a revolutionary, recycled building product proudly manufactured in the United States that is being called "The Greenest Wall System In The World."
A modified version of an Insulated Concrete Form (ICF), APEX Block™ is made from recycled expanded polystyrene (EPS), cement and proprietary ingredients. The amount of recycled EPS used in the creation of the block keep 2,477 pounds of EPS out of landfills when an average home is built using APEX Block™. Saving waste from a landfill while saving homeowners money by reduced heating and cooling expenses of 50 to 60 percent a year over a home built with conventional wood materials is just the beginning. Everyone loves saving money.
The benefits of building with APEX Block™ expand beyond financial savings to the very reason we live in houses: protection. We need protection from the elements of nature and the power it has to instantly turn our world, and our homes, to fragments of debris. With APEX Block™ comes the security of a building material that provides the ultimate protection.
Witnessing first-hand the destruction left behind by a tornado in Texas, President and CEO of APEX Block™ Dale R. Siens was intent on developing a more protective way to build. "After seeing so much destruction, knowing so many families would spend the night without a roof over their head … I knew there had to be a better way to protect them," says Siens. "Every year people lose their homes and when that happens their lives are severely impacted. With APEX Block™, we can diminish that loss and hardship."
APEX Block™ is the right product at the perfect time. The costly damage of natural disasters is increasing in frequency, severity, and they are occurring in more areas of the U.S. and around the world.
To test the strength of the APEX Block™ and its ability to resist extreme conditions, Siens invoked the power of a military-grade explosive called C-4 and the Portland Police Department Bomb Squad. For the test, seven pounds of the explosive were placed only six inches in front of a wall constructed with APEX Block™ and then detonated.
Exciting? YES! Explosions are always exciting, but was the explosion damaging to the wall? While remaining a safe distance from the test material and waiting for the plumes of smoke to clear, eager onlookers were eventually able to begin to see the test wall. The APEX Block™ wall had remained completely intact. It was an amazing test that would seem almost unbelievable if it weren't for the video footage of the explosion. The video can be seen on ApexBlock.com and also on YouTube.
Admittedly, Team APEX™ does get a kick out of testing the strength of their block in extreme ways, but rest assured the tests do serve a purpose. "The testing of the block gets pretty creative so all of us at APEX Block™ can't help but take an interest. It really becomes a teambuilding event," says Kym Carr of APEX Block.
A team favorite among the tests included an air cannon custom-built with the ability to launch eight-foot-long 2 by 4's at speeds up to 200 mph. The air cannon, like the C-4 explosives, was not your average experiment but was the ideal instrument for simulating the impact of hazardous debris propelled during hurricanes or tornados. These debris fields created by structurally insufficient building materials cause further unnecessary loss of life, damage and destruction and are a fuel source for secondary fires. Debris is the major cause of damage during natural disasters and what better way to test the protection a wall built with APEX Block™ can provide than to launch your own debris! The cannon was loaded and fired directly at the wall time and again and the results were sensational! Boards shattered upon impact and the wall remained fully intact!
APEX Block Corporation engaged GE Reaves Structural Engineering, Civil Engineering, and Land Survey Company to conduct strength testing for wall structures built with APEX Block™. Founded in 1983, GE Reaves has 26 years of experience serving the San Antonio, Texas, area and is now grown to become the 19th-largest engineering firm in San Antonio. The firm has a diverse skill set that includes foundation design, framing design, structural forensics, site and soil observation, land development planning and much more. Owner and President Gaylord E. Reaves, has more than 37 years' experience as an engineer and land surveyor. One can only speculate the vast number of building materials and home plans Reaves has encountered and become familiar with, so when he took an interest in APEX Block™, the company could be assured results would be a comprehensive assessment.
Windstorm testing results from GE Reaves confirmed wall strength much higher than many of the building materials on the market today. The internal structure created when building with APEX Block™ and its unique properties makes walls strong enough to withstand wind speeds, gusting or sustained, of up to 250 mph. Previously speculated to have only been able to withstand wind speeds of 180 mph, the new testing data provides solid proof of an incredible product. Like many who discover APEX Block™, Gaylord was impressed by its outstanding assortment of benefits.
These tests were a vital factor in developing a building product that creates homes and storm shelters that have the strength to withstand nature's fury. "We know the walls are strong, abusing them with explosives and projectiles allows us to explore destructive elements that are beyond your everyday scenarios," Carr says.
With official test data, the specifications of the block make it beyond noteworthy, and it is opening eyes in the construction industry. Compliant with the wind loads specified in the International Residential Code (IRC) and the International Building Code (IBC) the Texas Department of Insurance has approved the use of APEX Block™ in designated disaster areas along the Texas Gulf Coast. This is an important step forward to increasing consumer education in an area consistently impacted by extreme weather condition. It is through the education of homeowners and homebuilders regarding stronger building materials that we can better protect families and increase sustainable housing for healthier communities.
"Test results are getting the word out about the strength of building with the APEX Block™. The block is easy to work with and fast to build with. I know building with the block will make a difference and save lives while providing them with a comfortable, secure home to live in," says Dale R. Siens, President and CEO.
Traditional building materials, products, and methods now have shortened life spans when faced with natural and man-made disasters.  Construction with APEX Block™ enables contractors, engineers and architects to implement real solutions in a cost-effective time and manner at an affordable economic price point, giving the consumer real, measurable value in comfort, quality and sustainability.
The ease and versatility of building with APEX Block™ has created quite a stir in the construction industry, gathering media attention from outlets of every kind, from the cover of Construction Today to national television. The Lifetime Television® home improvement series, Designing Spaces, featured APEX Block™ on their show in March and April of 2012. The show focused on the "green" element of building materials like APEX Block™ that are not only innovative but are smart for the environment, as well. The home improvement series saw the green twist surrounding the sustainable, ICF-like building material and gave it noteworthy attention, even showing a short clip of the C-4 explosive test.
APEX Block™ is the leading building product and system which is quickly replacing the failed exterior wall systems of the past, yet keeping with the same finishes that make for a comfortable and radiant home.